Real Estate Agent's Selfie With Record Applicants Sparks Fury Over Market
A New Yorker's peek behind the scenes of an apartment tour went viral earlier this month, drawing ire over the intense competition for housing in New York City.
Sarah Lou Kiernan, a freelance cinematographer, captured a crowd showing up to view an apartment in the Brooklyn neighborhood of Greenpoint on May 7. Her TikTok video has racked up over 1 million views.
While dozens of hopeful renters clustered outside, the real estate agent who would be showing the apartment took a selfie with an outstretched arm, attempting to capture the large group behind him.
"NY real estate agent takes selfie with applicants for apartment because he's 'never seen this many people for an open house in 17 years,'" Kiernan explained in text overlay.
In the clip's caption, she added, "The apartment market is insane in Brooklyn, maybe 50 people for 1 apartment."
During the height of the COVID-19 pandemic, thousands of residents fled the city and rents plummeted. Some rent prices dropped by nearly a third when the virus surged in 2020, according to a report from Apartment Guide.
However, that trend flipped over the past year, as New York has seen some of the fastest-rising rents in the country. In March, rents were up 35 percent in the city from a year before, according to real estate firm Redfin. Across the nation, soaring mortgage rates and record-high home prices have priced many potential homebuyers out of the market, driving demand and price hikes for rentals.
The apartment being shown in Kiernan's video was "rent stabilized," she said in a comment, explaining the sky-high interest. Rent stabilization is a system of regulating rents, covering about 1 million apartments in New York City.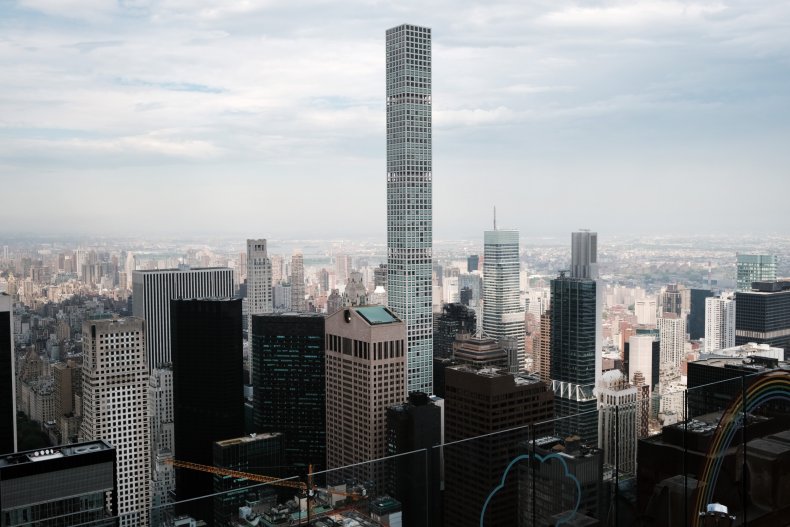 In a follow-up video, Kiernan suggested that even this hotly desired apartment might be making a "sucker" of potential renters.
She shared a 2021 Greenpointers article about the building, which is called the Astral, alleging that its longtime superintendent "recorded female tenants without their knowledge with cameras planted around their apartment." According to the article, law enforcement officers found three years' worth of footage capturing tenants showering and changing clothes.
Kiernan's audience fumed over her encapsulation of the painfully competitive rental market.
"This is...very sad and infuriating," said the top comment.
"This is why I can't get another place in Greenpoint even though I have been looking for two years," a local commented.
The city's infamous rental market has gone viral before, with New Yorkers regularly sharing the outrageous lines to tour apartments. An apartment that cost $2,500 a month was mocked last year for lacking a functioning oven door, while a man's documentation of the "smallest apartment in New York" drew horror from viewers across the world.
Newsweek reached out to Kiernan for comment.