Renter's Tour of $8,000 a Month NYC Apartment Horrifies Internet: 'Robbery'
A New York renter has shared what city dwellers can expect in an $8,000 per month apartment, leaving viewers across the country aghast.
Rent prices are skyrocketing in New York City, beating out fast-rising rents nationwide. In April, the net effective median rent in Manhattan shot to a new high of $3,870 at the fastest annual rate on record, up 38.7 percent from the previous year, according to the Elliman Report. At the same time, available listings plummeted 77.3 percent compared with April 2021.
March saw a 17 percent increase in the median monthly asking rent across the United States, real estate firm Redfin reported. Soaring mortgage rates and record-high home prices have priced many potential homebuyers out of the market, driving demand and price hikes for rentals.
Fashion blogger Stephanie Leigh, who goes by the online username @stephanieleighnyc, took her TikTok audience along for a Manhattan apartment tour last week. The video titled "Come apt hunting with me in NYC" has racked up 5.7 million views since June 3.
"This was a two bed, two bath in the East Village," Leigh explained over footage of the unit. "This was listed at $8,000, which is absurd. I mean it's a nice apartment, but not that nice."
She continued her assessment while panning across the living room with wood-looking flooring and white walls. The living room area met up with a bar-top which merged into the kitchen, but the bar itself doubled as a hidden washer and dryer cabinet.
"The living room is a good size and you get good light, but keep in mind, there's no room for barstools so you would have to fit your kitchen table out there as well."
Stephanie then showed the master bedroom, noting, "Once again, good size and good light, but the closets were really small and the bathroom was outdated. This market right now is insane, the inventory levels are so low, I've never seen it like this—and this is my eighth time moving in New York."
The second bedroom was "very small," she observed but could be used as an office if you did not have a roommate.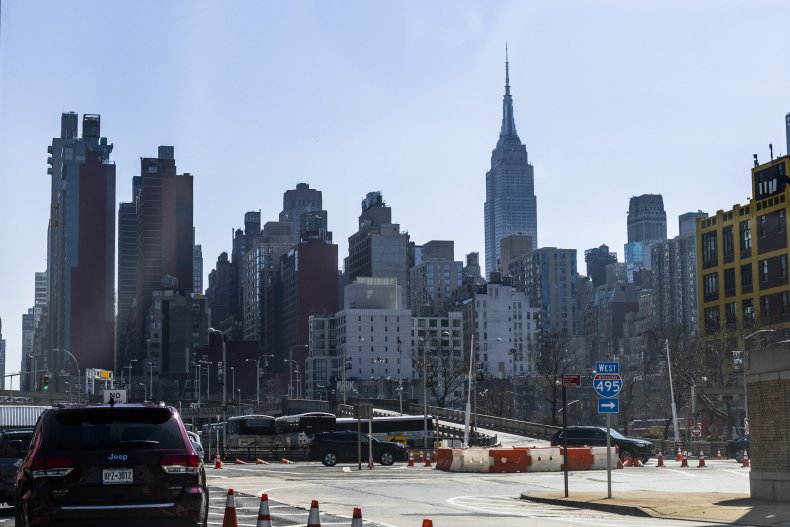 While touring, Stephanie decided to see another unit in the building, listed for a whopping $12,000 per month.
"It was listed this high because they had a big terrace," she said. "The master bedroom and master bathroom were really nice, but not worth it for $12,000, in my opinion."
TikToker Reactions: 'Robbery'
Thousands of viewers were shocked at how little New York renters could get for the price tags of $8,000 and $12,000 a month.
"$8,000 a month and they couldn't even sweep the floors," bemoaned one commenter, who spotted dirt in the first apartment.
"That's literally robbery, that should be illegal," another chimed in.
"Imagine spending 4K just to have a roommate," wrote another stunned viewer.
Many compared the units to comparably or lower-priced housing in other locales.
"$8000?!!" a commenter explained. "In LA, my parents pay $3600 for a giant 4 bedroom house with 3 bathrooms, a 2-car garage, a backyard, a sunroom, and two huge living rooms."
"Insane! For 2K in Arizona I have a 4 bedroom, 3 bath, 2900 sq ft," another agreed.
"That's [a] two house mortgage depending where you live," said another.
The New York City rental market has become a laughing stock of the internet before.
In May, another renter shared footage of a real estate agent who took a selfie with apartment applicants, commemorating the day because he had "never seen this many people for an open house in 17 years."
Last year, an apartment that cost $2,500 a month was mocked for lacking a functioning oven door, while a man's documentation of the "smallest apartment in New York" drew horror from viewers across the world.
Newsweek reached out to Stephanie for comment.