'Insecure' Season 2: HBO Show Creator Issa Rae Says It Will Be 'Bold, Relatable and Hella Black'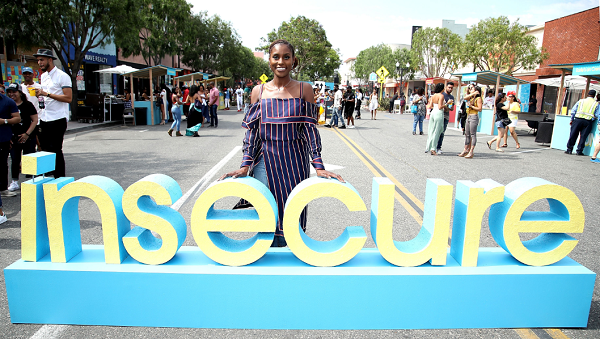 Recovering from a broken heart isn't easy, especially when your own sneaky behavior is the cause of all the aching. When Insecure returns with Season 2 on Sunday, the hit HBO series will pick up with lead character Issa Dee attempting to heal from her own self-inflicted heart wounds after getting ditched by her boyfriend Lawrence Walker in the Season 1 finale.
The show about black women in Los Angeles ended last year with the lead female protagonist, played by and also named Issa, arriving home expecting to make up with her estranged boyfriend, whom she had cheated on earlier in the season, only to get there and discover her man was nowhere to be found. The only trace of his presence was a lonely Best Buy uniform shirt left hanging in the closet they once shared.
Fans were left either incensed over Lawrence's cold departure or cheering for him as the scene quickly transitioned from a hysterical Issa to her ex having vigorous, doggy-style sex with his obvious replacement girl, Tasha. Black Twitter, as the social media phenomenon is known, was torn between #TeamIssa and #TeamLawrence.
Viewers may still be on opposite sides when the highly acclaimed and incredibly funny HBO series returns, but one thing is certain: No matter what happens, the punchy plotlines and thought-provoking situations characters experience will more than likely keep people talking—At least that's what Rae, creator and star of the show, is counting on.
"I think there are a couple of topics this season where, hopefully, people will reflect and be like, 'Well why is this an issue for me?' or 'Is this an issue for me? Do I have a deep-rooted struggle with this particular topic?'" Rae said during a phone interview with Newsweek.
While describing this season as "hella black," Rae said many of the situations characters experience on the show also often ring true for all adults regardless of who they are or where they come from, appealing to a mainstream audience and putting the show in the realm of recent millennial hits with largely white casts, such as Girls, How I Met Your Mother and Broad City.
Check out everything Insecure star and creator Issa Rae had to say about Season 2 of the HBO show below: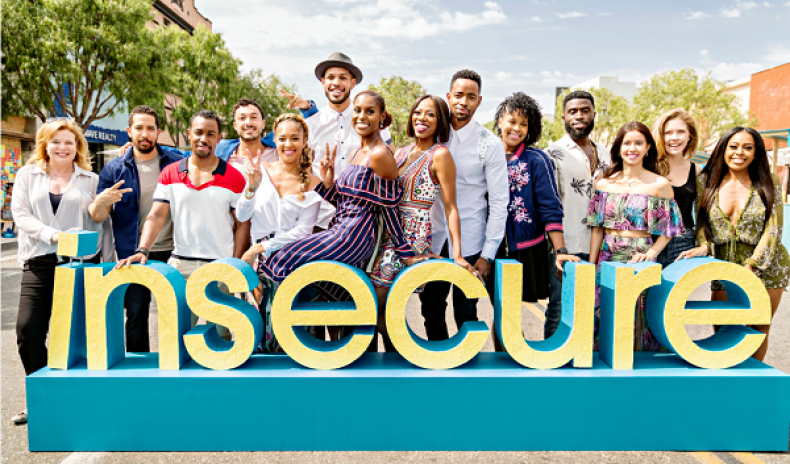 When we come back to the show, what state will we see Issa and Lawrence [Jay Ellis] in?
We're coming in a few months after the infamous back-shot moment [when Lawrence slept with Tasha played by Dominique Perry]. Without giving anything away, [Issa] got her heart broken and I think that it's definitely going to affect her for a while. And I think for him, we're exploring—I think with all the characters—seeing them figure out who they want to be. She cheated on her boyfriend. She had all these consequences and realized, "I don't wanna be that person." He got cheated on and felt betrayed and he doesn't ever wanna be that guy again. I think even Molly [Yvonne Orji] had her own situation. Her friends called her out and her best friend specifically was like, "Girl maybe you should consider therapy." So she definitely doesn't want to be the girl that they think she is. So I think that's where we're coming in on this season…just them realizing, "I'm not trying to be this."
I feel like when women experience breakups it can go one way or the other like they either decide to get a little wild or they throw themselves into their work or stay secluded to themselves. Will we see Issa living it up as a single girl or grinding harder at work?
We're definitely going to see We Got Y'all [Issa's job] play a huge role—because we saw Issa take work way more seriously towards the end of Season 1. She felt like she had to step up, and I think that also happens to serve as a welcome distraction to what she's going through personally. She might take [work] a little too seriously. We'll see.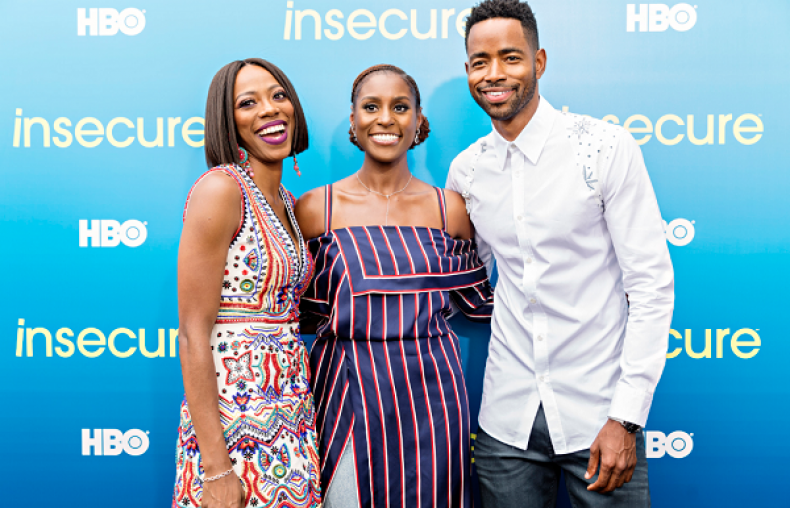 Molly had her fair share of fun on Season 1, and her and Issa definitely know how to turn up and get into some trouble together. So will she be advocating for this new single girl lifestyle Issa's living or will she be kind of warning her how rough single life can get?
I think a little bit of both. I think you'll see that play out, and that's just so much of the fun of seeing what it would look like for Issa to be single, for them both to be single. We're definitely [going to see] the two of them addressing when the last time they were single together. One is clearly more of a veteran than the other, so you're going to see a little bit of that. And I think we've proven in the first season that they're both kind of hot shitty messes together, so it's inevitable that they get into some trouble together. You'll have to watch and see, but those situations definitely play out.
I saw a glimpse of Daniel [Y'lan Noel] in the preview, so that must mean he's back for Season 2 after his affair with Issa? Is he like her kryptonite? She can't seem to get away from him.
They've said that before. Molly said he's Issa's "Achilles' dick." There are those guys that no matter how hard you try to push them away they always pop back up at the most inconvenient or sometimes convenient times. So I think Issa just has to realize what it is she wants from him if anything. But it's just one of those things you can't escape. They both live in the same city. They know a lot of the same people just from going to high school together.
Is it one of those things where secretly Daniel really actually wants to be with Issa, but he's suffering from insecurities or he can't commit to a relationship?
I think we're going to delve into more of that this season for sure, just getting a little bit more background story of the two of them and seeing where they're both coming from.
They've definitely got a lot of chemistry between them from what we've seen of them in Season 1. I don't know how she's going to turn him down now that she doesn't have the restriction of Lawrence.
Ooh. That's an interesting point.
While Lawrence is out here living single, will he at least get to a point where he recognizes the role he played in the demise of his relationship with Issa—even how maybe he could have led her to cheat on him?
[Laughing] All I'm gonna say is that you gotta watch to find out. You gotta watch.
Do you personally think when people are unhappy they're more susceptible of cheating?
I do. I think when people are unhappy they're more susceptible to just things that are uncommon—to of kind act out. Sometimes you do it subconsciously. Sometimes you didn't even know what you're getting into. I think we all have hidden desires. I also think it's hard to maintain a relationship, and it really takes wanting to truly be with that person and kind of trusting yourself to make things work. And a lot of relationships don't last. I mean, that's a part of life. And I think sometimes it doesn't even have to do with cheating. Sometimes it's just realizing this isn't the best time for you, or the relationship has run its course. And I think even in Issa and Lawrence's situation, I really think it was more about her wanting to cheat or wanting to stray or wanting to discover this other part of herself than it was about Lawrence's shortcomings.
What is the one thing you want viewers to take away from watching Season 2?
I don't know. I haven't figured anything out, but I think if anything, I just want the conversations. I love the conversations. I love people talking about things. Like in Episode 6 of last season, the Jered [Langston Kerman] and Molly situation, just seeing people have conversations about that and asking themselves, "Why do I have a problem with men explaining sexuality and not women?" And I think there are a couple of topics this season where, hopefully, people will reflect and be like, "Well why is this an issue for me?" or "Is this an issue for me? Do I have a deep-rooted struggle with this particular topic?" So I think my biggest thing is I love for people to walk away and have these side conversations after episodes. And we don't like to choose sides either, so hopefully, that can continue this season.
What three words you would use to describe the season?
Relatable. Bold. And hella black.
Why 'hella black?'
A lot of the reasons why I got in [to TV] was to tell black stories, specifically very black stories. Not necessarily trying to tell people about the entire black experience, but I wanted to tell specific black stories and give a singular experience. So with this show, we're definitely able to do that. And it's just so much fun to have a lot of the conversations and play out a lot of the scenarios that me and a lot of my friends experience and have people relate to them.
We're finally seeing more shows by people of color—Blackish, Atlanta, Dear White People, Master of None and Insecure. But it's still a trickle.
I think it's due to a lack of representation behind the scenes. If the executives that make the decisions to green-light shows aren't people of color or women, then those stories aren't on their radar. Or even if they try to develop those stories, they may hire white showrunners and then you tend to have an inauthentic show. Things are changing behind the scenes, though.
Some of the onus is on the predominately white media, too, for not showcasing a show like Insecure the way they did, say, Girls.
I'm optimistic that the conversation is shifting to put a spotlight on these matter, and I'm also optimistic—given all the rich content from people of color and from women that I've seen on TV for the last three years—that I won't have to discuss diversity on TV again.
HBO and Team Epiphany just threw you an Insecure Block Party in your hometown to celebrate the new season last Saturday, so are you going to do for the actual premiere on Sunday?
That was so much fun. I can't stop thinking about how dope it was just to be there, down the street from my house, on the same block as my production office, surrounded by friends and celebrating this show. Because that's what it's about, it is such a love letter to south LA and of course Inglewood. It was such a dope event. But I'll be doing a premiere party. It'll be live streamed too. And I'll be enjoying the hell out of people's reactions. I've been to about four or five screenings of the first episode now and it's so exciting to see people reaction. So I'm just anxious for the world to see this season.