Inside the Scene of Prince William and Prince Harry's Latest Royal Stand-Off
Prince Harry and Prince William have a new opportunity to put their differences behind them at a place Princess Diana often used to pause and reflect.
The Sunken Garden at Kensington Palace has been redesigned to mark what would have been their mother's 60th birthday on July 1.
Gardeners have surrounded the pond at its center with new plants, including 100 forget-me-nots, her favorite flower.
Inside the peaceful idyll—an oasis in the heart of West London—the royal brothers will stand side by side as they unveil a statue in Diana's honor.
For now, a box currently hides the monument which will depict the princess in her younger years.
The event comes after a years-long rift between Diana's sons, which has reached fever pitch in recent months.
Most recently, new biography Battle of Brothers was re-released last week and contains new claims from a friend of William's that he threw Harry out of Kensington Palace.
For his part, the Duke of Sussex has launched a series of damaging criticisms of his family, accusing them of "total neglect" over his pleas for help dealing with the media.
Meghan Markle also told Oprah Winfrey in March an unnamed royal expressed concern about how dark their unborn child's skin might be.
The allegation prompted an on-camera denial from William, who told journalists days later: "We are very much not a racist family."
Prince Harry was yesterday out of coronavirus quarantine, having arrived in Britain over the weekend, and was photographed by The Sun at a charity event in Kew Gardens, London.
It is yet to be seen whether the bucolic surroundings at The Sunken Garden can bring peace to the warring brothers.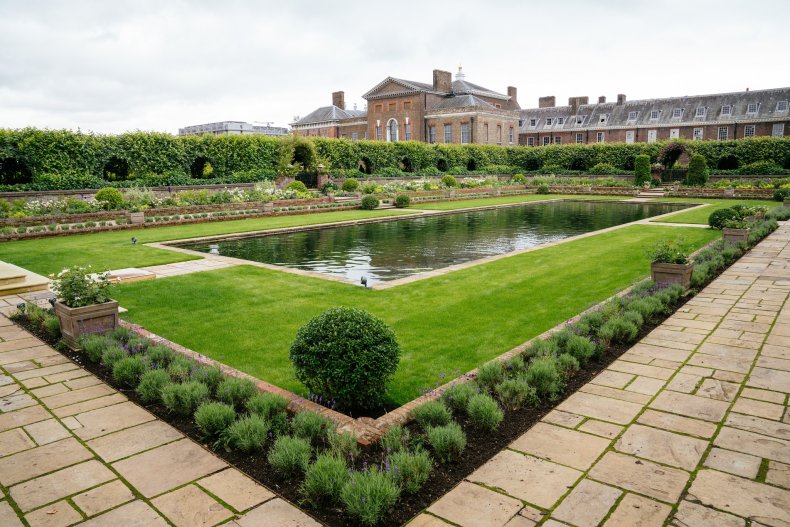 In Focus
The Sunken Garden at Kensington Palace will be the scene of Prince Harry and Prince William's first face to face meeting since Prince Philip's Funeral. It has been redesigned in Princess Diana's honor to mark her 60th birthday.
Launch Slideshow

3 PHOTOS
However, the designer of the new-look garden spoke Wednesday about how she aimed to turn it into a "calming place."
Pip Morrison said: "This has been a very special project to work on, as the Sunken Garden was a favorite place of Diana, Princess of Wales. We have worked carefully to ensure that the new layout and planting scheme complements the statue, providing a calming place for people who visit Kensington Palace to remember the princess."
And Graham Dillamore, deputy head of gardens and estates at Historic Royal Palaces, said: "While she was in residence at Kensington Palace, Diana, Princess of Wales regularly admired the changing floral displays in the Sunken Garden and would always stop to talk with me and the other gardeners who cared for it.
"Over three decades later, I'm honored to have been part of the team preparing the garden for the installation of this statue. We've incorporated a number of the Princess's favorite flowers into the design, and I hope that visitors to the palace and gardens will enjoy its peaceful setting, and take a moment to reflect on the life and legacy of the Princess."