Inspector Points Out Shocking List of Everything Wrong With $500k New Build
AJ, who shares clips of disastrous buildings on his TikTok account, @inspector_aj, recently uploaded a walk-through of a new home.
AJ, whose profile indicates he's based in Tennessee, filmed the interior and exterior of the family home, which he claimed was on the market for half a million dollars.
"New construction fails," he said in the on-screen text, as he starts in the kitchen and narrates his tour. The clip, which can be seen here, has already amassed more than 30 million views since being shared on Sunday.
Speaking to Newsweek, he confirmed it was a three-bed, two-bathroom single-family residence in the Volunteer State.
He said: "The house was in good condition overall. It was inspected by the necessary officials for the mandatory items (electrical service, etc). Finishes and most of everything I pointed out in the video do not require inspections and permit sign-offs by city or county officials. Most of the time on new construction, the builder and superintendents are rarely at the same property for an extended period, so finishing work and some projects are assigned to sub-contractors and regular hourly laborers, and quality will differ often."
The overall report was 61 pages long and included 25 maintenance items and 10 recommendations. In a quirky twist of fate, he revealed the buyers follow him on social media.
He told Newsweek: "The buyers are actually long-time followers of mine on TikTok so the first question they asked me before I sent the report was, "did you make a video?!" I laughed and told them I did. The funny thing is, they didn't know I was Inspector AJ until their friend explained to them who I was—because we had never seen each other in person.
"Once they found out, they had a field day via text explaining how they've watched me for a long time. I did keep in contact with the buyers who informed me that they turned the report over to the builder and "they fixed everything", so I'm assuming everything on the video and all 10 recommendations, and maybe some of the 25 maintenance items on the report."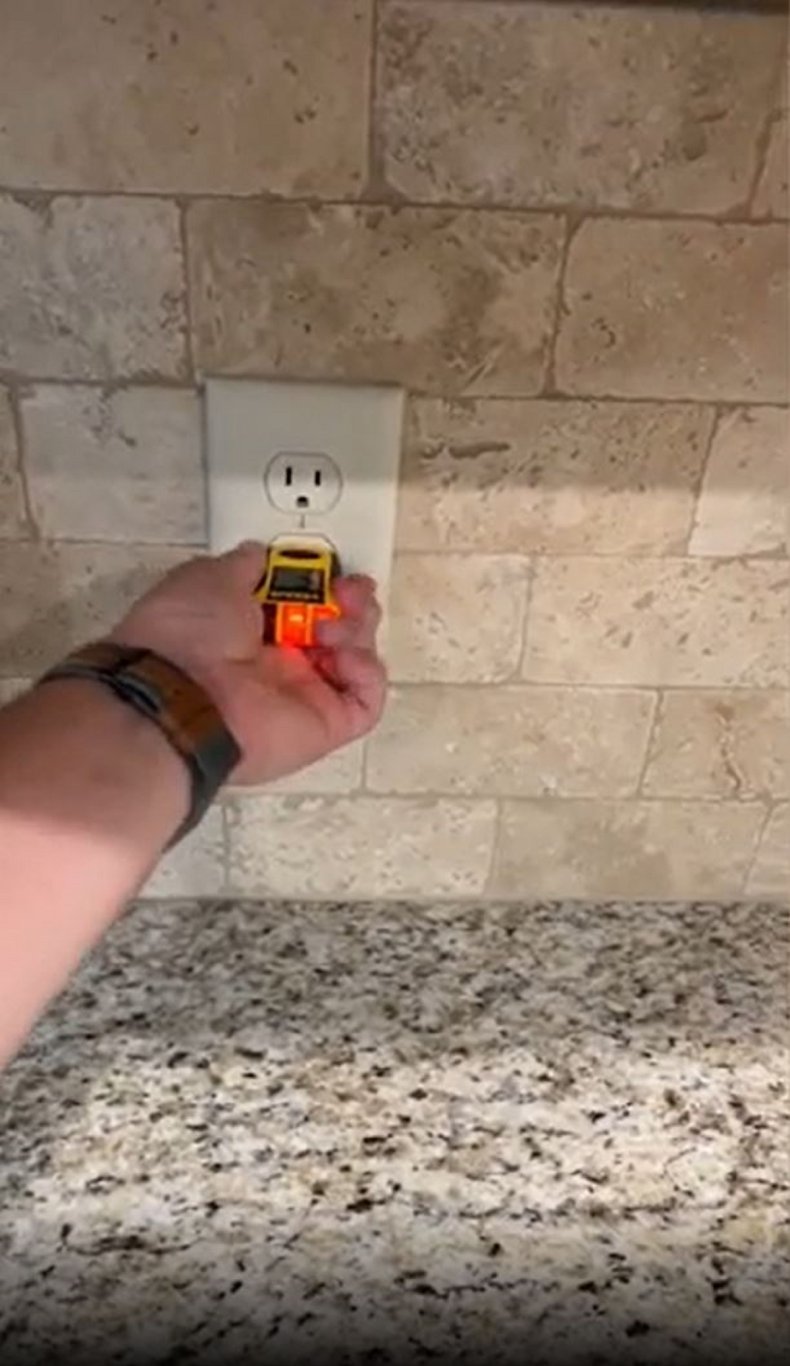 AJ, who says he's a Certified Professional Inspector (CPI), says: "If you get ready to drop half a million dollars on a brand new house. Should probably get the outlets to not be loose."
He puts a plug in the socket and shakes it, demonstrating his point. Next he films the floor, saying: "That's a beautiful transition that they did between the hardwood and tile."
In a bathroom, he says, while shaking the loo: "I would bet my next paycheck that this toilet is loose. And I would be right. That's a nice-looking towel rack, that they just decided to put a whole bunch of silicone caulk behind to try and get it to stick.
"Good looking shower stall. But I don't think I've ever seen that much caulk around the shower head. One of my personal favorites, when they install part of the tile surround they didn't even bother to take off the plastic."
Next he films the outside of the house, as he pans up the walls, saying: "Coming around to the exterior of the home, we can literally see the brick and see the tyvek vapor barrier. We have a giant void all the way up where the stone veneer meets the brick.
"This is a good looking porch. If it wasn't warped. And when you run out of tapcon screws, you can just use putty to attack a spigot to the exterior. Looks like the site superintendent just decided to allow the guys to throw their trash under the deck."He films underneath the wood, showing discarded bottles and wrappers. Next AJ discovers a hose "not even attached to the house," as he declares: "It's completely loose."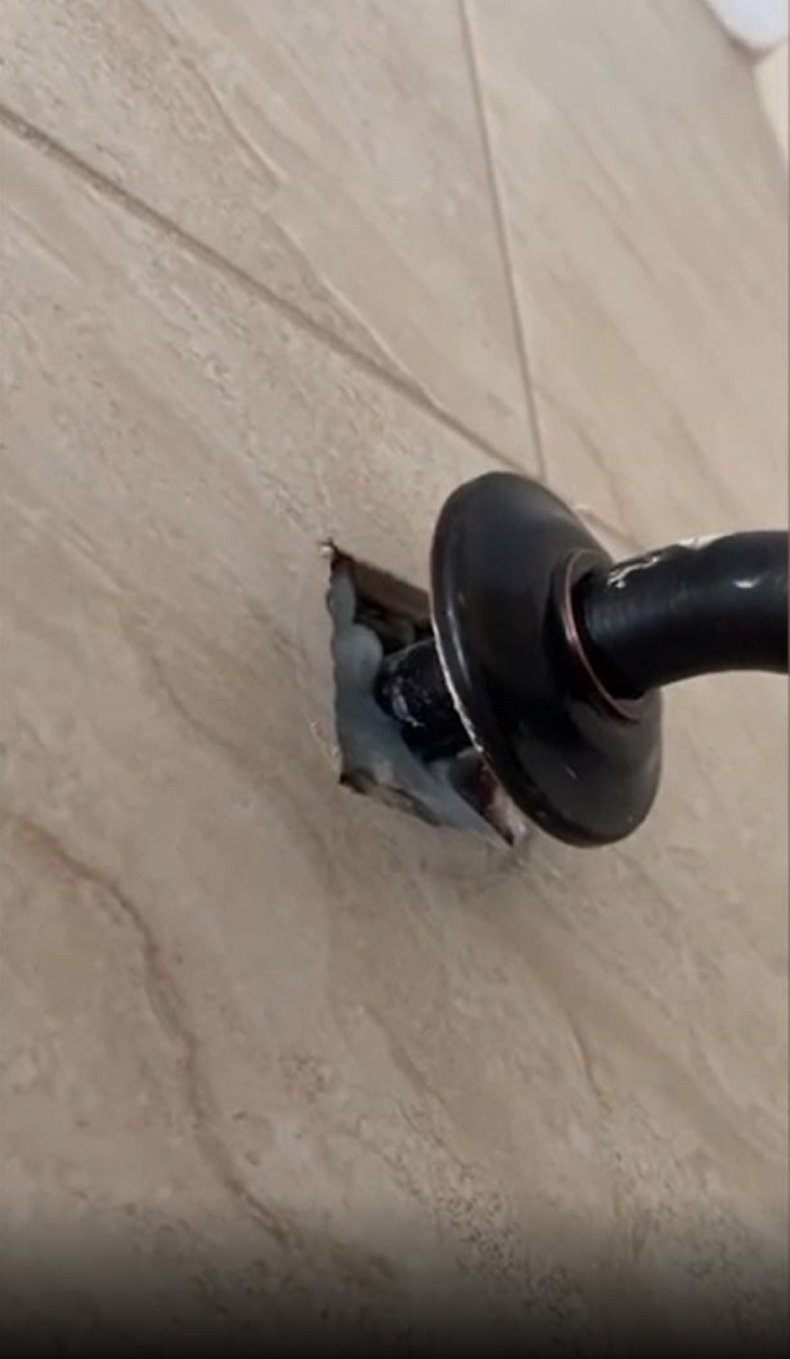 While a window has a piece missing, as he notes: "And we have a damaged window and instead of actually replacing the trim, they used caulk."
Back inside, he points out another very obvious flaw, saying: "You should also not use a wood pallet to support a water heater."
And the garage isn't flaw-free either, as AJ reveals: "Coming into the garage as far as the handrail is concerned it's entirely too loose. One of my favorite parts is they installed the garage door, but they didn't even bother connecting the motor to the bracket on the door."
The clip has struck a chord with homeowners and buyers alike, with the clip also shared across Reddit on Tuesday.
Mountanderson joked: "This house was sponsored by caulk."
"Makes you wonder what isn't visible," Cherie Wiser thought.
Grios commented: "From this video, I've learned to check the whole house before purchasing my first home."
And Robin Harnist agreed, saying: "These videos scare me considering I'm planning to purchase my first home next year."
And Trisha Powers Matzka added: "The builder is going to spend more on fixing things than if they just did it right from the get go."
In the comments, AJ confirmed: "Buyers presented the report to the builder and fixed most, if not all, of what was pointed out."
Commenting on how COVID-19 has changed the housing market, they said: "Rising prices indicate a robust demand in the U.S. housing market despite the coronavirus (COVID-19) pandemic. Between 2019 and 2020, the number of house sales financed through a mortgage increased from 470,000 to 561,000 and surpassing 2007 levels. With interest rates at a record low, many aspiring homeowners have decided to enter the market in 2020.
"Overall, the coronavirus (COVID-19) pandemic has positively influenced the homeownership plans of Americans in 2020. According to a survey among U.S. adults, 28 percent of Millennials were more interested in buying a home due to the coronavirus pandemic compared to 13 percent who were less interested."
Figures from Statista show the average price of a home in the U.S. is $408,800 this year, up from $389,400 last year. House prices have steadily increased over the years, although they plateaued between 2017 and 2019, the statistics showed.
Update 30/9/21, 8:04 a.m. ET: This article was updated with comment from AJ.