Here's How To Do Joint Posts on Instagram
Instagram has recently launched a new feature that allows you to publish joint posts with other users.
Known as "Collab", this function was trialled in a few different territories earlier this year (including the UK and India) and was then rolled out globally in October. As such, it is now available for anybody on the social media platform to use.
In a nutshell, the feature allows you to co-author your Instagram feed posts and reels with other people, so that nobody has to duplicate content. These joint posts will be credited to all users, with them sharing the likes, views and comments between them.
For a recent example of one of these collabs, Kourtney Kardashian and fiancé Travis Barker used the feature on Halloween to show off their Edward Scissorhands couple costumes.
By looking at the header at the top of the screen, you will see that the joint post has been attributed to both "kourtneykardash and travisbarker". If you then click on either of those accounts, you will notice that the post is also featured in their respective feeds, with all of the same engagement figures carrying over.
There are multiple benefits to using this collab feature. For a start, it prevents you from needing to upload posts that are virtually identical to your friends'. Not only that, but it naturally expands the reach of your content, as it will now be shared to your followers, as well as the followers of your co-authors.
The feature is incredibly straightforward to use once you have had a little practice. With that in mind, Newsweek has prepared a short guide explaining how to do one of these joint posts on Instagram.
How To Create a Joint Post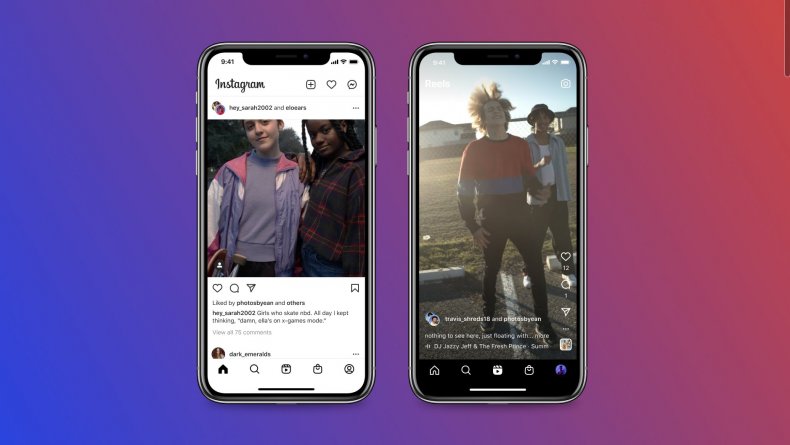 To do a joint post, tap on the plus icon in the top right-hand corner of your iPhone or Andorid device screen. This will take you to the create menu.
From there, follow the usual steps for creating a post or reel. When you get to the page that allows you to write a caption, tap on the option just below that is labelled "Tag people". This will then take you to a separate screen.
Here, you will notice that there is a new option (next to "Add Tag") for inviting collaborators. Tap on this and then search for the Instagram account that you would like to have as a co-author for your post. You can select multiple users, but there is a hard limit of 20.
During this process, you will see a pop-up message that reads: "If [Instagram username] accepts, your post will be shared to their followers, and they'll be shown as an author of the post".
As this states, you cannot unilaterally assign somebody else as a co-author for a joint post. Instead, you are only asking them to collaborate, which is an invitation that they can either accept or decline.
Once you have added everybody, tap the "Done" button in the top right-hand corner of the screen to save your settings and then publish as you normally would.
To summarize, the steps are as follows:
Create a new post on Instagram as you normally would
When you get to the caption screen, tap on "Tag people"
Click on "Invite Collaborator", which is just next to the "Add Tag" button
Use the search field to find the accounts you want to collab with
Click "Done" in the top right-hand corner of the screen to send the collab invite
Publish the post as you normally would.
How To Accept Instagram Collab Invites
If somebody else has invited you to collaborate on a joint post, then you will receive a notification on Instagram.
Open this notification and then click on the option to "review", at which point you will be prompted to either "Accept" or "Reject" the invitation.
If you choose the former, then you will appear as a co-author on the joint post in question, and it will be shared with all of your followers.
For more help becoming a social media aficionado, Newsweek has prepared guides on how to use Google Dark Mode with your various apps, and how to permanently delete a Facebook account.