Instagram Pulls Louis Farrakhan Promoting Account, Twitter Silent After Capitol Attack
Instagram removed an account dedicated to Louis Farrakhan's public remarks and ideologies on Sunday afternoon, following reports that Noah Green—the suspect identified in connection with last week's fatal attack at the U.S. Capitol complex—was a dedicated follower of the Nation of Islam leader.
Farrakhan is an infamous religious figure known for repeatedly using racist, anti-Semitic language online. His rhetoric on social media led Facebook to bar him from further use of its platform, as well as on Instagram, which the company owns, in May of 2019. However, Instagram accounts created under Farrakhan's name, and dedicated to his viewpoints, remained active years after the ban initially took effect.
Newsweek first reached out to Facebook about the Farrakhan-promoting Instagram account on Saturday. On Sunday, Newsweek inquired about whether Instagram was aware of one account in particular called @farrakhan.speaks, which had amassed upwards of 14,300 followers and exclusively featured video clips and photos of Farrakhan, with obvious ties to the Nation of Islam. A spokesperson confirmed that Instagram removed Farrakhan's initial account almost two years ago, but did not clarify its knowledge about the promotional account, or its creator, before removing it from the platform shortly thereafter.
As the spokesperson noted in an email to Newsweek prior to the account's removal, Instagram closed Farrakhan's primary account and prohibited his further use of the platform as part of its policy against "dangerous individuals and organizations." The rule, which applies to Facebook and Instagram, aims to eliminate users "that proclaim a violent mission or are engaged in violence," including those involved in terrorism, organized hate, homicide, human trafficking, organized violence or other criminal activity.
The Southern Poverty Law Center has labeled Farrakhan's Nation of Islam, which espouses the belief that Black people are superior to others, with a hate group designation, citing the "deeply racist, antisemitic and anti-LGBT rhetoric of its leaders."
Farrakhan holds an active Twitter account, which continued to be available for public view early Sunday evening. Newsweek reached out to Twitter on Saturday and Sunday to inquire about any intention to remove or suspend the account, given Green's apparent connection to the Nation of Islam and his suspected involvement in the latest Capitol attack, but did not receive a reply.
Green was shot and killed in Washington, D.C., on Friday, after the 25-year-old Indiana resident allegedly drove a vehicle into a Capitol Police barricade and charged officers with a knife. The suspect struck two officers with his car before crashing into the nearby barricade. One of the officers, William Evans, died as a result of his injuries. Green then allegedly exited the vehicle and ran toward officers with a knife in hand, according to Capitol Police. An officer fatally shot the suspect during the incident.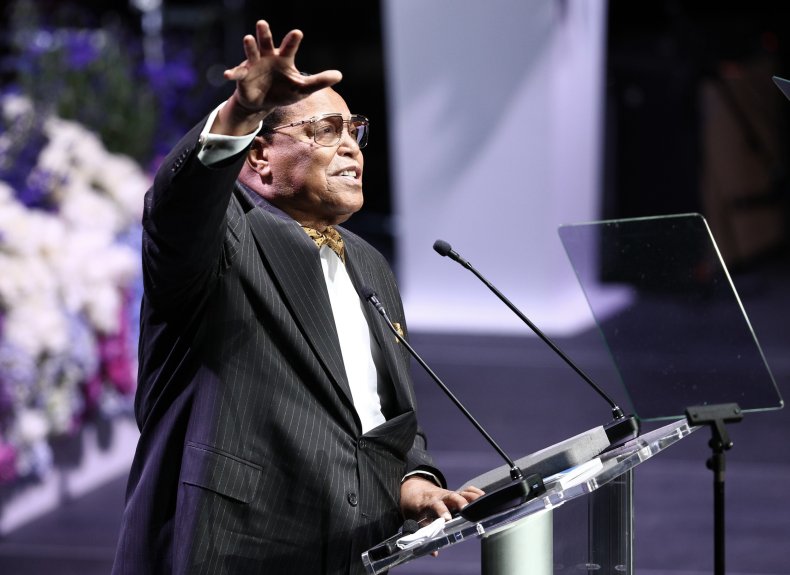 A Facebook account that seemingly belonged to Green was removed from the social media platform several hours after the attack took place. Screenshots captured by Newsweek prior to the account's removal showed a number of posts centered on the account owner's commitment to the Nation of Islam, which appeared to grow as he pursued "a spiritual journey" while facing personal challenges.
"My faith is one of the only things that has been able to carry me through these times and my faith is centered on the belief on the Honorable Minister Louis Farrakhan as Jesus, the Messiah, the final divine reminder in our midst," one Facebook post, dated March 17, read in part. "I consider him my spiritual father," the post continued. "Without his guidance, his word, and his teachings that I've picked up along the way, I would've been unable to continue."
Federal authorities launched an investigation into Green's life following Friday's attack at the Capitol, which came less than three months after the January 6 insurrection that killed five people, including one Capitol Police officer. Neither Farrakhan nor the Nation of Islam have shared comments about Green, his alleged involvement in last week's Capitol violence or his apparent ties to the extremist organization as of Sunday.
Updated at 6:40 p.m. ET to include additional details and background information.