Noah Green's Facebook Posts About Nation of Islam, Losing His Job
Facebook posts apparently from the deceased 25-year-old suspect in Friday's attack on Capitol Police reveal that he was a devout follower of the Louis Farrakhan.
Noah Green was shot and killed after allegedly driving his car into a Capitol Police barricade and charging officers with a knife on Friday, killing Officer William Evans and injuring another officer. A Facebook account believed to belong to Green was deleted from the platform within hours of the attack.
In posts captured by Newsweek shortly before the page was taken down, Green described personal difficulties in recent months that included quitting his job to go on "a spiritual journey." Most of the posts focused on his devotion to the Nation of Islam, the Black nationalist religious organization led by Farrakhan. The Southern Poverty Law Center has designated the Nation of Islam as a hate group.
"To be honest these past few years have been tough, and these past few months have been tougher," Green wrote in the early morning hours of March 17. "I have been faced with some of the biggest, unimaginable tests in my life. I am now after I left my job party due to afflictions, but ultimately, in search of a spiritual journey. I haven't had much to lean on the past few months, I've been faced with fear, hunger, loss of wealth, and diminution of fruit."
"My faith is one of the only things that has been able to carry me through these times and my faith is centered on the belief on the Honorable Minister Louis Farrakhan as Jesus, the Messiah, the final divine reminder in our midst," he added. "I consider him my spiritual father. Without his guidance, his word, and his teachings that I've picked up along the way, I would've been unable to continue."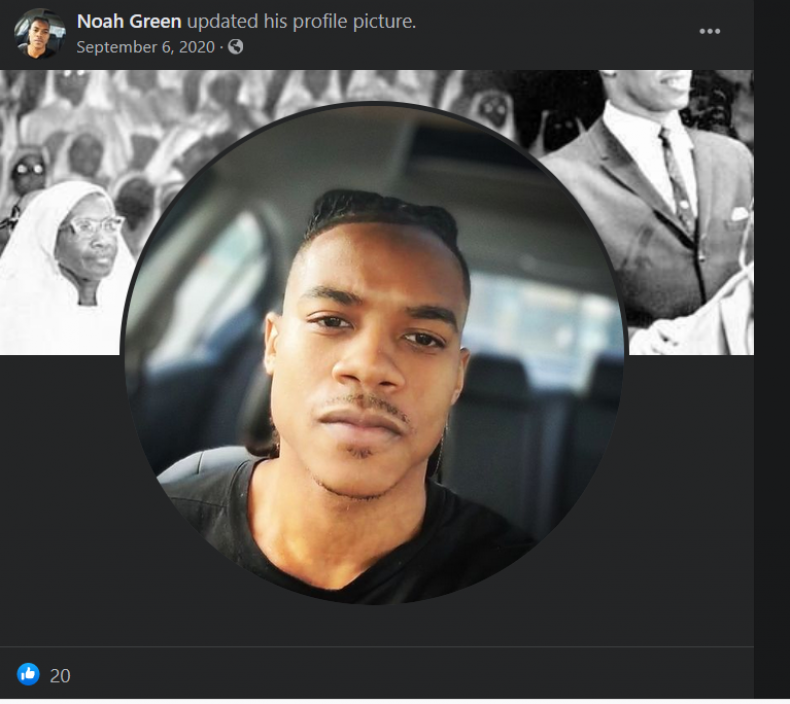 The post went on to describe Green experiencing unspecified "concerning symptoms" that he believed were caused by drugs he was "intaking unknowingly" while studying the topic of "Business is Warfare" from Farrakhan's teachings. Green said that he abandoned the topic because God had "chosen for me other things." He warned readers to not question that Farrakhan was "the Jesus" before ending the post by admitting that he hoped it would "somehow reach the Minister."
In a follow-up post appearing about eight hours later, Green insisted that Farrakhan was "here to save me and the rest of humanity, even if it means facing death." Both of the posts, along others on Green's Facebook page, were signed "Noah X."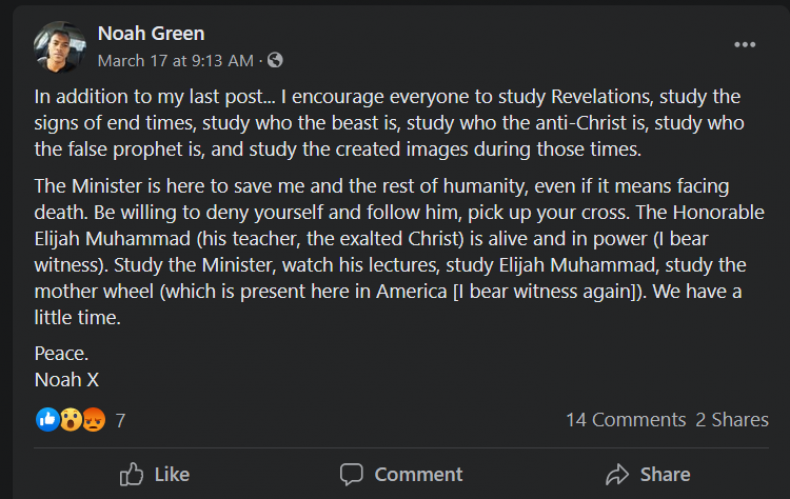 On the same day, Green posted a "Nation of Islam Certificate of Completion" given to him in "recognition of your sacrifice in making your word bond and completing your 2021 saviors' day gift in the amount of $1,085." Another March 17 post saw him share a video link to lecture from Farrakhan titled "The Divine Destruction of America."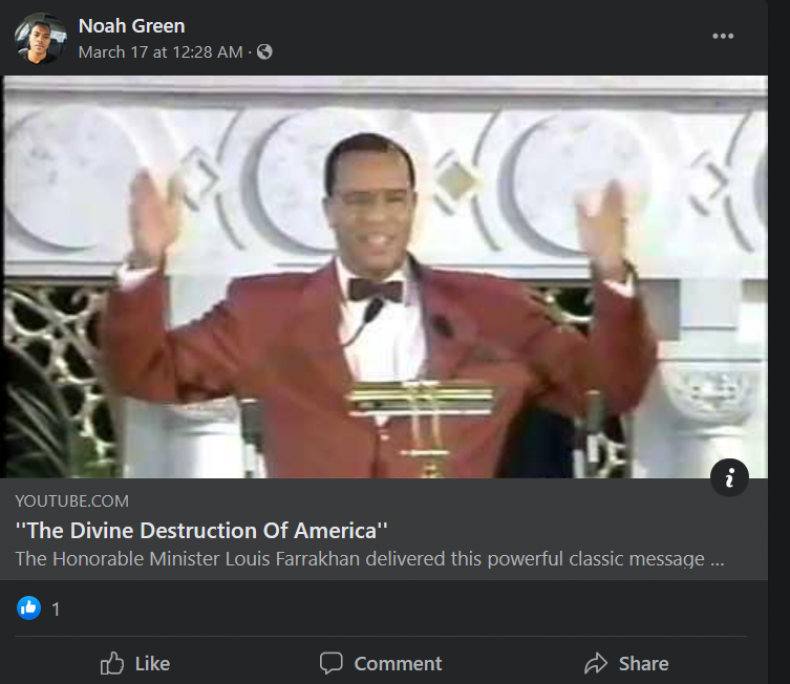 Green's last two posts on the platform appear to have been made on March 21. One shared a November 17 article focusing on the aftermath of the 2020 presidential election from Nation of Islam paper The Final Call titled "The Lull Before the Storm," accompanied by Green's comment that "Satan's rule over us is up." The final post was a link to a Farrakhan video lecture on "The Crucifixion of Michael Jackson."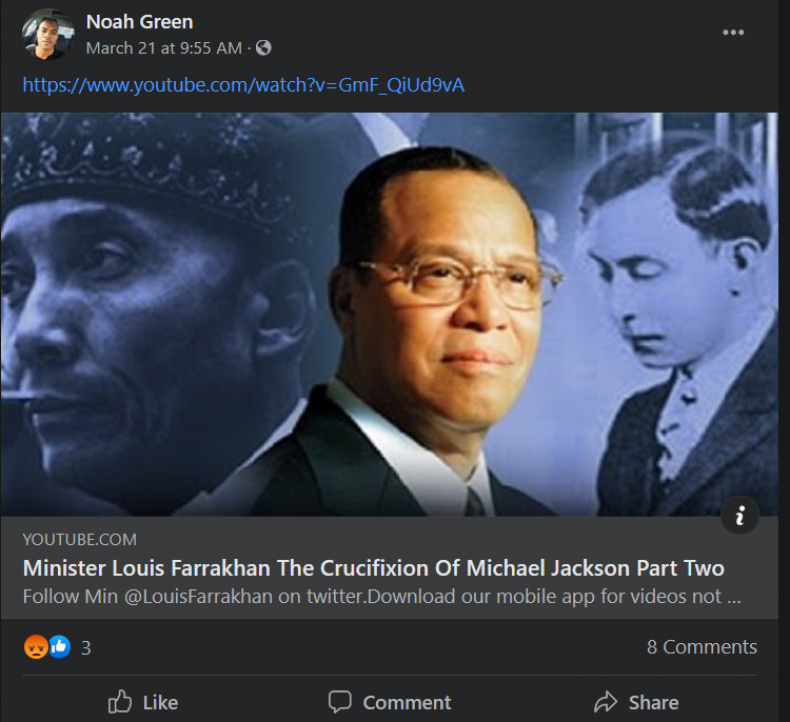 Newsweek reached out to Facebook and The Nation of Islam for comment.