Instagram Removes Milo Yiannopoulos Post Praising Pipe Bombs—Eventually
Instagram removed a post by former Breitbart technology editor and right-wing commentator Milo Yiannopoulos which praised the bombs sent to a number of Democrats and Donald Trump critics. The social-media platform initially refused to take the post down after it was reported for breaching its hate speech guidelines.
Yiannopoulos had posted a photo of himself in bed with the caption: "Just catching up with news of all these pipe bombs. Disgusting and sad (that they didn't go off, and the [news site] Daily Beast didn't get one)."
The photo and caption were posted on Thursday, after numerous explosive devices had been intercepted.
After the post was reported, Instagram said it would not be taking down the image since it "does not violate our Community Guidelines."
Over the course of four days, explosive devices were intercepted on their way to former President Barack Obama, 2016 Democratic presidential candidate Hillary Clinton, billionaire philanthropist George Soros, Democratic Congresswoman Maxine Waters, CNN's offices at the Time Warner Center addressed to former CIA director John Brennan, outspoken Trump critic and actor Robert De Niro, and former Attorney General Eric Holder.
In a follow-up post, Yiannopoulos posted a screenshot of a Daily Beast article on how Instagram had first refused to take down the post about the bombs.
"Journalists have made it too dangerous for my husband and I to go out for dinner together in New York with the lies and name calling they have been doing for YEARS to try to destroy me," Yiannopoulos wrote in the caption.
"I need private security whenever I appear in public. but they cry when I make a joke—about a false flag designed to distract us from the democrat funded and organized illegal migrant caravan. utter scum. I won't mourn them."
"I WILL NEVER EVER EVER STOP MAKING JOKES ABOUT WHATEVER THE F*** I WANT AND NO ONE WILL STOP ME AND I DO NOT CARE WHAT THE CONSEQUENCES ARE. YOU WILL NEVER SILENCE ME. YOU WILL NEVER CENSOR ME. PERIOD," he added.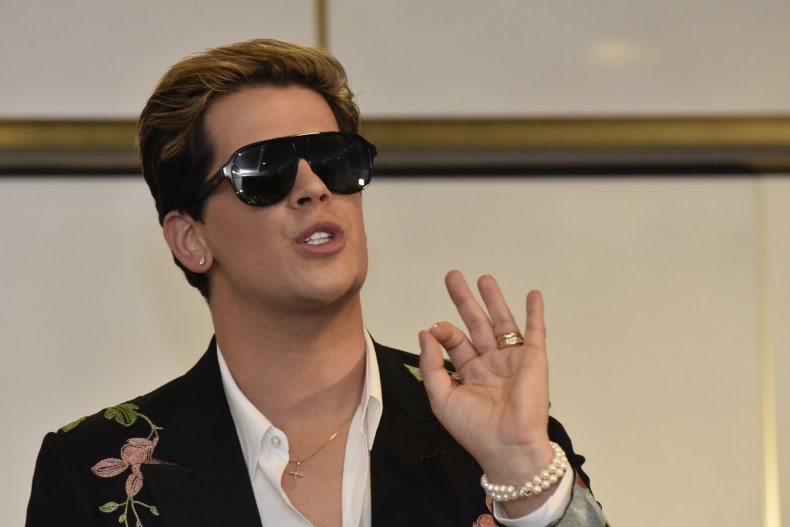 Instagram eventually removed the post praising the bomb plot after saying it had made a "mistake" in not doing so originally.
"This content violates our policies and has been removed from Instagram and Facebook," a spokesperson for Instagram confirmed to Newsweek. "We prohibit celebration or praise of crimes committed, and we will remove content praising a bombing attempt as soon as we're aware. We made an initial mistake, but upon re-review it was confirmed that the content violated our policies, and we took it down."
Discussing the removal in another Instagram post, Yiannopoulos said, "It doesn't matter whether your post violates their terms of service or not—only whether enough social justice warriors complain about it. Mob rule."
Yiannopoulos was permanently banned from Twitter in 2016 for his role in orchestrating an online racist harassment campaign directed at actor Leslie Jones over her role in the Ghostbusters reboot.