'Insufferable': Viral Video Reveals Woman's Neighbor's Reaction to Noise
A woman's video showing her downstairs neighbor's reaction to a falling broom has gone viral on TikTok, amassing more than 2 million views.
TikTok user Hannah Baker, known by her username@perctato, recorded several clips in which viewers can hear loud banging coming from downstairs, which goes on throughout the video.
"This all started [because] I dropped my broom stick while I was sweeping," the video caption read. "If [you] don't like noise don't live in an apartment."
Baker films different rooms of her apartment as a loud thumping noise can be heard coming from downstairs.
"I can't even drop things in my own apartment," she said. "And dropping things is f*****g human. It's going to happen."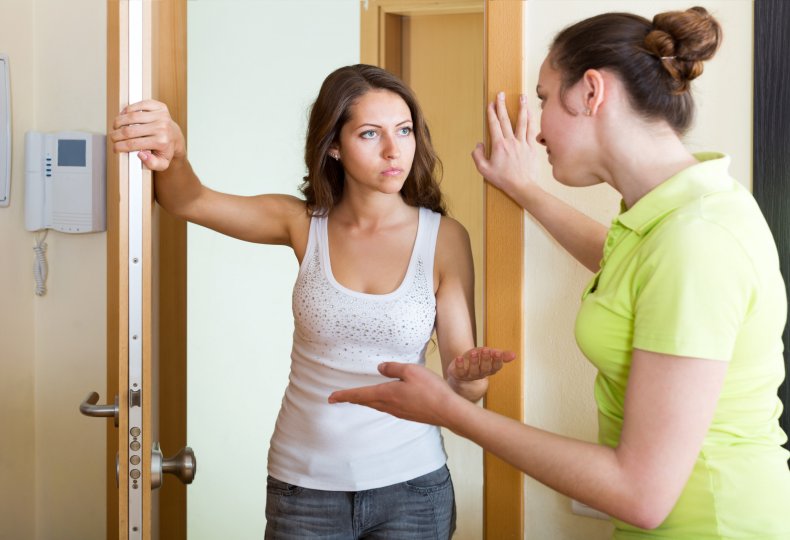 Many apartment residents are bound to hear noise from their neighbors at some point.
According to a piece published by Noise Free America, an organization that works to reduce noise pollution, there are ways a resident can address noisy neighbors.
One of the first things someone can do is speak with the neighbors.
"Most of the [time], neighbors that make noise do not even realize they are causing trouble," the piece read. "Talk to them to have noise issues resolved without immediately escalating them."
The article also noted that some noises are "inevitable" because of hardwood floors and thin walls. In that case, residents can use a white noise machine as a way to soften other noises.
If there is no solution, and the neighbors are unable to come to a compromise, a resident may have to file a complaint in the event that there is indeed a noise violation.
Meanwhile, most viewers sympathized with Baker's situation.
"Seriously some people have got to understand apartment living," a viewer wrote. "Some noises are unavoidable."
"I don't get people like this," commented another. "I currently live as the bottom neighbor and I hear stuff upstairs all the time. What do I do? I mind my business."
One comment read: "The fact that you're not even doing anything and they're still going...people are insufferable."
Others commented that Baker should cause more noise and gave some suggestions on what she can do.
"Invite all of your friends over for some folk dancing," a user's comment read.
A few wrote that Baker could get tap shoes.
"Just grab a speaker with bass and turn it upside down and blast it," another viewer wrote.
Baker told Newsweek that she never heard any complaints about noise from her neighbor until months after moving in. She said after leaving to go out one day with her boyfriend, her neighbor heard them coming down the stairs and began yelling at them, complaining that they've been loud ever since they first moved in.
She claimed that her neighbor then followed her with a broomstick in her hand when she walked away, but her boyfriend stopped her. She said that was the last time she saw her neighbor, but has consistently heard her banging on the ceiling.
"If she heard footsteps, us accidentally dropping something, etc., she would bang on the ceiling with a broomstick repeatedly for 20 minutes," Baker said.
In a follow-up video, Baker said she sent emails and the video to the apartment's manager.
"All she said was, 'Got it, thanks,'" she said.
Baker said she also reached out to the police but was told they could not do anything unless she had video evidence of her neighbor threatening her.
She said that she believes her neighbor may have an issue with the noise her cats make. Baker explained she requested to live in a unit on the first floor but was given a second-floor unit instead.
Though a tense situation, Baker said she has no plans to further the conflict by making more noise.
"I'm trying to be the bigger person," she said. "I'm just trying to move to a different apartment.
Baker also revealed in another video that she spoke with another manager who offered her the chance to move to a different building.
Many apartment residents have shared their experiences of handling noise, like a man from Los Angeles whose TikTok clip went viral for the song he plays when his neighbors are too loud.
Another viral video shows a woman allegedly walking into a family's house to lodge a noise complaint.
And though many neighbors ask for a quieter environment, a Nevada man shared a note he received that asked him to turn up the volume on his music.
Update 4/15/22, 6 p.m. ET: This story was updated with additional information and comment from Hannah Baker.