Here's 5 Affordable Ways To Upgrade Your Kitchen Without Spending Thousands
Looking to give your home a luxurious facelift without spending a fortune? An affordable kitchen upgrade may be your best bet.
According to a survey of more than 75,000 U.S. homeowners aged 18 and older, conducted in 2021 by home design website Houzz, the amount of money spent on home renovations grew by 15 percent in the year prior to a median of $15,000.
Kitchen projects were reported to be the most popular among homeowners doing renovations. While the median spend has been flat on these projects for the three years prior to 2021, "investment on major remodels of large kitchens jumped 14 percent to $40,000 in 2020 compared with $35,000 in 2019," the survey found.
Los Angeles-based interior designer Stefani Stein told Newsweek: "A kitchen update is a fantastic option for increasing both a home's resale value and one's quality of life. Dream kitchens often involve a complete overhaul and redesign. If that isn't in the cards at the moment, there are a few smaller-scale changes homeowners can make that are still impactful."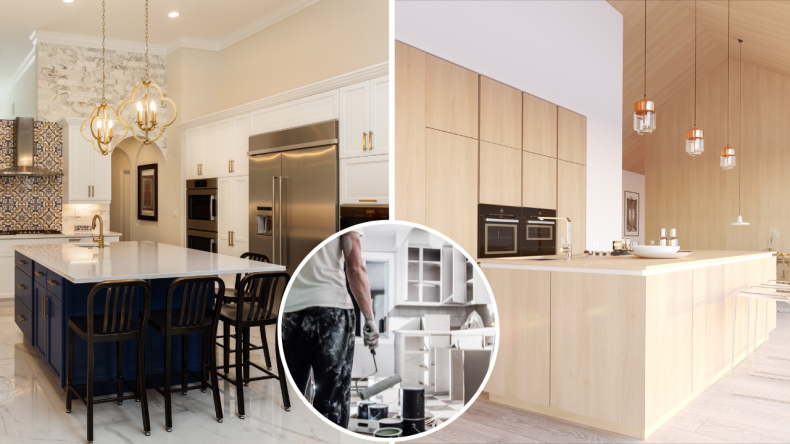 Below, interior designers share their best tips for simple ways to upgrade your kitchen without breaking the bank.
1. Go For A Wood Countertop
Emily Shaw, an interior designer from New Hampshire, told Newsweek: "Laminate countertops are known to downgrade your kitchen, especially if they aren't in good shape. If your countertops need help, I recommend making them yourself out of wood. It sounds daunting, but it is a simple process and extremely worth it."
Shaw said even the most inexpensive laminate countertop option can cost a small fortune to have it installed in your home. But she was able to make a wood countertop for her parents for under $100 and it has "lasted years," the designer said.
"All you have to do is find the right wood sizes, glue them together, plane them, and cut any necessary holes before adding a stain and resin finish. The natural, recognizable material will make your space feel so elevated," according to Shaw.
2. Or, A Marble One...
If there's a little bit more room in your budget, go for a marble countertop instead.
Stein said: "Replacing dated granite countertops with marble instantly elevates a kitchen. This update works nicely with changing out plumbing fittings for a more current finish as well."
The LA-based designer recommends "classic-yet-current finishes," such as "antique brass, polished nickel or architectural bronze."
3. Repaint Your Kitchen
Shaw said: "The paint in your kitchen can completely determine how the space looks and feels."
Stein agreed: "Repainting kitchen cabinets can breathe new life into a kitchen," and while you're repainting, "you may as well update the knobs and pulls at the same time."
Before painting your cabinets, be sure that you're taking to "avoid stickiness and a poor finish," Shaw advised. "Sometimes, high quality wood cabinets are more valuable than painted [ones] if the paint job isn't great."
For your kitchen walls, Shaw recommends choosing a lighter color to help reflect light and avoiding colors with "a lot of yellow in them because it can give the impression that the kitchen is dirty."
Interior designer Lee Anne Stelte, the owner of Whiteline Designs firm serving north Arkansas and elsewhere, told Newsweek that simply painting your kitchen island can also create an "impactful change to the entire space."
4. Get Rid of the Upper Cabinets
Stelte said changing your "cabinet hardware" can make a "significant impact with a little investment."
She recommends taking some of the upper cabinets down and adding a "floating shelf" instead.
"This not only takes some of the heaviness out of the kitchen but adds beauty by displaying nice dishes and art," Stelte explained.
5. Change the Lighting
Shaw noted: "Sometimes all a space needs is proper lighting," and Stelte agreed, stating: "Changing lighting is another great way to update the kitchen space."
An easy DIY (do-it-yourself) fix would be to switch out your overhead light for one with "some character and multiple bulbs," Shaw recommends. "Additional bulbs add more light to the space which is very desirable for buyers."
You can also add "rechargeable lights" under your cabinets, which are extremely inexpensive, Shaw said. "These will make the kitchen have a luxurious feel."
Do you have any budget kitchen design upgrade tips to share? Send them to life@newsweek.com with some details and they could appear in Newsweek.