Internet Applauds Diner Job Listing Offering Benefits, Booze & Biscuits
Commenters on an online job listing were blown away by one restaurant's generous offering to prospective employees.
Yesterday (March 28), New Orleans-based eatery Turkey and the Wolf shared an Instagram post looking for a line cook at its dedicated breakfast location called Molly's Rise and Shine.
In the last day, the post has been liked more than 1,200 times and also inspired an entire Reddit thread full of impressed commenters.
Beginning with the explanation that Molly's Rise and Shine has "gotten a little busier," Turkey and the Wolf detailed what the restaurant is looking for from a new line cook and revealed an extensive list of perks that come with employment there.
"WE ARE HIRING A BREAKFAST COOK!," the post reads. "IT'S A REALLY FAST HOT LINE SO A LITTLE EXPERIENCE COOKING REALLY GOES A LONG WAY WHEN JOINING THE TEAM."
"PAY STARTS AT $22-$25/HR, NIGHTS OFF, FREE FOOD, FREE BOOZE, HEALTH INSURANCE [and] SCRAMBLED EGGS," the post continues.
"KITCHEN AND [front of house] LED BY WOMEN WHICH WE ALL KNOW IS BETTER, FREE HAT, PAID SICK LEAVE, NO COST MENTAL HEALTHCARE, BACON, A LOT OF STAFF PARTIES, BISCUITS, OTHER FREE CLOTHES, ALL HOURLY TEAM MEMBERS GET PAID THE SAME AMOUNT [and] SAUSAGE," it concludes.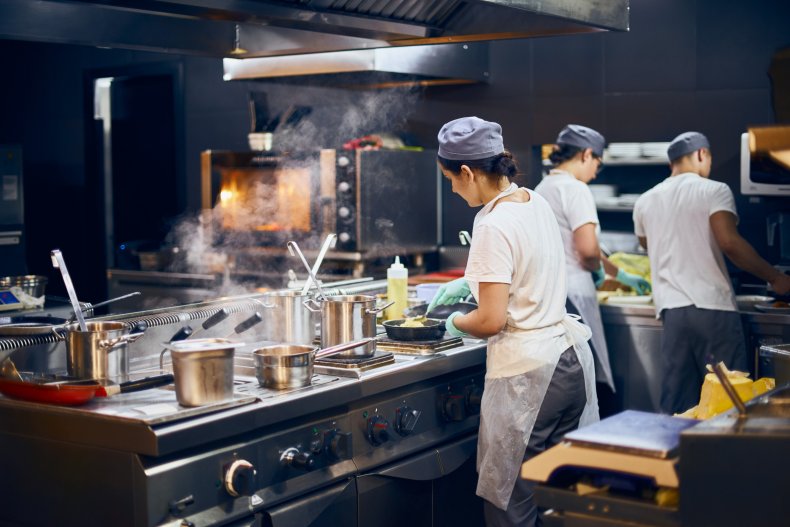 When considering accepting a new position, jobs website The Muse reports that six factors weigh heavier than others: potential coworkers, workplace environment, offered benefits, stability, projected wages, and finally, an applicant's gut feeling.
Despite the importance of all six factors, benefits and wages often reign supreme over the other four.
For those looking for jobs in restaurants, however, fair wages and benefits are not always guaranteed.
In 2019, data collected by restaurant software company Toast revealed that only 31 percent of restaurants provide health insurance for staff members. And this year, jobs website Indeed reports that the average hourly wage for line cooks across the United States is $16.55—making the benefits and $22-25 per hour offered in the job listing for Molly's Rise and Shine an outlier on multiple fronts.
Throughout the comment section of the Instagram post shared by Turkey and the Wolf, users exclaimed at the extensive list of perks and benefits, and some even said they'd move to New Orleans to capitalize on the offer.
"This is how you list a job," one commenter wrote, adding a trio of clapping emojis.
"Had me at bacon," another commenter added. "I bet with this kind of staff care the food and service is stellar."
"I may have to move back to NOLA for this job!," a third commenter chimed in.
In a Reddit post published in the r/antiwork forum, which includes a screenshot of the post, which has received more than 7,000 votes, numerous Redditors responded with comments similar to those found on Instagram.
"Damn, that sounds like a great place to work," Redditor u/NorthernSmithy wrote.
"I'm down," one Redditor commented. "Where do I sign up?"
"I've been to this place and Turkey and the Wolf a few times," another Redditor wrote. "I follow them on IG...and can say that the owner is someone that is 100 [percent] on our side and isn't afraid to say it.
"He does a lot for the community around him with raising money for relief from natural disasters to the overall well being of the city of New Orleans and has garnered all of its respect," they added.
Newsweek reached out to Turkey and the Wolf via direct message for comment.