'We're Family': Internet in Awe at Cats Traveling the World With Owners
A man traveling the world with his three cats has sparked viral attention online after his videos have received millions of views.
From Paris to New York, the feline trio named Spongecake, Mocha, and Donut have captured hearts as they explore in the arms of their loving owners.
The popular TikTok account spongecake_cats has over 66,000 followers and is run by Dan Nguyen who lives in New York City. Frequently receiving lots of views on their videos, a recent clip of the cats riding a gondola in Venice, Italy, which can be seen here, has gone viral, racking up over 1.8 million views.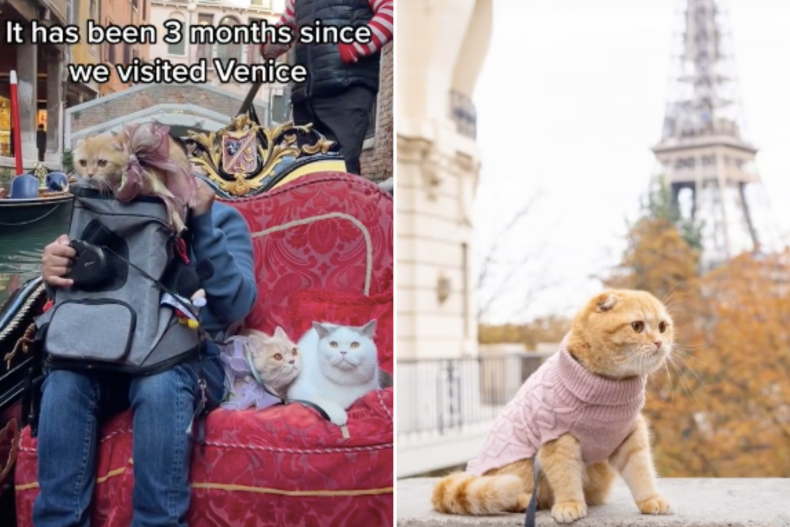 Nguyen told Newsweek: "When I first took my cats to Central Park here in New York City, I noticed that they were curious about the outside world, but cautious at the same time. As I wanted to nurture their curiosity and spend more time with them outside, I started training them to go on adventures around New York City."
As time went by, it became clear that the cats were really enjoying exploring new places, with Donut even begging to go outdoors every day.
"That's when we thought about taking them traveling with us so that we could continue to see them exploring new things," said Nguyen. "We started traveling with them one year ago."
When it comes to taking your feline friends on an adventure, it can depend on your cat's personality. VCA Animal Hospitals say that cats are often seen as "place-oriented beings" who would rather have their own space, but with a little bit of work and persistence, cats can indeed be great travel companions.
Anyone who has tried to get their cat into a carrier for their annual vet trip will tell you that it isn't always met with excitement—in fact, many cats hate their carrier.
VCA Animal Hospitals say that the first step in happy travels with your cat is teaching them that the carrier is a great place to be: "Have the carrier open and available at all times in order to make it as inviting as possible. Feeding your cat in her carrier can create a positive association."
Nguyen is often asked online for tips and tricks when it comes to traveling with cats and the user has shared information on everything from how to board a flight with your pets to what documents you might need for traveling.
In other videos, it is clear that these felines have an appetite for adventure. Seen walking through busy streets, receiving pets from strangers, and climbing trees.
In one video, which can be seen here, overlaying text asks: "Why does cat dad take us everywhere?," to which Nguyen simply captions a response: "We're family."
"Traveling with cats seems daunting. It does take a good amount of preparation," explained Nguyen. "Before we travel to a country, we do research on what paperwork required is for the kitties to enter the country."
With steps including checking airline policies, getting all the required documents and finding pet-friendly hotels and restaurants for their trips—there is plenty to think about.
"Traveling with cats also means that we need bigger suitcases to bring with us pet supplies such as cat food, litter, toys, scratchers and so on," he said.
Internet users have left thousands of comments on the viral videos, sharing their joy and asking questions.
"How do you get them to not run away?" asked one commenter, and the traveling family replied: "We trained them using lots of treats. They associate the outdoor environment with good feelings."
"My cats are always leashed and harnessed securely whenever they are outside. We trained them to sit on the backpack while enjoying the scenery as you will see in the TikTok videos," said Nguyen. "We always stay close this way. In addition, we constantly keep an eye out for any possible dangers."
Another TikToker said: "Whatever those cats did in their past lives, I want to be treated the same in my next one."
"I would literally burst into tears seeing this because it's just too cute," said another reply.
Not the only pet owners to travel with feline companions, another couple online has recently shared how they share van life with their three cats, driving through the Pacific Northwest in a custom-built van.
Do you have funny and adorable videos or pictures of your pet you want to share? We want to see the best ones! Send them in to life@newsweek.com and they could appear on our site.
Update 07/11/22 04:00 a.m. ET: This article was updated with a new video and image.
Update 07/14/22 09:20 a.m. ET: This article was updated with new comment from the TikToker.