Internet Backs Unemployed Person Who Says They're 'Happier Than Ever'
Members of a popular internet forum were in agreement with one poster who said their lack of employment has directly contributed to increased happiness.
In a viral Reddit post published on r/antiwork, Redditor u/Notupinhere1028 (otherwise referred to as the original poster, or OP) said they are enjoying life without a job and detailed the reactions they've received from both peers and relatives.
Posted Sunday, the viral post has received more than 19,000 votes and 3,200 comments.
Writing that they have been "out of work for a while," the original poster said their current unemployment has rubbed many people the wrong way.
"I have noticed that it really bothers people that I don't have a job," they wrote. "Mostly friends and family."
"I have no kids [and] I'm happier than ever," they added. "Why do people care?"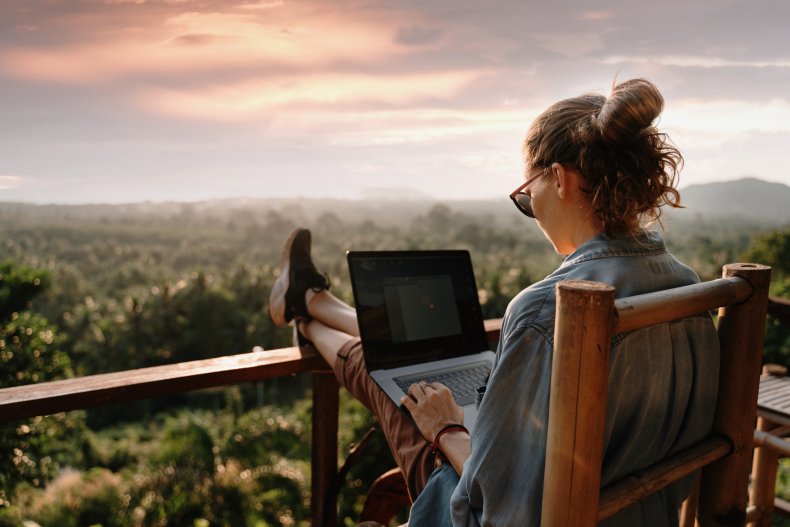 Since early 2021, more American workers have quit their jobs than at any other point in U.S. history, propelling the nationwide movement popularly dubbed the Great Resignation.
Last November, 4.5 million employees quit their jobs, marking the highest level since the Bureau of Labor Statistics (BLS) began tracking employer separation data in 2000.
The most recent data released by the BLS showed that in February 2022, 4.4 million employees quit their jobs, a minor drop off from three months prior.
Although compensation and benefits remain among the most important factors for workers considering leaving their current employers, other deciding factors have risen to prominence throughout the Great Resignation.
This January, an article published by MIT Sloan Management Review revealed that a majority of quitting employees have left employers as a result of toxic work cultures, shoddy company responses to COVID-19 and poor work-life balances, all of which contribute to unhappiness among workers across the country.
In an interview with CNBC, Delivering Happiness CEO and "Beyond Happiness" author Jenn Limm called the Great Resignation a "great thing," and said that American workers are prioritizing themselves and their own happiness.
"I see it as actually balancing the scales to be more equal to where people are standing up for themselves and saying, 'This is what's most important to me, and therefore, I will say no to what's not,'" Limm told CNBC.
"That's amazing," she added.
Throughout the comment section of the viral Reddit post, many Redditors echoed the sentiments of both Limm and the original poster, acknowledging that for some, unemployment can be an opportunity to become both healthier and happier.
Responding to the notion that those who remain employed are bothered by those who are not, Redditor u/Mysterious_Megalodon said, like most things, it all comes back to money.
"In my experience they are mostly confused about how I can afford to do it," they commented. "I'm sure some think I'm lazy for not contributing."
"Just left my job after 14 year and am just taking a break from work," Redditor u/Meng3267 chimed in. "Some people I told seemed flabbergasted that I just planned on not even looking for work for a couple months."
Redditor u/Zphr, whose comment has received nearly 5,000 votes, said that a large portion of the population has been conditioned to judge each other based on employment status and speculated that anything, or anyone outside of the norm is quickly shunned.
"Unemployed people are seen by many working folks as being quasi-homeless and early retirees are sometimes similarly viewed as either cheaters or slackers," they wrote.
In a separate comment, Redditor u/CeramicMasterpiece assured that they, along with most working people, stay employed because they have to.
"I genuinely feel sorry for people 'who feel compelled' to work," they wrote. "I like my job but if I had universal basic income I would resign immediately."