Internet in Hysterics After Homeowner Finds Fake Skeleton in Wall With Note
From creepy photographs in hidden rooms to pentagrams carved into the floorboards, homeowners are often surprised by what previous residents leave behind.
At least the former tenants of TikToker @kzwpg's home in Winnipeg, Canada had a good sense of humor. In a clip posted on June 18, @kzwpg's—real-name Kaleigh—shared the plastic skeleton she discovered during a home renovation, which users described as "hilarious."
In the video, the skull can be seen watching through a gap in the wall. Kaleigh's dad then removes the panel to reveal the skeleton's torso and legs, dressed top-to-toe in denim.
"There's a note," says Kaleigh's mom. "Oh my God, that's hilarious."
Her dad removes the note from the skeleton's pocket, which reads: "Boo! Ha ha, did I scare you? Jason Lane, 2013."
"I've lived here for 6 years and this skeleton has been watching me from behind the bathroom mirror this whole time," Kaleigh wrote alongside the post.
TikTok users loved the prank, with the post receiving over 500,000 likes and more than 2,000 comments.
"I mean humor doesn't die buddy," said Leoo0, while Madlen Bowen commented, "That is hilarious omg."
"WOW the dedication to do a prank that would only be revealed years later," wrote AJ.
Jim Bender dubbed the perpetrator "my kind of people."
Although the skeleton was a fake, a study by Cinch Homes found that one in 10 Americans have moved house over a "haunting." The survey of 1,000 people revealed that 83 percent of respondents believed they had experienced paranormal activity in their home, including strange sounds, voices and lights turning on and off autonomously.
Of those who reported a supernatural encounter, 60 percent had been warned about "odd events" taking place at their home beforehand. Four in 10 had been told their dwelling is haunted, while 23 percent discovered that someone had passed away at the property before they moved in.
One commenter on the TikTok post received 27,000 likes after claiming the prankster is her brother.
User briannelane312 wrote: "Jason is my brother.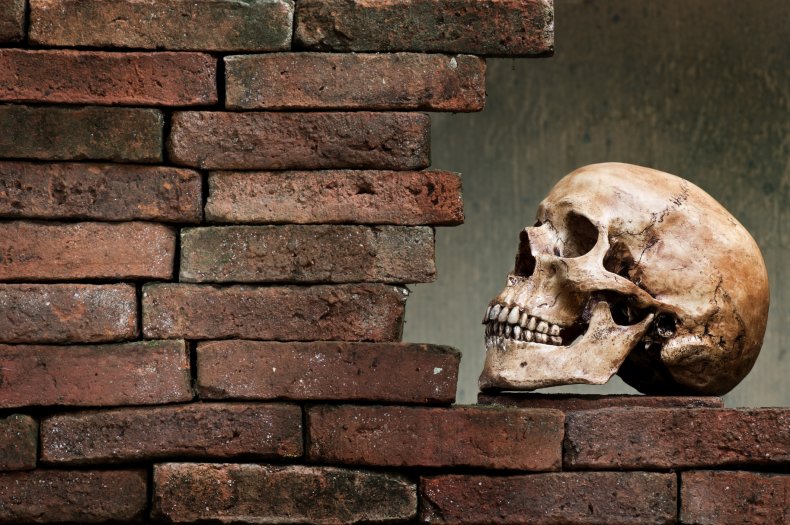 "This was our great grandpa's house then Jason bought it and did the renovation before he moved to BC [British Columbia]."
However, users weren't convinced, with Josh writing: "I know Jason's dog, he's a good guy!"
"How can he be your brother when Jason is in fact my mother and we live in CB," added cbrownee3.
But what scared people the most was the passage of time.
"Do NOT tell me 2013 was 9 years ago," said Dylan.
"2013 wow thats vintage," wrote Peter Groothousen.
"I thought 2013 was like 3 years ago tops," joked Panchshow.
Newsweek has reached out to @kzwpg for comment.