Internet Questions Uber Eats Customer Showing Off Expensive Delivery Fee
Commenters were quick to call out one Uber Eats customer who shared a seemingly-outrageous delivery bill they received in a popular internet forum.
In a Reddit post published on r/mildlyinfuriating, Redditor u/CherylStoned (otherwise referred to as the original poster, or OP) included a screenshot of their girlfriend's recent Uber Eats order, which included a substantial, but ultimately useless coupon.
Titled, "[Girlfriend] tried a $20 off promo for Uber Eats," the post has received more than 8,000 votes in the last day.
Within the screenshot Uber Eats order, it can be seen that the order's subtotal came to $25.48. After the $20 coupon, which dropped the subtotal to $5.48, a myriad of tacked-on charges pushed the order's final cost closer to where it started.
After $5.52 in taxes and fees, Uber Eats' temporary $0.35 fuel surcharge and a whopping $12.99 delivery fee, the original poster's new subtotal was $24.34—just $1.14 less than the original $25.48.
Since the onset of COVID-19 in March 2020, apps like Uber Eats, Doordash, Grubhub and a handful of others have transformed the food delivery landscape.
However, after two years of innovation and improvements in efficiency, spikes in inflation rates have prompted delivery companies to compensate for rapidly rising gas prices across the United States.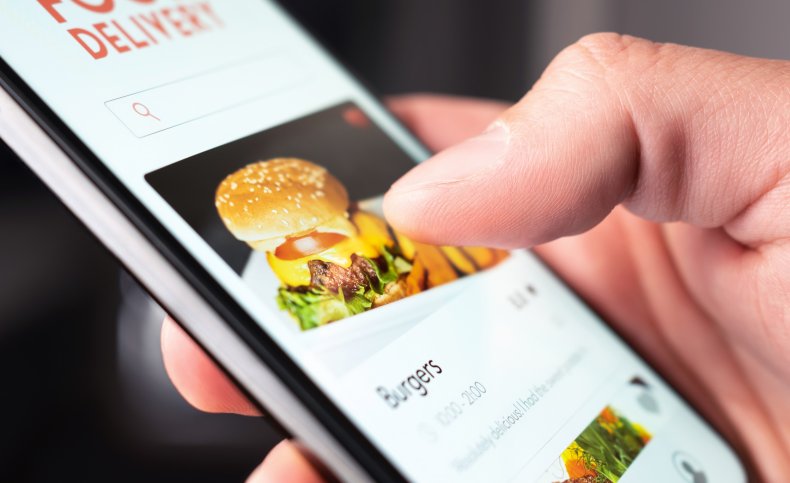 For both Uber and Uber Eats, that compensation has come in the form of an additional fuel charge, added onto the total cost of a customer's ride (in the case of Uber) or a customer's delivery (in the case of Uber Eats).
In a statement, Uber explained the decision to implement their fuel surcharge, and vowed to track gas prices and adjust the charge accordingly.
"Beginning Wednesday, March 16, consumers will pay a surcharge of either $0.45 or $0.55 on each Uber trip and either $0.35 or $0.45 on each Uber Eats order, depending on their location—with 100 [percent] of that money going directly to workers' pockets," the statement (posted on Uber's website) reads.
"We know that prices have been going up across the economy, so we've done our best to help drivers and couriers without placing too much additional burden on consumers," the statement continues. "We'll also continue to track gas price movements to determine if we need to make additional changes."
Although Uber Eats' fuel surcharge is a recent addition to the modern food delivery experience, the largest contributor to the original poster's nearly-unchanged subtotal was a $12.99 delivery fee.
Last year, venture capital firm Loup reported that, on average, delivery fees ranged from $1.59 and $3.09. In the comment section of u/CherylStoned's Reddit post, Redditors pointed out the stark difference between average delivery fees, and what the original poster's girlfriend paid in delivery fees, despite the $20 coupon.
"$12.99 delivery fee," Redditor u/jorsiem wrote. "The f**k?"
Like u/jorsiem, many commenters were stunned by the expensive delivery fee, but were adamant that the original poster was not justified to complain about it.
"You can see the delivery fee before you pick the restaurant," one Reddit user acknowledged. "OP [knew] he would have to pay that much for delivery before even selecting the restaurant."
"Shouldn't have chosen a restaurant with such a ridiculously high delivery fee," another commenter added. "They're normally around 2-3 bucks."
While the majority of commenters remained focused on the specific screenshot shared by the original poster Redditor u/itsgettingmessi, whose response has received more than 3,500 votes, took aim at Uber Eats customers as a whole.
"[Uber Eats] is only for [people] who make a lot of money and dipsh*ts who think it's convenient," they wrote. "No way any sane person says 'yup this 12 dollar meal should cost [$35]."
"I look on [Uber Eats] to figure out what's close to me and what they have," another Redditor added. "Then I go get it myself. It's way faster to do it myself, too."
Newsweek reached out to Uber for comment.