Internet in Shock by Rescue Cat Who Was Raised With Dogs: 'He Also Barks'
A rescue cat named Kaizar has left the internet in stitches after a video of him panting like a dog went viral on social media earlier last week.
In the video, shared on TikTok by the cat's owner on Saturday, under the username Kaizargoeswild, the orange cat can be seen panting as she asks her mom for attention.
The hilarious post comes with a caption that says: "When your cat was raised with dogs. We got him checked out multiple times for any heart/lung related diseases but apparently, it's just him copying his big sis." Followed by: "Who let the dogs out ft Kaizar. he also barks sometimes but I've never managed to catch it on camera yet."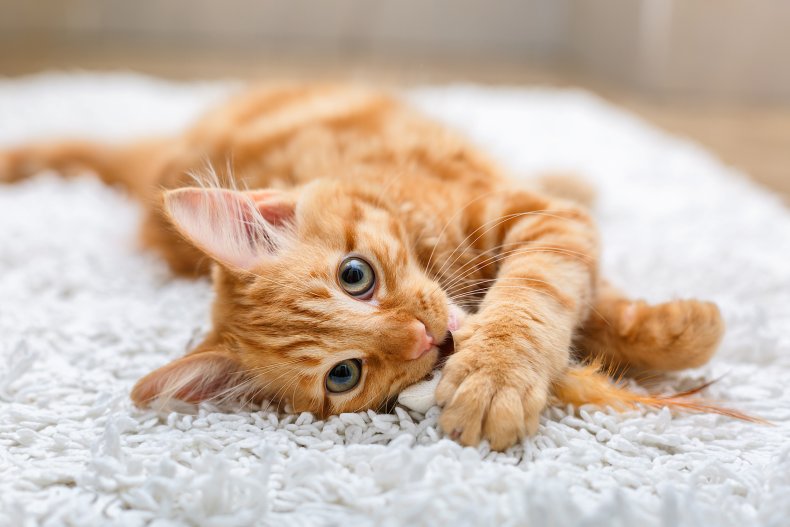 According to Friendly Animal Clinic, in Greensboro North Carolina, while some panting in cats is normal, in other cases it can be a sign of a serious problem that needs to be checked immediately by your trusted veterinarian.
Their website says: Similar to dogs, cats may pant if they are anxious, stressed, or overheated. Strenuous exercise may be another cause. Once your cat has had a chance to rest, calm down, and cool down, this sort of panting should subside. However, even this type of panting is much more rarely seen in cats than in dogs. So, if you're not 100% positive about why your cat is panting, it's best to bring her to the veterinarian."
Common symptoms of heavy breathing or panting include coughing (in some cases), loss of appetite, hiding, lethargy, purplish or bluish tint to gums, labored breathing (may include rapid, noisy, or shallow breathing, and rouching or standing while stretching the head or neck and pulling elbows away from the body.
The post quickly gained popularity on social media, attracting animal lovers from across the platform, and it has so far received over 4.6 million and 1.1 million likes.
One user, urbanjae, commented: "The search is cat barking LMAOOOOOO." And pinkmilkmari wrote: "I love cats raised by dogs. And dogs raised by cats too." Jaguar added: "My cats do that when it's real hot."
TinaMarie said: "Cat barking. I love Orange kitties they're the best! Can't convince otherwise." And Renyyy added: "A cat dog has got to be the cutest thing ever."
Another user, Lindsay White, commented: "Orange cat activities!" And Cet_Distic said: "Alone in the world with a little catdog." Jenna joked: "My cats taught my dog how to groom them." And Bumble_leo3 added: "another great example of 'there's nothing wrong with him, he's just orange."
Another user, 5nzo, said: "That's a golden kitty retriever hahah." And Chief Keef added: "he installed the wrong software." Marcien Wolf wrote: "he look so cute and goofyyy."
Aryan Haire commented: "Cats will do that when they see things like birds. It freaked me out the first time I saw it happen."
Newsweek reached out to Kaizargoeswild for comment. We could not verify the details of the case.
Do you have funny and adorable videos or pictures of your pet you want to share? Send them to life@newsweek.com with some details about your best friend and they could appear in our Pet of the Week lineup.