Internet Slams Bride's Parents for Planning to Hijack Wedding Day
A bride received online support after she revealed her parents' plans to ruin her wedding day.
Posting in Reddit's "True Off My Chest" forum under the username u/offmywedding, the bride said her parents are demanding that she allow her sister's boyfriend to propose during the wedding, despite her protestations.
The post has garnered more than 9,500 comments and over 1,400 comments from empathetic Redditors who slammed the bride's "cruel" parents for their blatant favoritism.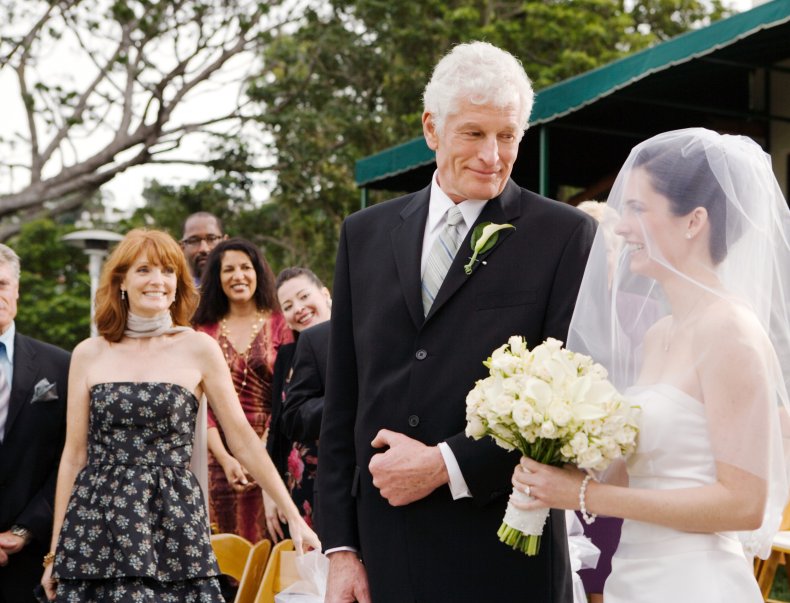 Is It Tacky To Propose At Someone's Wedding?
Speaking to Real Simple, etiquette expert Elaine Swann said there are "absolutely no circumstances" in which it is acceptable to propose at someone else's wedding.
"The day of someone's wedding is one day out of an entire year," Swann said. "We have to keep in mind that the couple is creating a memorable moment that will last a lifetime and a proposal should not be part of the one day that the couple has to themselves: Let them enjoy it!"
Author Diane Gottsman, on the other hand, argued that there are a few situations in which it may be acceptable to propose during someone else's big day, but reminded that these proposals must be pre-planned and pre-approved by the bride and groom.
'My Hero Sister'
Unfortunately, u/offmywedding may not have a say in whether or not her future brother-in-law proposes to her sister at her wedding.
At the beginning of her post, the bride explained that her parents have always "favored" her younger sister.
"My baby sister is the golden child. Or maybe that's unfair to say. She survived cancer when she was a child," the bride wrote, adding that her sister's cancer battle was the "darkest period" of her parents' lives.
"After she beat her sickness she became the obvious favorite in the house. She got everything she wanted and sometimes it was at my expense. I resented that but I always heard that I was a naughty girl for being jealous of my hero sister," the bride continued.
With all this in mind, the bride said she was a bit suspicious when her parents offered to pay for her wedding.
"We didn't agree at first but [we agreed] later [because] we did not want to disappoint them. It seemed like it was important to them," she admitted.
However, the other shoe quickly dropped.
"Last week...my dad, mom and my sister's boyfriend asked me what I would think if my sister's boyfriend proposed to my sister during the wedding so it becomes an engagement party as well as a wedding," the bride recalled.
Of course, the bride said "no," causing her mother to call her "selfish" and "ungrateful." In response, the bride accused her mother of "favoritism."
"I told her I always thought it was odd that [she'd] pay for my wedding but now I know the reason why," the bride said.
Ignoring her daughter's wishes, the bride's mother called her on Sunday to plan her sister's proposal. The bride begged her mother not to "ruin" her big day, but her mother argued that because she is paying for the wedding, she is allowed to make "requests."
Now, the bride and her fiancé are planning to elope.
Redditor Reactions
Redditors were furious with the bride's parents and encouraged her to follow through with the elopement.
"ABSOLUTELY NOT. This is YOUR wedding, it's about you, and it's extremely impolite and improper to propose at a wedding," wrote u/elinema. "This is really childish and unfair of them."
"Elope. Your parents are horrible to make the request and shame on your future brother-in-law for being such a d**che canoe that he can't even think of a clever and original way of popping the question," said u/Overall-Cloud-8304.
"These awful parents were so happy about not losing their one daughter that they've managed to lose their other daughter instead. OP [original poster] should cut them off and good riddance. What toxic, selfish and cruel people they are," commented u/buttercupcake23.
Speaking to Newsweek on Wednesday, the bride shared that she and her fiancé have planned to throw a smaller wedding a week before her scheduled ceremony date.
"I won't be telling my family and none of them are invited. By the time they find out we got married (probably via social media), we will already be on our way to our honeymoon," she said.
"My family will have the week to make rearrangements to have their big engagement party. So it's a win-win for everybody," she concluded.
Other brides to go viral on Reddit include a bride wanting to uninvite a wedding guest over the color of her dress, a bride who demanded her stepdaughter cut her hair before the wedding and a bride refusing to give her mother's wedding dress to her sister.
Updated 06/15/2022, 5:30 p.m. ET: This story has been updated with comments from the bride.