Internet Slams Woman for Bringing Baby to Hookah Restaurant: 'Selfish'
A woman is being bashed after she brought her baby to a hookah restaurant, costing her party to ultimately lose their booking deposit on the table.
The now-viral Reddit post, titled, "AITA for 'alienating' a friend after we walked out and lost our deposit because she brought her baby to the restaurant," has garnered 9,900 upvotes and over 900 comments since it was shared on May 19.
According to Statista, a survey conducted in countries in the European Union found that 13 percent of respondents have tried smoking from a water pipe, shisha, or hookah.
The post was shared by Redditor @cutepiano1 to the subreddit "Am I the A**hole," and they revealed that a group of five friends, the original poster (OP) included, had planned to go to a restaurant "known" for their shisha, which the whole group enjoyed.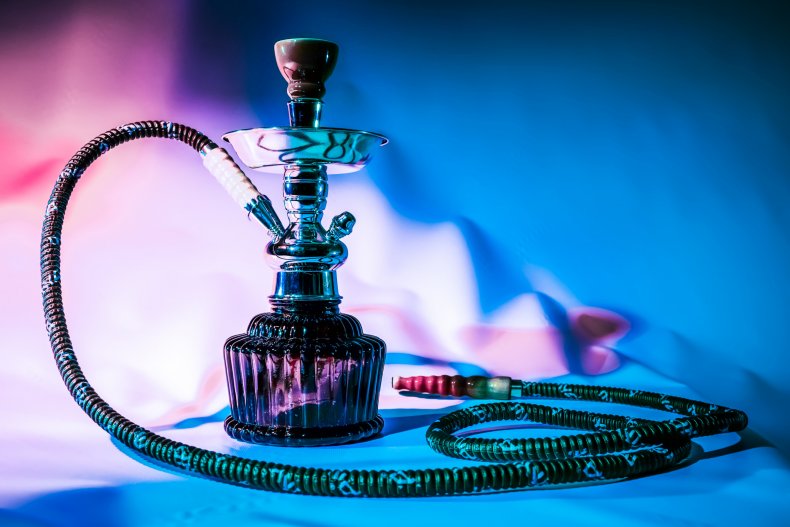 Details were planned in a group chat, and the OP said everyone had been to the restaurant before, so they all knew what to expect: The restaurant has both indoor and outdoor seating, and the indoor area is a regular restaurant while the outdoor area is where people can smoke cigarettes and hookah.
The friends booked the restaurant a week in advance so they could get a table on a busy Friday night.
"We get there, and one of our friends [shows] up with her baby," the OP said. "Everyone is like wtf?"
They asked the woman if she was alright with the baby being around the smoke, and she said, "I was hoping we wouldn't smoke this time. I had to bring the baby because the sitter I hired canceled."
The OP relayed that even if they didn't smoke, since they had an outdoor table booked, they would be surrounded by people who would be smoking. "I guess she hadn't thought that far ahead, because she looked a bit panicked," they added.
They asked a staff member if it was possible to get an indoor table, but the waiter said they were completely booked. So, if they wanted to eat there, they had to sit in the area they had booked.
"People were a bit unhappy, but none of us wanted to ask her to leave since she came all the way, and she was our friend. So, we walked out. We lost our deposit, and each of us paid our share of it to the person that booked the table. But our friend with the baby didn't."
The Redditor also said, "We felt bad since she came all the way, so we all [agreed] to leave if we paid the deposit equally." The group went to McDonald's after ditching the restaurant, so the night wasn't completely lost.
When asked for her portion of the deposit, the woman said she'd pay it back, but when "pushed," she added that she didn't believe she owed anything. She also asked how they can ask a new mother on a "limited budget for money."
The OP concluded, "People were angry and haven't really invited her anywhere since. She called me crying yesterday saying that we're alienating her over something petty and that she feels depressed that no one from our group has called to see how she's been in a while."
'Am I The A**hole?'
People are slamming the woman for not only bringing her child to the hookah restaurant in the first place but also for her reaction to being asked for her portion of the deposit.
Several Redditors reasoned if a parent can't find a babysitter, then they can't go out, adding that it's a part of having a child.
"Your hands are tied while it needs care," they added. "I can sympathize with a new mom who's stressed, tired, and aching for adult company, but this was still a poor decision."
Another user, who doesn't think the OP is in the wrong, thinks the "petty" issue is the woman "not offering to pay the whole deposit, since losing the deposit was objectively her fault."
Several called the baby-toting woman "selfish."
"Regardless of having a kid, she made it worse by not paying up when asked," they pointed out. "You guys are right to not invite her to anything else."
Another didn't stop there. "There are reasonable behaviors and bringing a baby to a shisha bar is not one," they said. "If you were going to a club, showing up with a baby would be completely unacceptable. This is no different."
Some were quite literally shocked that a woman would bring her baby to a place with hookah.
"You don't bring a baby to a hookah lounge. Wtf. Just, ugh. The sitter cancels, tough luck, time for her to stay home for the night."
A few offered up advice to the OP on what to do about the woman. "NTA, tell her she needs to apologize and pay everyone back for the whole deposit or find friends that enjoy paying to have their night ruined," a user expressed.
Newsweek reached out to Redditor @cutepiano1 for comment.
This isn't the only viral post involving friends.
A woman found support online for wanting her own bed on vacation with friends.
The Internet bashed a teen's text disinviting a friend from their party.
In addition, a woman was backed for wanting her friend to send her money through Venmo after dinner.