Internet Stunned by $4,000 a Month Apartment With Door That Opens Into Oven
A TikTok video shocked viewers when they saw the layout of an apartment unit in New York City and has since gone viral, amassing 2 million views.
TikTok user @charlottesaround posted the video that showed herself opening the door to the unit before it immediately slammed into the stove.
"Reality of NYC apartment hunting and the absurd prices," read the text over the video. "Imagine paying $4,000 per month to get whacked with the door anytime you use the stove and someone comes home."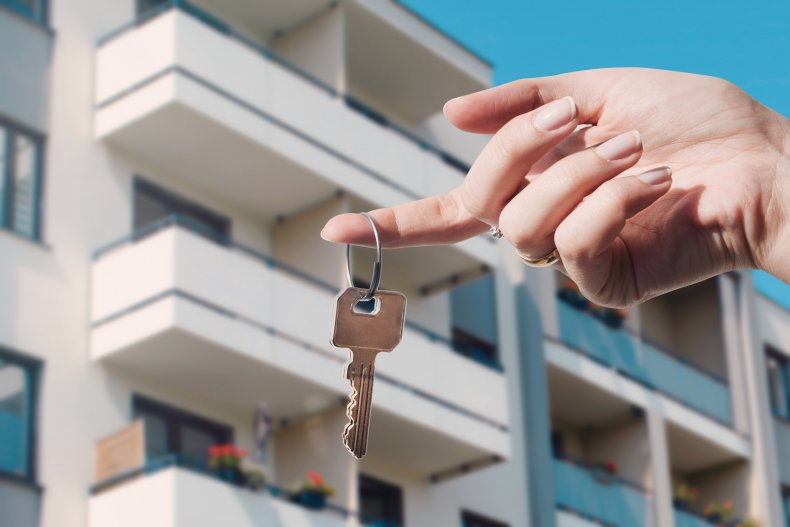 Fortune reported that rent prices in Manhattan have skyrocketed 24 percent from a year ago.
"That put the median monthly rent for an apartment in the area at $3,700 last month, according to a new report from real estate appraiser Miller Samuel," the article stated.
Though the piece stated that the other boroughs of New York City are less expensive to live in than Manhattan, rent has increased in them as well, specifically mentioning rent in Brooklyn and Queens.
In her video, @charlottesaround swung the door open, only for it to bang into the stove.
"Oh, look, a stove," she said.
As she closed the door, @charlottesaround panned the camera around to give viewers a full glimpse of the tiny kitchen space.
A sink sat in between the stove and a small countertop. The refrigerator was directly next to the stove, and it did not appear that more than one person could occupy the space at a time.
"How is this NOT a fire hazard???" read the video caption.
TikToker @charlottesaround noted in the comments section that the apartment featured in the video is not her apartment, but one that she toured.
She wrote to Newsweek that she began looking for a new apartment in May, but knew it would be difficult to find a two-bedroom apartment in Manhattan.
Units that she and her roommate found were listed and then off the market within hours.
She said they were open to seeing anything as it got more difficult, which led her to tour this particular unit.
"When I first walked in, I laughed," @charlottesaround said. "Don't get me wrong, I wasn't expecting the apartment to be perfect but I think this was just the icing on the cake for me after seeing apartment after apartment that was ridiculously overpriced."
Viewers were equally surprised by the layout of the apartment and took to the comments section to share their thoughts.
"I work for the Department of Housing Preservation and Development and am almost certain there are some housing code violations in that apartment," a viewer wrote.
The TikToker shared a second short video that showed her asking whether the entryway was a "health hazard."
"So nice of them to put the fire maker right by the exit," another TikTok user commented.
"Harry Potter's apartment," a viewer joked.
Several viewers wondered how someone is expected to move their furniture into the unit.
Others were shocked about the price of rent—some were even dubious of whether it was truly that expensive.
"Then they want 5 times the rent and a 750 credit score," a comment read.
A few viewers wrote the apartment featured in the video may be a unique case, but hopeful tenants have other options.
"Funny thing is people think we all live like that in NYC," a TikTok user wrote. "Maybe don't live in midtown in Manhattan. It's not worth it."
"Please...there are great apartments for 4K in Brooklyn," another commented.
TikToker @charlottesaround said she agreed with many commenters who couldn't believe the price of rent.
"But I think that perfectly sums up just how absurd the rental market is right now," she said. "It is unimaginable!"
TikToker @charlottesaround said she has "always loved" New York City and does not want her video to turn people away from living there, but understands that the prices and potentially getting an unsafe unit can be a "major turnoff."
Other posts showing rental spaces have gone viral on social media.
A man shared what the inside of his tiny apartment looked like in a video viewed more than 22 million times. One tweet showed the oven in an apartment unit's kitchen space, though it was placed where someone can hardly open the appliance's door.
Another video went viral for its unusual layout.
Updated 05/31/2022, 2:42 p.m. ET: This story has been updated with comments from TikToker @charlottesaround.