Internet Wowed After School Gym Transforms Into 'Elementary Rave'
A note from a student told a teacher how they enjoyed the house music he played. The student was not the only one who was a fan, with the appreciation leading to a video viewed more than two million times.
Shared by TikTok user @jakeshoredrive_, the video is stitched with a previous video he shared in which he showed the letter from a student. The video then cut to a dark and empty gym as house music played in the background with colorful disco lights circling the room.
Viewers were blown away and shared their own appreciation for the teachers who made class more fun.
A piece published by Edutopia noted that music included in coursework can be a "creative" way to get students engaged, and its effects may reach further than academics.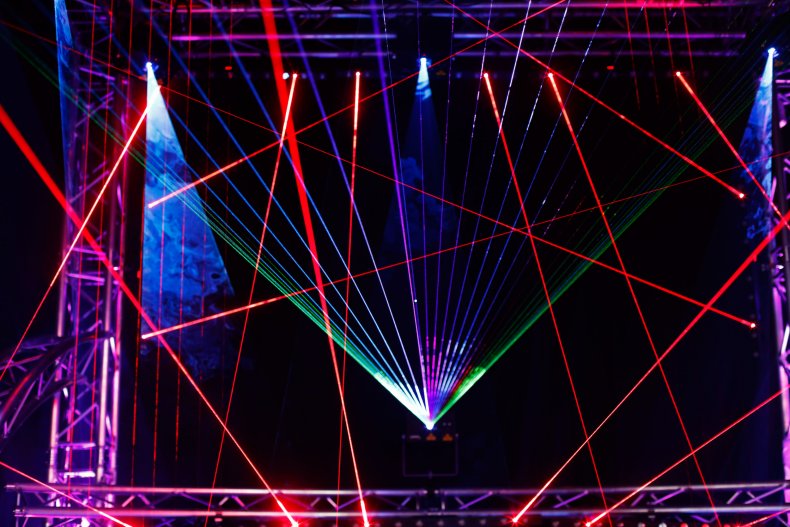 "Beyond academics, music can also alter the culture of a school for the better—sparking impromptu conversations among peers and between students and teachers, for example, or providing a calming respite from the stress of a packed school day," the piece stated.
The student that wrote to @jakeshoredrive_ requested that he continue playing house music when they come into school in the morning, as it makes them "happy and ready for the day."
"I think word has spread at my school about this letter from my student that went viral," the text over the video read.
@jakeshoredrive_ then shared what gym class looked like when he picked up his students, revealing the lights and music.
"I go viral one time & now all the teachers are into it," read the caption on one of his other videos where he showed the gymnasium.
@jakeshoredrive_ told Newsweek in an email that he has DJ'd for more than 10 years and began producing and releasing house music two years ago. His career as a teacher began eight years ago, and he has taught second, third and fifth grades.
"I've always played house music for my students," he said. I really started to focus on consistently playing house music this year because I could show the kids my own music and music like it."
The day starts and ends with house music, though @jakeshoredrive_ will occasionally play music for movement breaks or during independent work.
As for the gymnasium transformation, @jakeshoredrive_ explained that the gym teacher plays his house music for the students.
"During some of his units—like cosmic bowling—he transforms the gym into a magical space for movement and competition," he said.
The song playing in the background of the video is one that @jakeshoredrive_ worked on with Croatian artist Mike & Me titled Rock Your Hips.
@jakeshoredrive_ said he plans to release the song soon if he is not signed.
TikTok viewers were thrilled by what students had to look forward to in school.
"Dodgeball in this environment would have me feral," a viewer wrote.
"This is how to get kids keen for school," another commented. "BE FUN. You're leaving a legacy these kids will tell their kids about man, how cool is that."
One viewer wrote that they would have enjoyed gym class had it been similar to what was seen in the video.
"I thought they meant like calming house music and I was VERY shocked to see an elementary rave," a comment read.
Wondered another viewer, "Why was my school not this cool?"
Many other teachers sparked delight in viral videos, like a teacher who shared the news of her pregnancy with her students and another teacher who had her students sing Adele's Easy on Me after they were talking too much.
One teacher also went viral for his dance moves to New Boyz's song You're A Jerk.
Update 4/20/22, 2:58 p.m. ET: This story has been updated with additional information and background.