Intimacy Coordinator Responds to Sean Bean's Controversial Comments
Sean Bean has faced backlash for his recent comments after he suggested intimacy coordinators weren't needed on sets—but a Tiktok star and professional intimacy coordinator has weighed in to explain why he's wrong.
During a recent interview, Games of Thrones actor Bean argued that the presence of an intimacy coordinator on set would "spoil the spontaneity" of a sex scene. High-profile actors like Jameela Jamil, Rachel Zegler and Lena Hall have publicly disagreed with Bean's stance.
Jessica Steinrock, who recently spoke to Newsweek about life as an intimacy coordinator and TikTok sensation, shared her reaction to Bean's comments.
"Ultimately, I don't want to attack or shame Sean Bean," she began in response to Newsweek's request for comment, "I think it's completely normal to be concerned when change is happening and you've established a practice that works for you."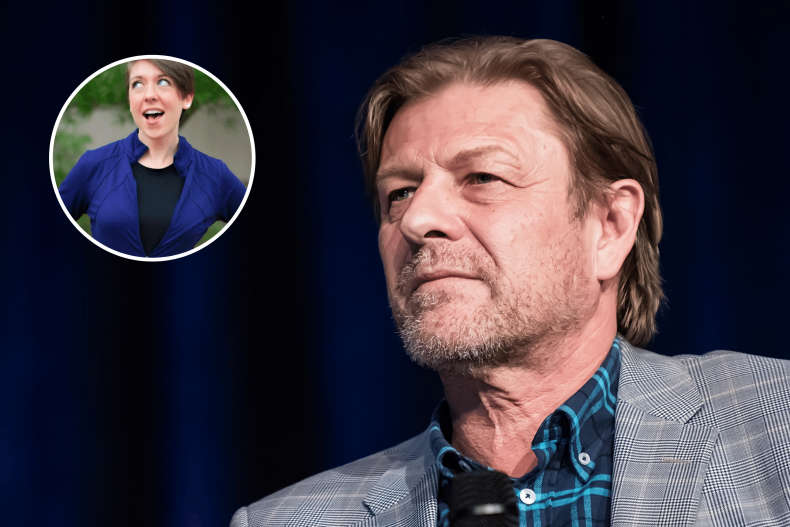 "That said, I think it's important to remember that there are many types of scenes that seem spontaneous and dynamic but are actually broken down into 'technical exercises'."
Steinrock compared the need for an intimacy coordinator on a TV or film set to having a stunt professional for projects. "Scenes of violence are a great example - those sword fights are meticulously choreographed to provide safety, and then the actors bring them to life."
She continued: "Intimate scenes can operate in a similar way. Intimacy coordinators provide a framework that keeps actors safe, and actors add their artistry to that framework and bring it to life. The end result can still feel spontaneous and dynamic, but the way in which it was created is centered in actor confidence and safety."
Steinrock further dissected Bean's quotes and gave her take on her wildly popular TikTok channel.
Bean made his recent comments about intimacy coordinators during an interview with The Times of London. "Somebody saying, 'Do this, put your hands there, while you touch his thing..." Bean said. "I think the natural way lovers behave would be ruined by someone bringing it right down to a technical exercise."
The Good Place actress Jamil echoed Steinrock's sentiment and compared the necessity for the job to that of a stunt person on set. "Our job as actors is to make it not look technical," she said. "Nobody wants an impromptu grope..."
Zegler said intimacy coordinators were necessary on West Side Story and helped newcomers like her.
"I was extremely grateful for the one we had on WSS— they showed grace to a newcomer like myself and educated those around me who've had years of experience. Spontaneity in intimate scenes can be unsafe. Wake up."
During his comments about intimacy coordinators, Bean brought up his Snowpiercer co-star Lena Hall. Hall defended Bean in a multi-tweet thread, but clarified the situation he'd spoken about and said: "Just because I am in theater (not cabaret, but I do perform them every once in a while) does not mean that I am up for anything."
She continued, "If I feel comfortable with my scene partner and with others in the room then I won't need an intimacy coordinator. BUT if there is any part of me that is feeling weird, gross, over exposed etc... I will either challenge the necessity of the scene or I'll want an IC."
While speaking to Newsweek about her role as an intimacy coordinator, Steinrock discussed the rise of the profession and explained how it came to be as a result of the #MeToo movement.
"Lots of different things all happening at the same time led to this profession existing. The thread of #MeToo, Time's Up, Harvey Weinstein, it all lent credibility and voice volume to what we're trying to do," she explained.
You can check out Jessica Steinrock's TikTok videos here. She is the CEO of Intimacy Directors and Coordinators, Inc. and you can find out more information about her company here.