'Inuyasha' Sequel Trailer & More Information on Main Protagonists Released
The official Yashahime: Princess Half-Demon Twitter account promised more information this week after a clip of the upcoming anime leaked online and they didn't disappoint. A brand new trailer for the Inuyasha trailer has officially been released, giving fans the best look at what to expect this October.
Viz Media, who owns the distribution rights in North America for Yashahime: Princess Half-Demon released the trailer and gave a quick synopsis of what the new anime is about on its blog.
"The anime stars Towa and Setsuna, the twin daughters of Sesshomaru who get separated in a forest fire. Towa ends up in modern times and is raised by Sota Higurashi, Kagome's little brother. Ten years later, they are reunited, but Setsuna is a demon slayer with no memories of her sister. Joined by Moroha, Inuyasha and Kagome's daughter, they set off on an adventure to regain their missing past."
Check out the first trailer for the Inuyasha sequel series, Yashahime: Princess Half-Demon below.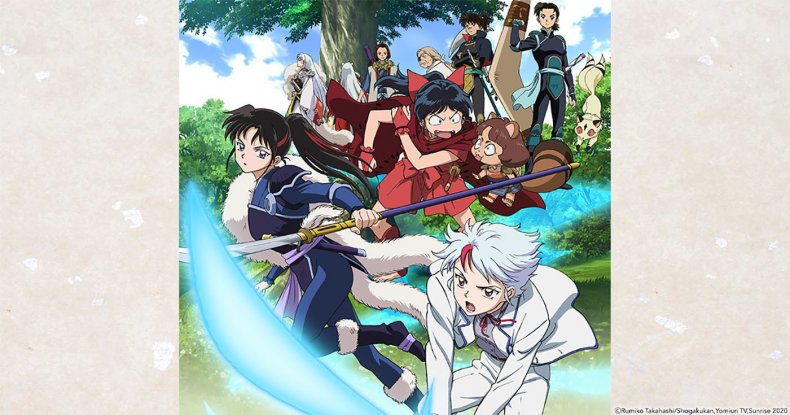 The trailer for Yashahime: Princess Half-Demon gives a rundown of our three main protagonists. The first is Towa Higurashi, voiced by Sara Matsumoto.
One half of Sessoshomaru's twin daughters, the story of the anime revolves around Towa as she is sent to the present day through an interdimensional portal.
Ten years later, she returns to Feudal Japan to find her sister Setsuna who doesn't remember her at all.
Setsuna, voiced by Mikako Komatsu is the strong, silent type similar to her father. She's a demon hunter alongside Moroha, the daughter of Inuyasha and Kagome. Moroha is voiced by Azusa Tadokoro.
Moroha is rambunctious just like her father Inuyasha, but the official Japanese website reveals that she doesn't know her parents.
The trailer also explains that a low level demon named Root Head that was slain by Inuyasha and his friends in the original anime has somehow gained the powers of the Tree of Ages and created the passageway between the present day and Feudal Era.
Announced back in March, Yashahime: Princess Half-Demon will continue the story of Inuyasha's world with a new generation of demon hunters for fans new and old.
It's unclear how the series will be distributed in North America just yet, but we'll update this section with more information as it comes.
What do you think of the first trailer for the Inuyasha sequel? Let us know in the comments section.