'The Invisible Pilot': Who Is Gary Betzner and What Happened to Him?
The Invisible Pilot is the latest true-crime documentary series on HBO and HBO Max about the jaw-dropping story of Gary Betzner. Airing every Monday on HBO at 9 p.m. ET from April 4 and HBO Max, the three-part series takes viewers on the wild ride of Betzner's incredible life involving planes, bridges, drugs, Pablo Escobar, the CIA, hypnosis, and more
So, who is Gary Betzner, and what happened to him? Newsweek has everything you need to know. Warning, there are inevitable spoilers below.
Who Is Gary Betzner?
Gary Betzner is an Arkansas crop duster, Navy veteran and well-respected pilot turned international drug smuggler.
He met his wife Sally on July 20, 1969, at a moon landing party and they had two children together, Travis and Sara Lee. Betzner also has a daughter Polly, from a previous marriage.
Speaking in The Invisible Pilot, Betzner introduced himself as: "Who am I? Well, basically I'm just a farm boy from Arkansas. There is a story here that is much deeper than it presents itself on the surface."
After selling the Betzner Flying Service, Betzner moved his family from Arkansas to Alaska in 1976 to follow an oil pipeline opportunity which did not work out as planned.
To source some more income, Betzner returned to flying and began smuggling whisky before turning to importing marijuana on his planes.
Betzner was then struck down with gout, making it almost impossible for him to fly his planes. He had heard through the grapevine that cocaine was the perfect treatment—something he found worked best to alleviate his symptoms. He did also has admitted he used cocaine for recreational purposes at the same time.
In search of more cocaine, Betzner visited Miami, Florida in May 1977 where he found himself at the center of a drug bust at the hands of the DEA. As heard in The Invisible Pilot, seven pounds of drugs were seized in the raid and Betzner was facing up to 20 years in prison.
Released on bail, Betzner returned to his family in Arkansas, where he was arrested once again for possession of an illegal substance. With the prospect of facing even more jail time, Betzner took matters into his own hands.
What Happened to Gary Betzner?
On September 18, 1977, Betzner took his own life in Hazen, Arkansas during a daytime drive with his wife and daughter...Well at least, that is what his friends, family, and the authorities were tricked into believing.
In reality, Betzner had staged his own death and was on the run.
He and his wife, Sally, had agreed to the plans and had taken an intensive hypnosis course to prepare for the event. Part of the course was to hypnotize Sally into believing that her husband, really was dead.
Sally's hypnotized state was triggered by Betzner's shoes slapping into the water below White River Bridge, clothes and shoes she threw over to help fake his suicide, whilst he sped off in a getaway truck.
Impressively, the hypnotization courses worked and Sally found herself experiencing such intense grief, that she was admitted to a psychiatric hospital following her husband's so-called death.
Betzner headed for Hawaii where he changed his name to Lucas Noel Harmony and got himself involved in the drug trade to survive, both taking and selling the drugs.
Once again Betzner was busted and had to go on the run, which ultimately meant saying goodbye to his family for good—at least that is what it seemed.
He then ended up in the same circles as drug smuggler George Morales (from Netflix's Cocaine Cowboys: The Kings of Miami), a Miami speedboat racer who worked with Pablo Escobar's Medellín cartel in Colombia and eventually began smuggling cocaine via his plane between Colombia and Florida.
Speaking to The New York Post, The Invisible Pilot co-director Phil Lott shared: "Gary tells a great story of purchasing planes and he created Pablo Escobar's air force. And it was several planes, big planes, not just single engines or twin engines—these were jets.
"And he tells several stories about spending time flying planes to Chile and just flying around looking for great valleys and beautiful vistas with Pablo Escobar."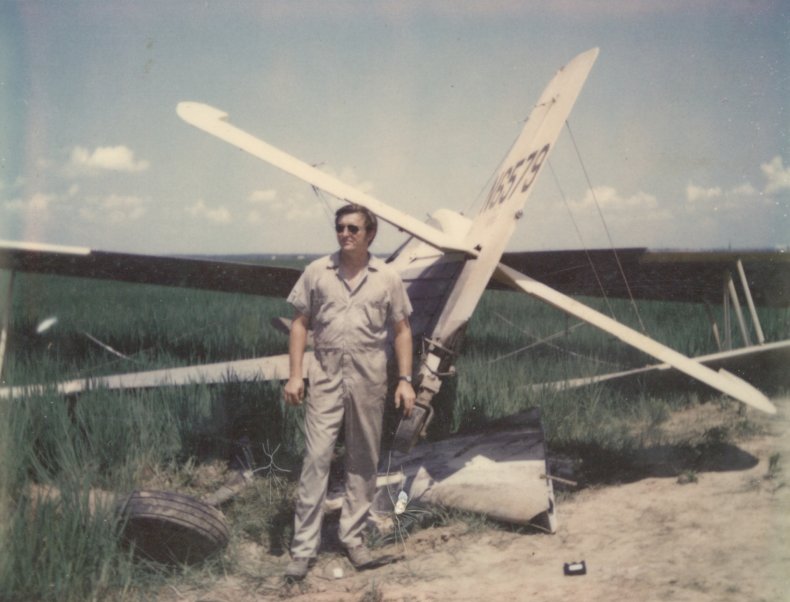 However, in a huge twist, Gary Betzner also found himself transporting military cargo for the Contras on behalf of the CIA. He was also transporting kilos of cocaine sought by U.S. government officials back into the States, explains The Daily Beast.
The Contras (1979-1999) were various U.S.-backed and funded right-wing rebel groups who fought against the Marxist Sandinista Junta of the National Reconstruction Government in Nicaragua.
According to the Associated Press, Betzner transported, for the Contras, M-16 rifles, mines, and C-4 explosives to John Hull, an American contractor in Costa Rica who worked with the CIA, and brought back an estimated 500 kg ( about 1,100 pounds) of cocaine each trip.
In November 1984, Betzner was arrested for drug smuggling on behalf of Escobar's drug ring. He was sentenced to 27 years in prison, despite his claims the CIA had guaranteed his immunity from jail for his role in their operations.
He was called to the 1988 Senate Committee, led by John Kerry where he gave evidence of government-known drug smuggling, admitting he had picked up cocaine on his two trips to Costa Rica in July 1984 when he delivered weapons.
He stated that Morales "had made a deal with the CIA to supply [the Contras]. He wanted me to fly guns and ammunition to the Contras and bring some contraband back.″
Then Senator John Kerry stated Betzner's testimony "makes it very clear that narcotics dollars were involved in the Contra support process.″
In the end, Betzner served his full prison sentence and was released in 2011. He now lives with his third wife.
Betzner is still alive today and is in his 80s. He shares his story in the documentary, The Invisible Pilot on HBO.
Episodes of The Invisible Pilot air Mondays at 9 p.m. ET on HBO and HBO Max.