Apple iPhone 14 Expected Release Date, Features, Price Plus More
If previous trends are anything to go by, September is usually the month where we can expect to see a new iPhone being announced.
The previous model, the iPhone 13, was officially released on Friday, September 24, 2021, but it was revealed as a new model on Tuesday, September 14.
As before every potential Apple event, rumors around the new iPhone abound. Will it have a faster charging battery, a better front-facing camera, or a new A 16 chipset? Newsweek has reached out to Apple for comment and has compiled the latest information from the more trusted sources out there.
However, these are currently only rumors and have not been confirmed.
When Is the Apple iPhone 14 Available to Buy?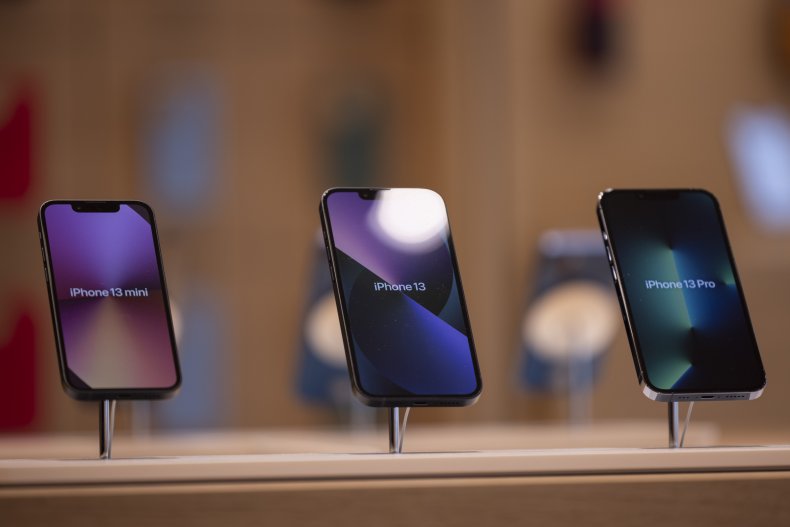 Although there been no official release date for the iPhone 14, we can expect it to be unveiled at the next Apple event.
Apple is known for not making their launch dates public until the last minute. The event will take place, but it's rumored to either be on Tuesday, September 6, or Tuesday, September 13.
The iPhone 14 should be available for purchase and pre-ordering after the event.
What Features Will the iPhone 14 have?
The iPhone 14 model range is likely to have the newest chipset, so the A 16 or the A 16 Bionic, according to TechRadar, which cites Ross Young, who the site describes as a supply-chain expert and "leaker with a good track record."
Still according to TechRadar, the iPhone 14 range is expected to include 5G support, and will perhaps boast a new form of 3D Touch.
The website also reported the iPhone 14 battery could also be the source of improvements, as the capacity could increase as newer models get thicker.
Improvements are also expected on the camera front, according to TF International Securities analyst Ming-Chi Kuo, who TechRadar reports has a "great track record for Apple information," namely a 48MP main camera that is able to record in 8K video.
In terms of the iPhone 14 range, we are expecting it to include:
iPhone 14
iPhone 14 Pro
iPhone 14 Pro Max
iPhone 14 Max.
Newsweek will be regularly updating this story as new information comes in.
How Much Will the iPhone 14 Cost?
In terms of pricing, rumors are flying that this new iPhone range will be more costly than previous ones. Ming-Chi Kuo, whom Forbes also cites, tweeted in a reply to Hon Hai Technology Group, that he believed there would be a 15 percent price increase.
"Hon Hai/Foxconn is one of the winners of the increased ASP of iPhone 14 series. I estimated iPhone 14 series ASP would increase by about 15% (vs. iPhone 13 series ASP) to $1,000-1,050 (USD) due to two iPhone 14 Pro's price hikes & higher shipment proportion," read the tweet.