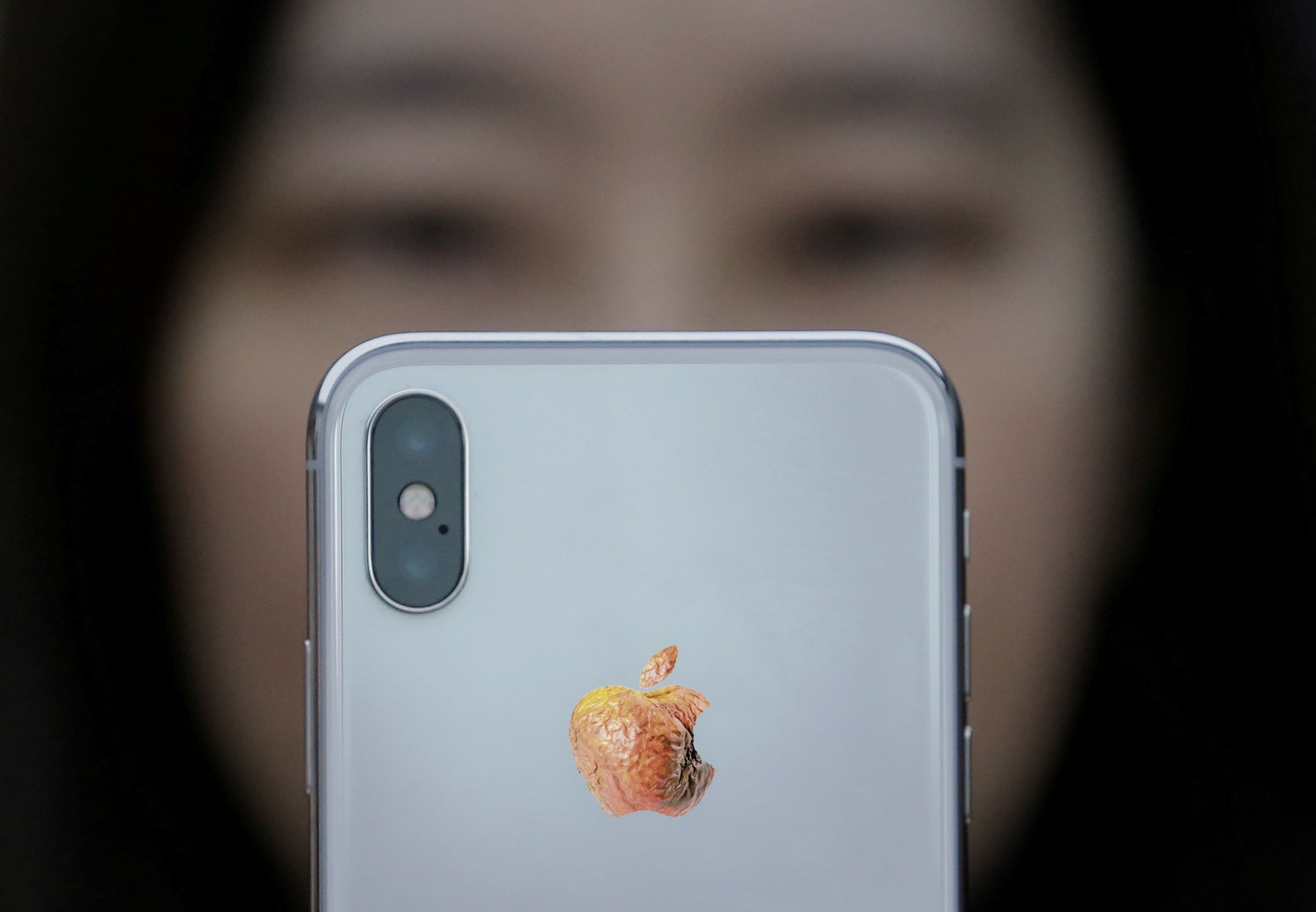 Ten years of metronomic iPhone launches has not muted the mania surrounding the release of the iPhone X—dubbed by Apple as "the future of the smartphone." But beneath the din of delayed deliveries and overpriced devices, allegations are resurfacing of human rights violations at supplier factories, including worker protests and abuse.
Advocacy groups have leveled accusations at the world's richest technology company in the past over conditions at one Chinese supplier, Foxconn. In 2010, 18 reported suicide attempts by Foxconn assembly-line workers, with 14 confirmed deaths, prompted Apple to launch investigations into working conditions and conduct comprehensive site audits. Seven years later, information shared with Newsweek by human rights groups and workers suggest labor rights issues remain widespread at Apple's Chinese supplier factories.
The most recent issues appear to stem from Apple's decision to release three iPhones this year—the iPhone 8, iPhone 8 Plus, and iPhone X—rather than just a single generation of devices. The promise of the premium iPhone X being released just a few weeks after the iPhone 8 and iPhone 8 Plus seems to have decreased demand for the cheaper devices, with analysts revealing feedback from stores indicated customers were "waiting to purchase the iPhone X."
New York-based advocacy group China Labor Watch (CLW), which has been following the working conditions in Apple's supply chain since 2011, suggests demand issues led to unrest at the iPhone 8 supplier factories, specifically at Wuxi Green Point, operated by Jabil. According to the group's sources within the supplier, the factory laid off workers and others didn't get paid what they expected because iPhone 8 sales weren't performing well. Apple refused to provide a comment to Newsweek about iPhone 8 demand and whether it resulted in reduced production.
CLW reported that as a result of these layoffs, hundreds of workers at the Wuxi Green Point factory took part in multiple protests in October. Workers blocked entrances to the factory and the surrounding roads to prevent vehicles and other workers from entering the premises. Around this time, videos of large gatherings of workers at the factory began appearing on Chinese social media.
iPhone X release: "A year of regression"
On October 16, CLW published a video online showing a crowd gathered around two men: One in a high-vis security vest and another in a grey tracksuit backed against a wall. The six-second clip shows the man in the high-vis vest—a guard at the Wuxi Green Point factory—rip a post from a white fence separating the two men and break it over the cowered arms of the tracksuited worker.
CLW brought the incident to Apple's attention, alongside numerous allegations of worker unrest and unpaid wages. Apple's response to CLW, seen by Newsweek, acknowledged that there had been "some cases in which labor agencies and intermediaries promised employees a bonus but did not consistently pay them," however, it denied that any protests took place.
Apple said these gatherings were in fact a "communication session about a labor transition plan." The company added that investigations into whether factory employees are being paid their promised bonuses are ongoing.
In response to the footage of the worker being struck by a fence post, Apple told CLW it was working with its supplier Jabil to make sure security guards are properly trained in order to "de-escalate situations" such as this one so that they "don't reach a physical altercation."
Jabil told the Associated Press in October that many of the workers were just trying to enter the factory and only 20 to 40 were protesting. However, it promised to "take corrective action" over the pay dispute.
Apple also cited 705 site audits last year when stating its commitment to ensuring safe and fair working conditions in its supply chain, and argued it knows "of no other company" doing as much to discover and investigate problems. But CLW still accuses Apple of pursuing profits at the expense of working conditions and in a report published in May claimed Apple's supply chain had experienced "a year of regression."
iPhone X release: "Widespread labor rights violations"
Speaking to Newsweek on condition of anonymity for fear of professional repercussions, a worker says factory managers are "cold toward workers" and regularly mistreat them by yelling at them. This is consistent with multiple reports from CLW that highlight the treatment of factory workers.
"Repeating the same work every day, workers receive little respect from factories," Li Qiang, executive director of China Labor Watch, tells Newsweek. "Many workers do not plan to work at the factories long term.
"In recent years, there have been limited improvements in factory working conditions, and labor rights violations remain widespread."
Read more: Why no one likes the iPhone 8
Despite Apple's audits, CLW investigations from earlier this year showed weekly working hours at all four Apple supplier factories surpassed 60 hours, with Green Point workers "continuously working overtime without compensation." Wage levels are not unusual for the region, though dormitory accommodation provided by the factories, food, and internet expenses are docked directly from their pay.
Using figures provided by factory workers and CLW, Newsweek calculated it would take the average worker six months of working 60 hours per week to afford Apple's most expensive iPhone.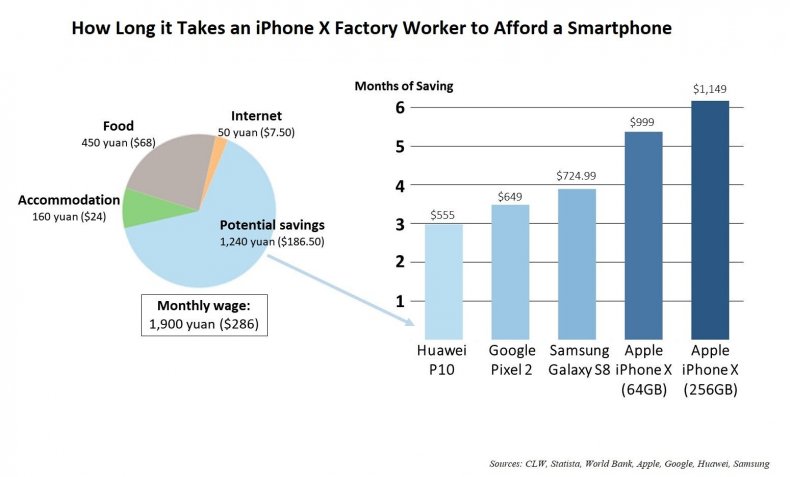 It is rare for factory workers assembling iPhones to actually own any kind of iPhone, according to Dejian Zeng, who spent six weeks working undercover in an Apple supplier factory in Shanghai assembling iPhone 6 and iPhone 7 devices as part of a summer project while he was a New York University grad student.
"Most of the workers, they used some kind of China-produced phone, which are cheaper," Zeng said in a video produced after he finished working in the factory.
Apple is not the only tech giant to be accused of human rights violations, with South Korean smartphone rival Samsung also the target of campaigners. An investigation by CLW into working conditions at Samsung's facilities in 2016 found "limited improvements" to conditions and "tacit acceptance of the labor rights violations committed by its suppliers."
Other companies to be accused of legal and ethical labor violations in China include Dell, HP and Microsoft. According to Apple, despite the resurfacing of allegations surrounding human rights violations, its efforts to prevent such issues eclipse all of its competitors.
In responses to Newsweek and CLW, an Apple spokesperson said it would follow up on the latest allegations "aggressively as we always do." The spokesperson said, "We know of no other company doing so much to discover and investigate problems, to fix and follow through when issues arise, and to provide transparency into the operations of our suppliers."