Iran Holds Air Defense War Games After Rise in Border Tensions, Arms Sale Ban Lifted
As Iran faces pressure imposed both from external powers and regional unrest, the country's armed forces have staged a massive set of war games demonstrating their capabilities to protect the skies of the Islamic Republic.
The drills came as the neighboring Armenia-Azerbaijan conflict occasionally spills over Iran's northwestern border, giving Iran an opportunity to flex its military muscle through impressive displays of firepower.
The fiery exhibition provided an additional bonus for Tehran. With the lifting of a longstanding UN embargo against arms sales, the military exercises have allowed the country's defense industry to showcase a variety of domestically produced weapons that they are now free to sell to other countries.
The combined maneuvers, known as the Guardians of the Sky Velayat-99, launched Wednesday, involved elements of both Iran's conventional military as well as the elite Revolutionary Guard. Both forces set out to defend against simulated aerial attacks across an area more than half the size of the country.
The spokesperson for their joint command, Second Brigadier General Abbas Farajpour, described their mission as to "prevent any encroachment, aggression or encroachment on the country's air borders and ensure the security of the skies of Islamic Iran for all aircraft flying in the Islamic Republic of Iran."
The first stage of the drills saw the mobilization of missile and radar defense systems such as the Tabas, Mersad, 15th Khordad and 3rd Khordad, the system that is believed to have taken down a U.S. Navy RQ-4 Global Hawk as it flew over the Persian Gulf in June of last year.
"These systems are constantly upgrading and increasing operational capabilities," Farajpour said, adding a warning that in the event of an actual conflict, the Islamic Republic had more in store "that will surprise the enemies."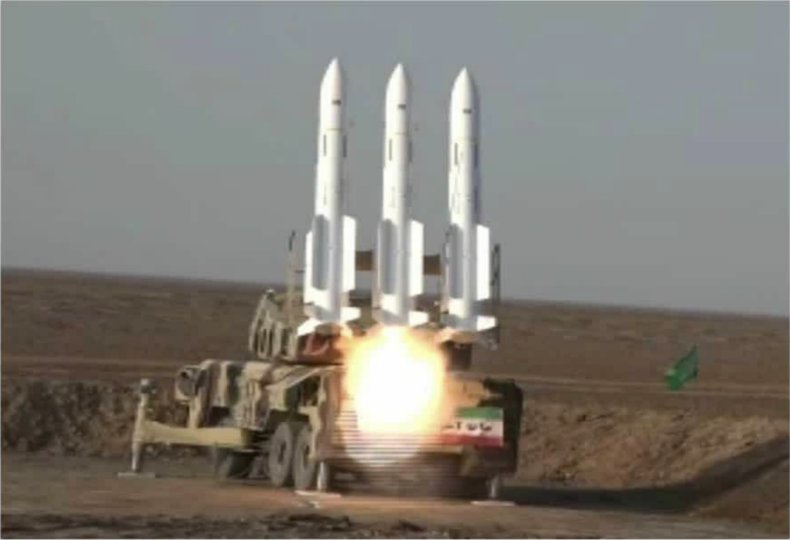 While Iranian military officials vowed to defend their skies using such equipment, the country's airspace has been repeatedly breached in recent weeks by drones involved in the ongoing conflict between neighboring Armenia and Azerbaijan. Just as Iranian forces were preparing for Guardian of the Sky Velayat-99, a Harop loitering munition crashed Tuesday in Iran's Khoda Afarin, East Azerbaijan province.
The device, used by Azerbaijan, is produced by Iran's archfoe, Israel, presenting both security concerns and a potential for Tehran to reverse-engineer such a weapon.
Tehran has called for an immediate ceasefire, volunteering to mediate in Yerevan and Baku's conflict over Nagorno-Karabakh, a roughly 1,700-square mile territory largely led by separatist Armenians but recognized internationally—including by Iran—as part of Azerbaijan.
As a fellow Shiite Muslim nation with a sizeable ethnic Azeri population, Iran has been sensitive to Azerbaijan's cause and has repeatedly denied allegations it helped ship arms from Russia to its ally Armenia.
Azerbaijan has also denied accusations from Iran, Russian and international media that its close partner, Turkey, has recruited Syrian insurgents to battle for Nagorno-Karabakh. Iran and Russia are actively battling such rebels in Syria through the two countries' shared support for the Syrian government, and diplomats from both countries met in Tehran on Wednesday to discuss the issue.
As Armenian shells also stray across the border, Iranian leaders and both diplomatic and military officials have warned both Armenia and Azerbaijan to restrain their fire.
The official mediator of the conflict is the Organization for Security and Cooperation in Europe's Minsk Group, which is co-chaired by France, Russia and the United States. Both Yerevan and Baku have expressed frustration with the troika's hesitance to take a side in the flare-up between the longtime foes, who fought their deadliest war amid the breakup of the Soviet Union in the late 1980s and early 1990s.
In response to Iran's offer to get involved diplomatically alongside Russia and Turkey, Azerbaijani ambassador to the U.S. Elin Suleymanov recently told Newsweek that his country "appreciates every offer to help with reaching the much needed peace in our region," noting "there has been very little progress" as a result of Minsk Group talks.
For his part, the Armenian ambassador to the U.S. then told Newsweek that he and his team "value Iran's balanced approach and efforts towards the peaceful solution of the Nagorno Karabakh conflict," and that "Iran has the capacity and could use its leverages to restrain Azerbaijan and urge Turkey not to add fuel to fire in Nagorno Karabakh."
Washington has expressed a far more negative view of Tehran's role in international affairs, especially as a decade-long United Nations embargo on Iran buying and weapons expired on Sunday.
Defying U.S. warnings, Iranian mission to the U.N. spokesperson Alireza Miryousefi recently told Newsweek his country was prepared to resume buying and selling weapons among its "many friends and trading partners," and that the country "has a robust domestic arms industry to ensure its defense requirements against foreign aggression."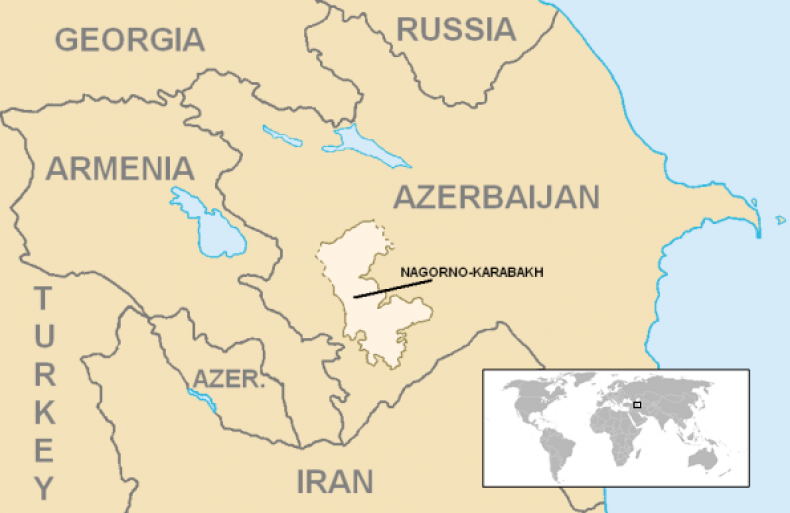 The scheduled lifting of Iran's arms trade restrictions came in line with the 2015 nuclear deal brokered by the U.S. and Iran, alongside China, France, Germany, Russian and the United Kingdom. President Donald Trump's administration unilaterally left the agreement in 2018, accusing Iran of funding foreign militias and developing ballistic missile technology that had a destabilizing influence on the region.
The U.S. exit has been accompanied by a significant rise in unrest across the Persian Gulf, where both the Pentagon and Iranian forces operate.
"For too long, foreign forces have come to our region to project their power, not to protect our people," Iranian Foreign Ministry spokesperson Mohammad Javad Zarif told the U.N. Security Council in his speech Tuesday.
He lashed out the "illegitimate U.S. presence" for being behind "the cowardly assassination by President Trump of General Qassem Soleimani, Daesh's Enemy No.1," referring to the Arabic acronym for the Islamic State militant group (ISIS), a common enemy of Washington and Tehran.
Zarif also thanked the council of overwhelmingly dismissing U.S. efforts to extend the weapons sale ban on his country, promising that "Iran does not intend to engage in an arms race in the region and start a buying spree."
Responding to Zarif's proposal for a Persian Gulf security collective involving Iran and the rival monarchies of the Arabian Peninsula, Washington's ambassador to the U.N. Kelly Craft accused the top Iranian diplomat of hypocrisy.
"If @JZarif truly meant what he said today, then Iran would cease its support to non-state actors and abide by its international obligations," Craft tweeted Tuesday. "Instead, it supports terrorist groups and proxies in violation of numerous @UN Security Council resolutions. You can't have it both ways."