Iran Ally Blamed for Deadly Rocket Strike near Baghdad Calls for More Attacks Against U.S., Allies in Iraq
An Iraqi Shiite militia supported by Iran has called for more attacks against members of a U.S.-led coalition after a rocket strike killed three of its personnel, sparking the latest round of tensions between allies of Washington and Tehran.
Kataib Hezbollah, a member of the Popular Mobilization Forces collective of Iraqi state-sponsored militias, issued a statement Thursday warning that "the occupation forces must bear the consequences of their illegal presence on the land of dear Iraq" after the Katyusha rocket attack on Wednesday. The strike killed two U.S. service members and a British soldier, while also wounding others, at the Taji military camp north of Baghdad. The group blamed the enemy's "disregard for the will and the dignity of the Iraqi people."
"We renew our request to the brothers who believe in the need to act against the occupying forces at this stage," the group said in a statement. It also vowed to defend those who took action and warned those who target them that such actions would only escalate the resistance.
"We ask God to bless those who carried out the accurate jihadi operation that targeted the U.S. occupation forces at the Taji base in Baghdad," the statement continued. "For their timing was very appropriate, not without success, and we believe that it is the most appropriate time to resume national and popular jihadi operations to expel the evil aggressors from the land of the holy shrines."
The group stopped short of claiming responsibility for the attack but was named Thursday as the most likely suspect by the head of the United States' Central Command (CENTCOM).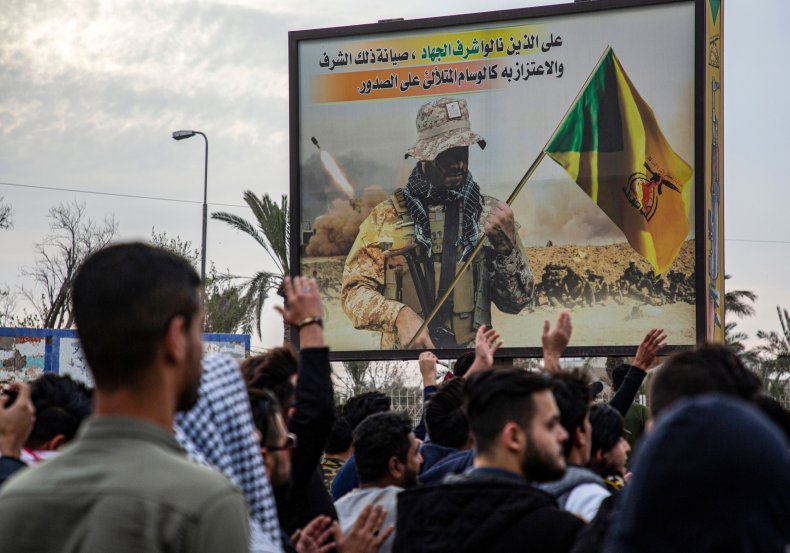 Testifying before the Senate Armed Services Committee, CENTCOM's commander, General Kenneth McKenzie, said it was "hostile forces, most likely Shia militia groups" who fired what the U.S.-led coalition earlier described as at least "18 107mm Katyusha rockets" at the Taji base.
"While we are still investigating the attack, I will note that the Iranian proxy group Kataib Hezbollah is the only group known to have previously conducted an indirect fire attack of this scale against U.S. and coalition forces in Iraq," McKenzie told lawmakers.
The State Department designated Kataib Hezbollah a terrorist organization in July 2009 as U.S. military troops battled in Iraq a Shiite insurgency supported by Iran, as well as a rival Sunni insurgency led first by Al-Qaeda and, later, the Islamic State militant group (ISIS). Both the U.S. and Iran would later support Iraq's fight against ISIS, with Popular Mobilization Forces groups like Kataib Hezbollah fighting alongside Iraqi troops. But tensions have since risen considerably with ISIS' defeat and President Donald Trump's exit from the 2015 nuclear deal with Iran and other countries.
Unclaimed rocket attacks have struck Iraqi military sites associated with the U.S. and coalition's presence for nearly a year. The situation escalated significantly with the death of a Pentagon contractor this past December. That event was followed by retaliatory U.S. airstrikes that killed more than two dozen at Kataib Hezbollah positions on both sides of the Iraqi-Syrian border and violent pro-militia demonstrations at Washington's embassy in Baghdad as the year turned.
Days later, a U.S. drone strike at Baghdad International Airport killed Major General Qassem Soleimani, commander of Iran's elite Quds Force, and Popular Mobilization Forces deputy leader Abu Mahdi al-Muhandis. Iran retaliated with a barrage of missile strikes against an Iraqi base housing U.S. personnel, the Popular Mobilization Forces vowed revenge, and Iraqi lawmakers voted to expel all foreign troops.
On Sunday, the Iranian Supreme National Security Council's secretary, Rear Admiral Ali Shamkhani, met with Iraq's leading officials in an effort to shore up ties and urge a speedy withdrawal of U.S. troops from the region.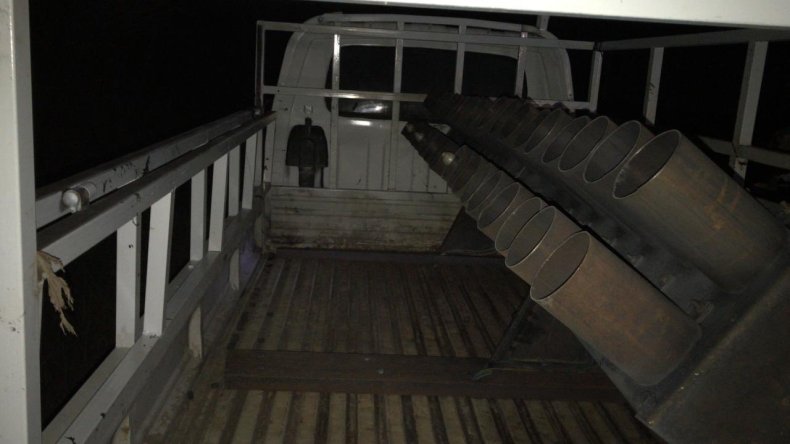 Iraq's Joint Operations Command affirmed after Wednesday's attack—which happened to take place on Soleimani's birthday—that the U.S.-led coalition had been informed of this withdrawal and that "serious discussions are taking place." The command warned, however, that actions like the rocket strike on the Taji base "impede these efforts and complicate the situation in Iraq." It also described the attack as "a very serious security challenge and hostile act" and called for a full investigation.
Iraqi President Barham Salih called for those responsible to be found and held accountable. In a statement, his office said it "condemns the terrorist attack on the Taji military base" and calls "on all sides to exercise restraint and calm, and to enable the Iraqi government to carry out its security and sovereign duties."
In its statement Thursday, Kataib Hezbollah called those denouncing the rocket strike and defending the U.S.-led coalition "miserable," cursing their stance in the wake of past U.S. actions.
Shortly after Wednesday's strike, the state-run Syrian Arab News Agency and Al-Ikhbariya networks reported that unknown aircraft had conducted airstrikes that caused material damage near the city of Al-Bukamal in Syria's eastern Deir Ezzor province, which borders Iraq. The Popular Mobilization Forces confirmed these strikes to Newsweek but claimed none of its forces were hit or were active in the area.
The Syrian Observatory for Human Rights, a U.K.-based monitor with ties to Syria's exiled opposition, initially reported on Wednesday the deaths of 18 members of the Popular Mobilization Forces in unclaimed strikes conducted by three aircraft in Deir Ezzor. It raised this toll to 26 the following day, with 15 injured. The monitor also reported Thursday that the Iraqi militia had sent ambulances across the border to transport the dead and wounded.
Secretary of State Mike Pompeo said Wednesday that he and his British counterpart, Dominic Raab, "underscored that those responsible for the attacks must be held accountable." The following day, Defense Secretary Mark Esper reiterated earlier warnings that "the United States will not tolerate Iran-backed attacks against our people, our interests, and our Allies."
"All options are on the table as we work with our partners to bring the perpetrators to justice, and maintain deterrence," he added.
This is a developing news story and will be updated as more information becomes available.