Iran Begins Building Road Connecting It to Syria Through Iraq as Trump Warns of Need to Spy on U.S. Rival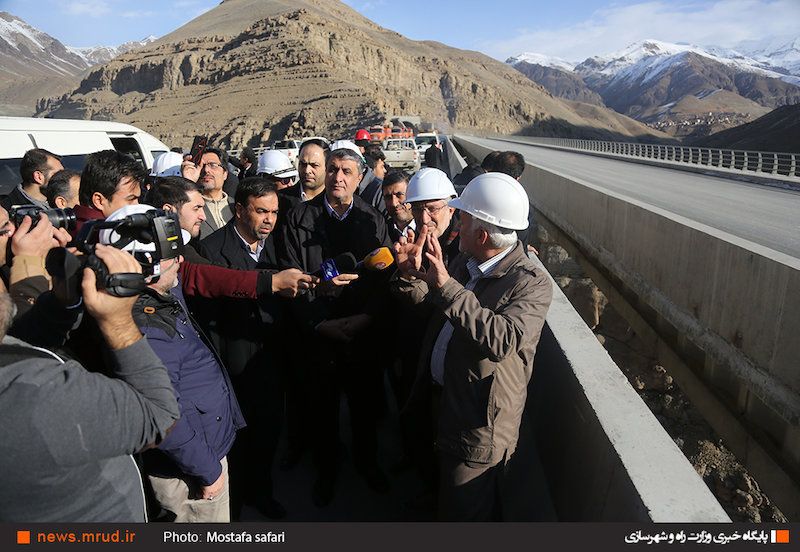 Iran has begun building a road slated to eventually connect the country to Syria through neighboring Iraq, a move signaling its extensive regional influence in spite of United States-led efforts to contain the revolutionary Shiite Muslim power.
Iranian Minister of Roads and Urban Development Mohammad Eslami attended an inauguration ceremony Tuesday for the construction of a highway linking the Iranian cities of Kermanshah, Biston and Homeyl, which is located just miles from the border of Iraq. The official said that the project was a key step toward physically linking Iran with its Arab allies Iraq and Syria and would contribute to the country's economy at a time when it was beset by U.S. sanctions.
Addressing the crowd gathered to commemorate the 40th anniversary of the Islamic Revolution that ousted an absolute monarchy backed by the West, Eslami said that "infrastructure projects create hope and accelerate the development process." He estimated the Kermanshah-Bisotun-Homeyl project would be about 87.6 miles long and cost about $450 million, 70 percent of which would come from the private sector, something he emphasized was important amid "the current situation" in the country.
Recalling his recent trip to the Syrian capital, Eslami said that "the issue of facilitating transit between the three countries of Iran, Iraq and Syria was raised" and that the "Kermanshah-Bisotun-Homeyl road is considered a key part of this corridor."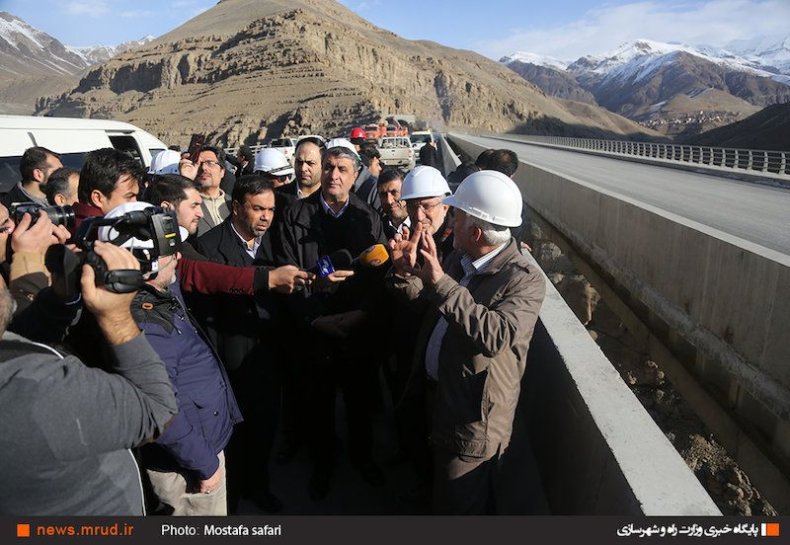 Eslami, who was appointed to his post by Iranian President Hassan Rouhani in October, traveled to Syria last week as part of a high-level delegation to attend the 14th session of the Syrian-Iranian High Joint Committee. By the conclusion of the meeting, officials from Damascus and Tehran had signed up to 11 agreements, memorandums of understanding and projects designed to boost economic ties, according to the official Syrian Arab News Agency.
The two countries, joined by the Lebanese Hezbollah movement and other allied Shiite Muslim militias in Iraq and Syria, form what they call "the axis of resistance" intended as a united front against Israel, Saudi Arabia, its Gulf Arab allies and the U.S. They have also been joined by Russia since 2015 in battling a rebel and jihadi uprising against Syrian President Bashar al-Assad, who the U.S. and its regional allies attempted to depose via sponsoring opposition fighters, as well as in attempting to eradicate the Islamic State militant group (ISIS).
ISIS officially formed a decade after a Sunni Muslim insurgency broke out in the wake of the 2003 U.S. invasion that overthrew Iraqi President Saddam Hussein, an enemy of both Iran and Syria. The successor, U.S.-allied and Shiite Muslim-dominated government in Baghdad has developed close ties to Damascus and Tehran, despite Washington's opposition to the two powers. After ISIS took half of both Iraq and Syria in 2014, Iran stepped up its mobilization of Shiite Muslim fighters across the region and the U.S. formed an international coalition to defeat the jihadis in both countries.
Though the Pentagon-led coalition's mission in Iraq and Syria was officially limited to defeating ISIS, Washington officials have called for an expansion of this campaign to include checking Iranian influence as well. President Donald Trump has adopted a hard-line stance toward Iran, pulling out of a 2015 nuclear deal over accusations that Tehran used unfrozen funds to support U.S.-designated terrorist organizations and develop missiles, but at the same time has expressed a desire to withdraw from Syria, where Damascus only considers Russian, Iranian and Iraqi intervention to be legitimate.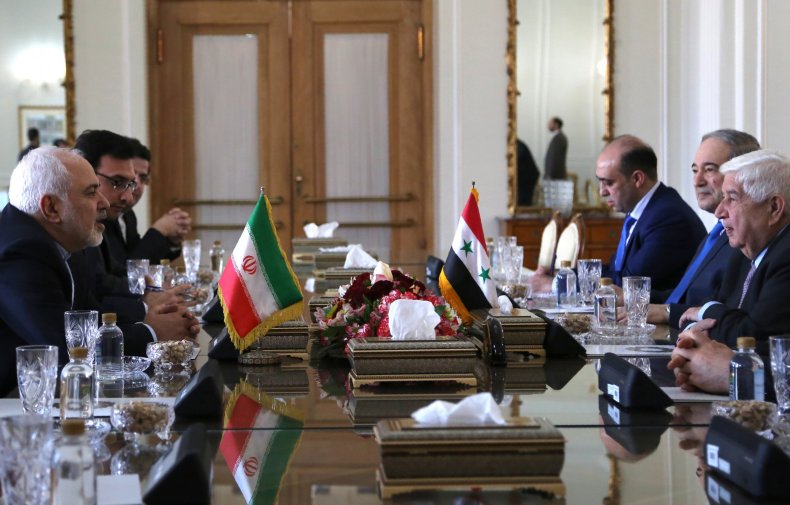 .
The Syrian government has retaken most of the country's territory, leaving only a single province and its outskirts in the hands of insurgents and ultraconservative militant forces, as well as about a third of the country in the hands of the U.S.-backed Syrian Democratic Forces. This Kurdish-led group has moved to accelerate rebuilding its ties with Damascus in the wake of an apparently abrupt U.S. decision to leave, as have Bahrain, the United Arab Emirates and other members of the Arab League.
As Eslami discussed linking Iran, Iraq and Syria on Tuesday, Iranian Foreign Minister Mohammad Javad Zarif met that same day with Syrian Foreign Minister Walid al-Muallem in Tehran to further bolster bilateral relations. The events came only a day after Iraq pushed back against Trump's portrayal of the country as an indefinite U.S. military outpost for "looking a little bit at Iran because Iran is a real problem."
"Iraq's constitution does not allow our territory of our country to be used against our neighbors," Iraqi President Barham Salih told The Daily Beast on Monday, warning Trump not to "overburden Iraq with [his] own issues" and reminding him that "Iran is our neighbor."
Secretary of State Mike Pompeo embarked last month on a Middle East tour in hopes of bolstering a "counter-Iran revolution" among U.S. allies, including Iraq. A day after his meeting with Iraqi Prime Minister Adel Abdul-Mahdi, however, Iranian Petroleum Minister Bijan Zangeneh also met the head of state, who "confirmed the deep relations between the two countries" and called for closer energy ties.