Iran has repulsed Secretary of State Mike Pompeo's allegations that the revolutionary Shiite Islamic Republic had links to Sunni Muslim militant group Al-Qaeda, branding the accusations as part of a last-ditch effort by President Donald Trump's administration to vilify Tehran before a transition of power.
"These preposterous, false accusations are nothing new, and only reinforce the fact that the Trump administration is desperately continuing their failed policy of Iran-bashing," Iranian permanent mission to the United Nations spokesperson Alireza Miryousefi told Newsweek shortly after Pompeo's speech Tuesday.
Pompeo dedicated his remarks, delivered before the National Press Club in Washington, D.C., to establishing alleged links between Al-Qaeda and Iran, even referring to the latter as "the new Afghanistan" in terms of geographical centrality to the militant group whose involvement in the 9/11 attacks led to the U.S.-led invasion of that country nearly two decades ago.
Though Iran and Al-Qaeda are traditionally described as foes, Pompeo said their "divergent ideology is no match for its converging hatred." He accused Tehran of allowing the group to raise funds and communicate among other key activities.
But Miryousefi argued that Iran was, in fact, a bulwark against such organizations, which Tehran has also fought in countries like Iraq and Syria. He claimed it was the U.S. and its partners who were responsible for the conditions that allowed such groups to thrive in the region.
"It is a well-known fact that Iran was and is the extremist terror groups' most hated enemy and that the founder of Al-Qaeda and many of its followers hail from what is the U.S.' close ally in the Middle East," Miryousefi told Newsweek. "Needless to say, U.S. officials have repeatedly acknowledged their role in creating extremist groups in the region, including Al-Qaeda."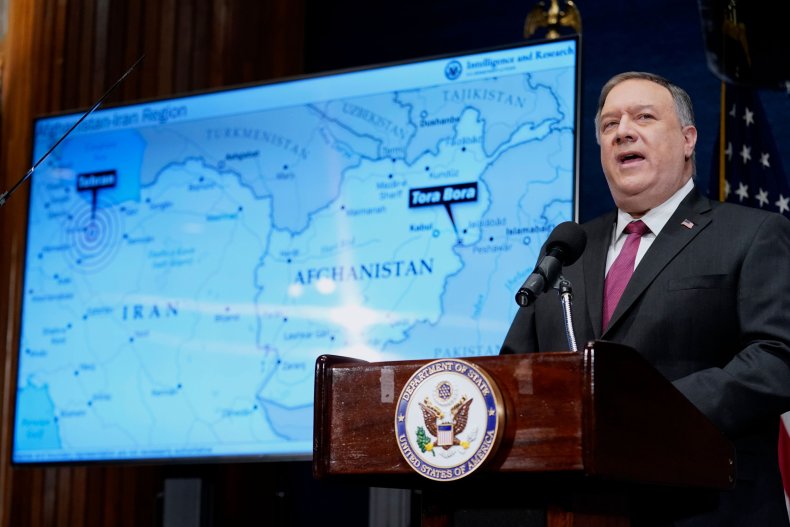 Al-Qaeda was established by Saudi national Osama bin Laden in Afghanistan in the midst of a 1980s Soviet attempt to shore up an embattled communist government against an array of insurgents, including CIA-backed mujahideen guerrillas. Moscow's withdrawal was followed by civil war among competing factions, with the Islamist Taliban ultimately coming out on top until being repelled by the U.S.-led war in 2001.
The conflict was justified by the "Authorization for Use of Military Force," a joint resolution passed to grant the White House permission to conduct military operations in pursuit of Al-Qaeda. A second AUMF was passed the following year in the lead-up to war with Iraq, and both laws remain in place today for current and future actions.
Iraq too was accused of harboring Al-Qaeda militants, along with producing weapons of mass destruction, prior to the 2003 U.S.-led invasion of that country on pretexts later ruled faulty. The overthrow of Iraqi President Saddam Hussein saw Al-Qaeda flourish, eventually setting the stage for the Islamic State militant group (ISIS) to make unprecedented gains across the region.
Both the U.S. and Iran take credit for defeating ISIS, and remain active in the multinational battle against jihadi groups. At the same time, the two countries consider one another's forces to also be terrorist organizations and harmful to regional stability.
U.S. officials have for years claimed evidence of ties between Iran and Al-Qaeda. Pompeo said Monday that the relationship between the two took a major turn in 2015, the year he claimed Iran allowed Al-Qaeda to establish a new operational headquarters in the Islamic Republic.
That same year, under former President Barack Obama, the U.S. signed a landmark nuclear agreement with Iran, an accord also endorsed by China, France, Germany, Russia and the United Kingdom. The deal offered Tehran sanctions relief in exchange for curbing the nuclear activities it has always maintained were strictly for peaceful use.
The Trump administration abandoned the agreement in May 2018, embarking on a "maximum pressure" campaign of unilateral economic restrictions that has stirred unrest in the region. The strategy has been criticized by President-elect Joe Biden, who was set to take office next Wednesday.
Biden has vowed to return to the nuclear deal, though he has suggested he would also aim for a more comprehensive agreement involving other Iranian activities opposed by the U.S.
Pompeo has warned against returning to the nuclear agreement, citing ongoing areas of disagreement such as Iran's support for Shiite Muslim militias across the region via the Revolutionary Guard Quds Force—whose leader, Major General Qassem Soleimani was killed alongside Iraq's Popular Mobilization Forces deputy commander Abu Mahdi al-Muhandis a year ago in Iraq—as well as its alleged ties to Al-Qaeda.
"Let's not tolerate Iran giving Al-Qaeda a second window, let's not downplay the danger of Sunni-Shia cooperation and terror, let's not lie to the American people about Iranian moderation, and pretend appeasement will work," Pompeo said.
In an attempt to further prove Al-Qaeda presence in Iran, Pompeo also confirmed the killing in August of Egyptian Al-Qaeda official Abdullah Ahmed Abdullah, also known as Abu Mohammed al-Masri, in Tehran, what The New York Times reported in November to be an Israeli operation conducted with U.S. approval.
He also unveiled sanctions against Muhammad Abbatay, also known as Abd al-Rahman al-Maghrebi, and Sultan Yusuf Hasan al-Arif, two men identified as being Iran-based Al-Qaeda leaders, along with alleged Al-Qaeda Kurdish Brigade officials Ismail Fuad Rasul Ahmed, Fuad Ahmad Nuri Ali al-Shakhan and Niamat Hama Rahim Hama Sharif, who were said to be operating on the Iran-Iraq border.
The State Department is now offering up to $7 million for information regarding the whereabouts of Maghrebi and reiterated additional awards for alleged Iran-based Al-Qaeda operatives Sayf al-Adel and Yasin al-Suri.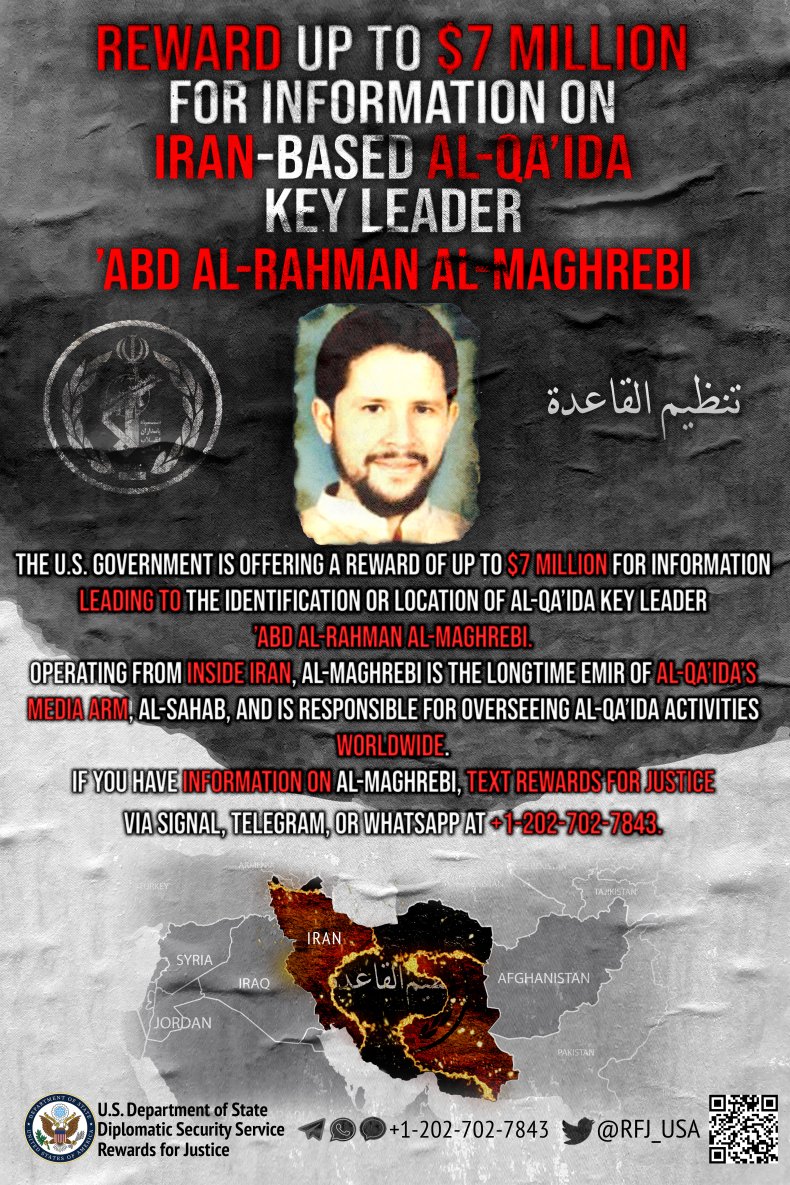 Pompeo's announcement Tuesday follows a series of dramatic foreign policy moves made against the backdrop of political turmoil toward the final days of Trump's presidency. The U.S. leader took the unprecedented step of refusing to acknowledge his electoral loss in November and rallied supporters Wednesday to the Capitol Building, which they stormed in a deadly attempt to disrupt the certification of Biden's win.
In the past week alone, Pompeo has designated Iraq's Popular Mobilization Forces commander Falih al-Fayyadh, branded Yemen's Zaidi Shiite Muslim Ansar Allah—or Houthi—movement a terrorist organization and labeled Cold War-era foe Cuba a state sponsor of terrorism, where it joins Iran, Syria and North Korea.
Pompeo's Iranian counterpart responded to the latest moves on Twitter, pointing out perceived hypocrisy in Pompeo's dealings with Iran versus Saudi Arabia and the United Arab Emirates, two countries from which 17 out of the 19 Al-Qaeda-affiliated 9/11 hijackers hailed (the remaining pair came from Lebanon and Egypt.)
"From designating Cuba to fictitious Iran 'declassifications' and AQ claims, Mr. 'we lie, cheat, steal' is pathetically ending his disastrous career with more warmongering lies. No one is fooled," Iranian Foreign Minister Mohammad Javad Zarif wrote. "All 9/11 terrorists came from @SecPompeo's favorite ME destinations; NONE from Iran."
Notably absent on the website is Trump, who has been banned from social media platforms over accusations of his complicity in inciting an insurrection. Democrats have meanwhile moved to impeach the president for the second time in the House of Representatives, a move that would have to gain Senate approval as well to oust Trump ahead of his January 20 deadline in office.