Iran Election Nuclear Deal Still Up to Supreme Leader, Says Jake Sullivan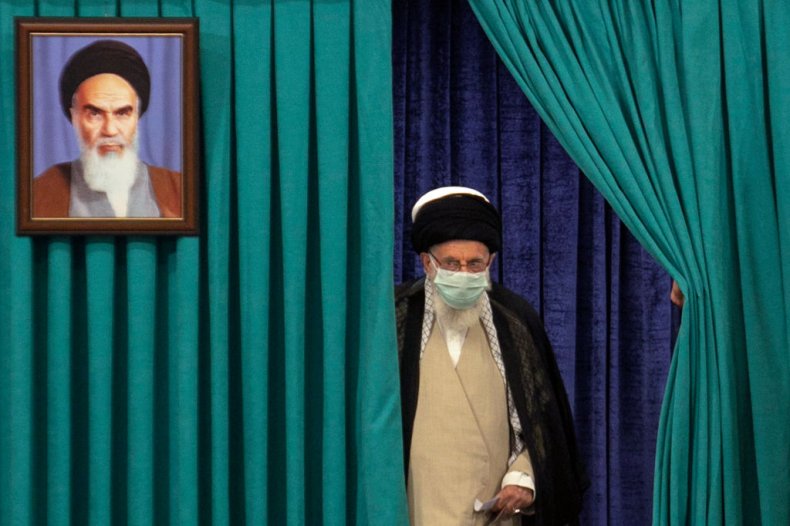 White House National Security Adviser Jake Sullivan said Sunday that the Iranian presidential election of ultraconservative Ebrahim Raisi will have little effect towards a rehash of a U.S.-Iran nuclear deal, with the final decision still falling on Supreme Leader Ayatollah Ali Khamenei.
U.S. and other Western leaders dismissed Iran's latest election as a sham intended only to install more Khamenei loyalists in the Tehran government. Iranian Foreign Minister Javad Zarif said Friday that a renegotiation of the nuclear deal could occur before Raisi, a hard-line judge, takes office, offering the Biden administration some hope.
Sullivan repeatedly stated on ABC News' This Week that the U.S. is going full steam ahead with negotiations to reinstate a nuclear deal, regardless of Iran's new president.
"Do you think Raisi's election actually increases the chances of reaching a deal?" This Week host George Stephanopoulos asked Sullivan.
"The ultimate decision for whether or not to go back into the deal lies with Iran's Supreme Leader and he was the same person before this election as he is after the election," Sullivan replied. "It's hard to speculate about the internal dynamics of Iran, but what I would say is the ultimate decision for whether or not to go back into the deal lies with Iran's Supreme Leader and he was the same person before this election as he is after the election."
Biden is under pressure from Iran to ease Trump-era sanctions on Iran, but the National Iranian American Council (NIAC) cast doubt on whether negotiations are possible at all with the election of Raisi. "The ascension of Raisi to the presidency will be widely viewed as a victory for hardliners in Iran and the U.S. who seek confrontation over conciliation between the U.S. and Iran," said the NIAC.
Bipartisan Washington lawmakers have ridiculed the Iranian presidential election, with House Intelligence Committee Chair Adam Schiff remarking to CBS on Sunday that "the outcome was predetermined." He went on to note that the election had the lowest turnout "perhaps in history" and that Iranians in reality "voted with their feet by not showing up at the polls."
Khamenei and other Tehran leaders have touted the Iranian election as part of democracy at work, using it to mock last year's U.S. presidential contest and the accompanying fallout.
"No one should say their one vote isn't effective. Every single vote is definitely important. I believe that you should participate with a pure, divine intention. #IranElections," Khamenei remarked from one of his largest English Twitter accounts Thursday.
"Election day is the day of the Iranian nation. It is the people who are determining the country's future for the coming years by voting. Anything the Iranian nation does today will build their future and determine their destiny for years to come. #IranElections," Khamanei tweeted.
Meanwhile, Stephanopoulos asked Sullivan whether he believes North Korea is "prepared for dialogue or confrontation," as Kim Jong Un said of U.S. dialogues last week. Sullivan said the White House needs a "clearer signal" of what Pyongyang wants before it will even consider restarting diplomatic talks or negotiations on nuclear weapons.
Newsweek reached out to representatives to Iran in Washington D.C. as well as the White House Sunday afternoon.