The senior Iranian military official succeeding Major General Qassem Soleimani, the slain head of the Revolutionary Guard Quds Force vowed to avenge the assassinated figure by taking on the United States in what was described as a less cowardly fashion.
Brigadier General Esmail Ghaani was formally appointed Monday as the new head of the Quds Force at a ceremony in Tehran, where he accused the U.S. of killing Soleimani, "in a cowardly way." Soleimani died alongside a senior Iraqi militia figure and other members of their entourage earlier this month when the U.S. targeted their convoy near Baghdad International Airport.
"They were not man enough to face Haj Qassem on the battlefield," Ghaani said. "In the most cowardly manner, they martyred our highest-ranking commander.
"But thanks to God, and the efforts of all freedom-seeking men of the world who seek for his blood to be avenged, we will strike back at the enemy in a manly way," he added.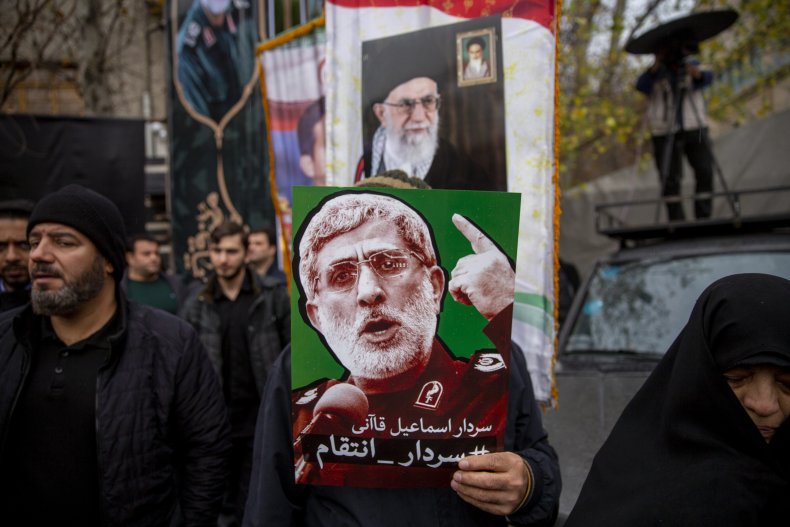 President Donald Trump has justified killing Soleimani by arguing that the elite military leader was actively plotting to attack U.S. interests and personnel in the Middle East. This argument has been echoed in remarks by Secretary of State Mike Pompeo and other U.S. officials, though no evidence has been released regarding any specific plots.
The U.S. labeled the Revolutionary Guard a terrorist organization in April 2019—leading Iran to ascribe the same label to the Pentagon's Central Command—at the onset of a major uptick in tensions that broke out last year around the anniversary of the Trump administration's decision to leave a 2015 nuclear deal with Iran. The White House has steadily imposed sanctions on the Islamic republic in an effort to undermine its economy and force it to negotiate a new agreement further restricting its missile development and support for regional militias.
Iran has resisted, however, arguing that no new accord could be arranged unless the U.S. abided by its original commitments. At the same time, Iran has gradually reduced its own compliance in response to the remaining parties' failure, especially Europe, to normalize ties, as well as in response to worsening regional unrest.
Soleimani's death came a week after a series of escalations in Iraq, where a rocket attack that killed a Pentagon contractor was blamed on the Iran-backed Kataib Hezbollah group and retaliatory U.S. strikes killed up to 27 people, leading to violent pro-militia protests at Washington's embassy in Baghdad. Iran then reacted to the assassination by launching missiles at Iraqi bases housing U.S. and allied personnel.
Ghaani has since called on Kataib Hezbollah and other regional, mostly Shiite Muslim militias to resist U.S. presence in the region as further revenge. While the charismatic Soleimani increasingly led a high-profile life on the front line in his later years, Ghaani has steadily helped expand the Quds Force's network of allies from across the Middle East and from Afghanistan and Pakistan as well.
On Monday, rockets fell near the U.S. Embassy in Baghdad in the latest unclaimed strike that has become part of a semiregular trend in Iraq, whose parliament has voted to facilitate the withdrawal of U.S. troops.
Iran has also sought to boost its ties in Latin America. Pompeo visited the region Monday to meet with Colombian President Ivan Duque and decry Tehran's attempts to expand its influence there. Pompeo also took the opportunity to denounce neighboring rival Venezuela, which sent its own top diplomat Foreign Minister Jorge Arreazas that same day to Tehran to meet with Iranian President Hassan Rouhani.