Iran Exploits Iraq's Discontent With U.S. To Strengthen Syria, Russia Ties
Iran is seeking to exploit Iraqi discontent with the United States in an attempt to strengthen the neighboring country's ties with Russia and Syria.
Iranian supreme military attaché to Iraq Brigadier-General Mostafa Moradian and newly appointed Iraqi military Joint Headquarters Chief of Staff Lieutenant General Abdul Amir Rasheed Yarallah met Tuesday in Baghdad to discuss boosting military ties between the two nations, Iran's official Islamic Republic News Agency reported.
Moradian pledged support to Iraq's armed forces and called for the further development of the Quadripartite Information Exchange Center consisting of Iran, Iraq, Russia and Syria. The four-party partnership was developed in 2015 to boost combined efforts to defeat the Islamic State militant group (ISIS), which had stormed through the region before being beaten back by a range of local and international forces.
In addition to these four countries, a U.S.-led multinational coalition also played a major role in defeating ISIS and continues to offer extensive assistance to Iraqi forces battling the remnants of the jihadi group. Yarallah spoke last week by phone with Chairman of the Joint Chiefs of Staff Gen. Mark A. Milley, according to a Pentagon readout. It also described the U.S.-Iraq partnership as "a crucial element to peace and security in the Middle East region."
As the rivalry between Washington and Tehran spilled over into deadly violence in Iraq, however, questions as to the Pentagon's unilateral moves and lingering presence there continue to be raised.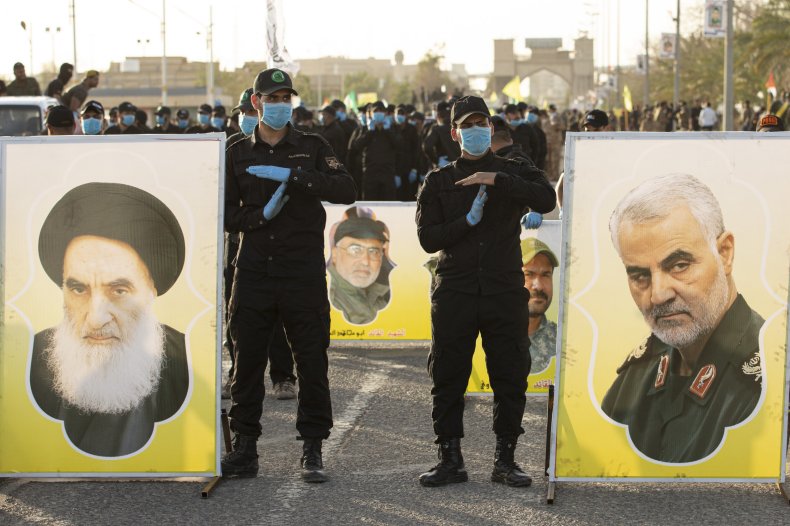 Half a year after the U.S. killing of Iran Revolutionary Guard Quds Force commander Qassem Soleimani at Baghdad International Airport and amid months of simmering tensions between U.S. and Iran-aligned fighters in Iraq, U.S. and Iraqi forces held a strategic dialogue earlier this month to establish common ground on security issues. The talks concluded June 12 with Washington's commitment to leave the country but without a set timeline that Baghdad lawmakers have pushed for.
That same day, Iraqi military commander-in-chief spokesperson Yahya Rasool told Kurdish news outlet Rudaw that the quartet operations room with Iran, Russia and Syria was still active. He said it was up to the Iraqi people whether any foreign troops would remain active on Iraqi soil.
Widespread demonstrations have targeted both the U.S. and Iranian presence in Iraq, but Iran-supported militias such as Kataib Hezbollah and Asaib Ahl al-Haq have vowed to expel the U.S. by force if necessary. They share this goal with Tehran, where political and military officials have called on the Pentagon to leave the region as a whole.
U.S. troops have left a number of Iraqi bases in developments the coalition has attributed to successes in the ongoing fight against ISIS as well as concerns related to the novel coronavirus pandemic. Iraq has also already expanded its search for international military cooperation.
Reports continue to emerge that Iraq was considerating purchasing Russia's S-400 surface-to-air missile system. As recently as April, Iraqi parliamentarians were discussing buying the equipment to better balance East-West military ties, although no progress has been made public.
Iran is barred from international arms trade as a result of United Nations-imposed embargo, which is set to expire in October as part of the 2015 nuclear deal signed by Iran along with China, France, Germany, Russia, the United Kingdom and the United States. President Donald Trump left the agreement in 2018 and began imposing sanctions on the Islamic Republic, accusing it of funding foreign militias and developing destabilizing missile technology.
The Trump administration has sought to extend the arms embargo on Iran, an initiative partially supported by Europe but rejected by Beijing and Moscow.