Iran Says Israel Joining U.S. Coalition Will Have 'Disastrous Consequences,' Looks for More Arab Support
The head of the Iranian armed forces has warned that Israel joining a U.S.-led coalition in the Persian Gulf region would upset regional stability and sought more support from Arab states in resisting the initiative.
Iranian Defense Minister Amir Hatami held rare telephone talks Thursday with his counterparts Sheikh Nasser Sabah Al Sabah of Kuwait, Badr bin Saud al-Busaidi of Oman and Khalid bin Mohammad al-Attiyah of Qatar in an effort to turn the nearby Sunni Muslim monarchies against U.S. efforts to expand the presence of foreign powers near the Strait of Hormuz amid heated tensions and instances of unrest. He argued that the "American-led military alliance will only increase the insecurity in the region under the pretext of securing shipping."
"The Islamic Republic of Iran spares no effort to safeguard sailing in the Persian Gulf, the Strait of Hormuz and the Sea of Oman, and regional security is a common concern for Iran and other Persian Gulf neighbors, therefore we believe that security should be provided by regional countries and that regional countries should enter into dialogue," he added, blaming "external factors" for disrupting relations among "brothers" across these strategic waters.
Hatami warned that "America is the principal cause of insecurity in the region" and, referring to archfoe Israel's recent interest in joining the U.S.-led effort in the Persian Gulf, he said "such a move could be very provocative and have disastrous consequences for the region."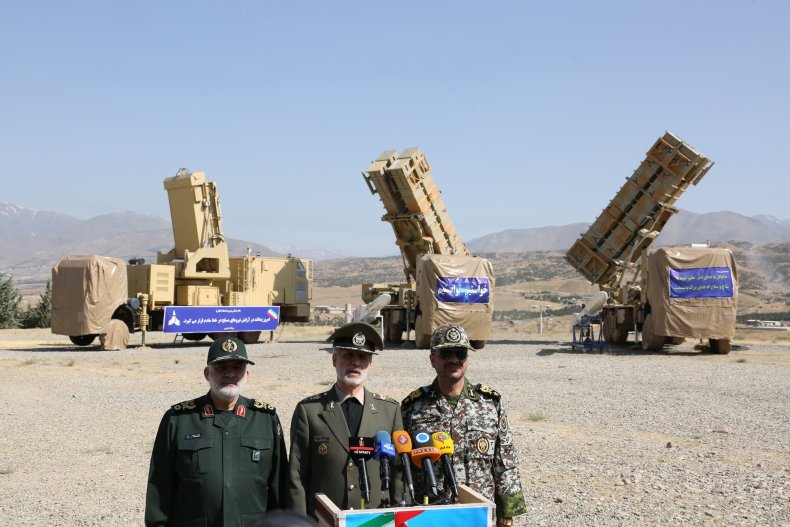 While none of these three Arabian Peninsula states had formal relations with—or even officially recognized—Israel, they have somewhat joined their historic foe, alongside Saudi Arabia, the United Arab Emirates and Bahrain as part of an informal axis against Iran, which they all accuse of funding militant groups. The U.S. has especially fostered these ties since President Donald Trump abandoned a 2015 nuclear deal with Tehran last year, imposing sanctions designed to isolate and undermine the revolutionary Shiite Islamic Republic.
The security has only deteriorated, however, with Washington blaming Tehran for attacks on oil tankers and the United Kingdom and Iran seizing one another's commercial vessels, among other international incidents. The U.K. recently became one of the few nations to respond to the U.S.' call for a "maritime security initiative" already rejected by Germany and criticized by France.
The European trio were all signatories to the 2015 agreement but have struggled to implement their commitments in normalizing trade with Iran as they faced the threat of U.S. sanctions. As a result, Tehran has begun enriching uranium at higher levels, though it has always denied seeking nuclear weapons and has called for dialogue to improve its troubled relations with the Arabian Peninsula.
Iran has recently held high-level meetings with officials from Iraq, which also has close ties to the U.S., and Oman, which has traditionally played a largely neutral role in regional affairs. In another rare development, Iranian and UAE security officials met last month and signed a memorandum of understanding on joint maritime cooperation—though UAE State Minister for Foreign Affairs Anwar Gargash later downplayed this and appeared to reverse a proposed drawdown of troops from Riyadh's war in Yemen against a rebel group suspected of receiving assistance from Tehran.

Still, Iran's regional approach has been backed by the 2015 nuclear deal's other two parties, Russia and China, both of whom blame the U.S. for stoking tensions. Moscow and Tehran, who already work together to support the Syrian government against a rebel and jihadi uprising once largely sponsored by Washington and its Middle Eastern allies, recently boosted naval relations and were set to hold a joint drill in the northern Indian Ocean and Gulf of Oman. Beijing, for its part, has continued to buy Iranian oil, ignoring the Trump administration's restrictions.
Meanwhile, Revolutionary Guards commander Major General Hossein Salami touted the formation of a so-called "axis of resistance" among friendly Lebanese, Palestinian and Syrian forces. Israel considered these groups threats to its national security and both countries have swapped threats over their presence just outside Israel's disputed borders.
"Some U.S. allies in the region were encouraging America to wage war, but they realized that the war with Iran would threaten their political systems, so they were silent," Salami said during a speech Thursday in the western city of Kermanshah. "I am sure that today the Zionists and their regional allies are not interested in war because they know the geography of such a war would be vast and they know the outcome."