Iran Protest Videos Show Unrest Across Country: 'Death to the Dictator'
Videos have emerged of fresh protests across Iran five days after Mahsa Amini died after being arrested by police earlier that week.
The 22-year-old Kurdish woman was arrested in Tehran by morality police, who accused her of breaking Iran's strict law requiring women to fully cover their hair with a headscarf.
Amini, who was reportedly beaten after her arrest, died in hospital after spending three days in a coma. Iranian authorities claim she suffered a "sudden heart failure," but this explanation has been rejected by her family.
On Wednesday, protests continued across Iran including in Tehran, Shiraz and Mazandaran.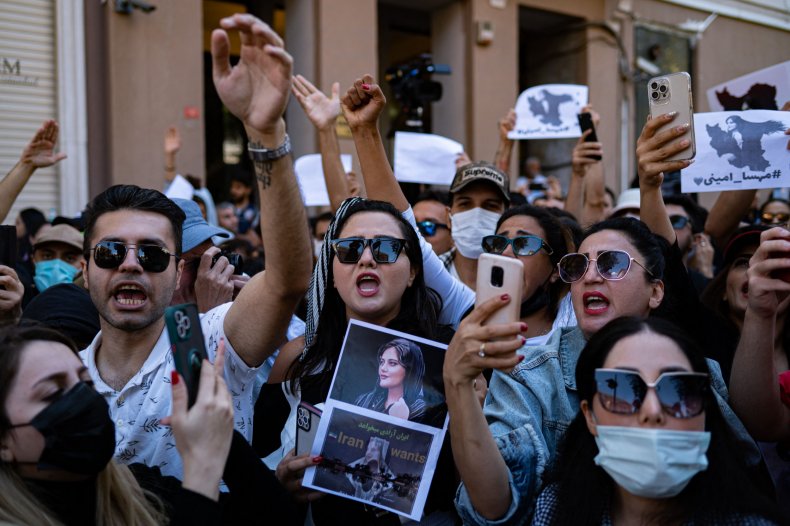 In Urmia, Piranshahr and Kermanshah security forces opened fire with live ammunition, resulting in three deaths, according to activists speaking to the BBC.
Journalist Golnaz Esfandiari posted a video on Twitter, reportedly taken in Kerman's main square, showing a crowd cheering and chanting "death to the dictator" as a woman cuts her hair in protest. The clip went viral on the social media platform, receiving more than 1.9 million views so far.
Esfandiari wrote: "Unprecedented scenes in Iran: woman sits on top of utility box and cuts her hair in main square in Kerman to protest death of Mahsa Amini after her arrest by the morality police. People clap their hands and chant 'Death to the dictator.'"
Iranian human rights campaigner Masih Alinejad, currently living in exile the United States, tweeted footage she said was from Mazandaran, in northern Iran. It shows women burning their headscarves as a large crowd cheers, with one bare-haired woman dancing in front of the fire.
Alinejad wrote: "The brave people of Mazandaran, my birthplace dancing for the freedom they deserve. I am crying by watching women burning their headscarves. Mahsa Amini got killed because of this headscarf but she became a turning point for Iranian women and a tipping point for the regime."
Another clip posted by Alinejad purports to show female university students in the Iranian capital of Tehran removing their black headscarves whilst chanting "we don't want forced hijab."
They are cheered on by other protesters, including male students, some of whom have protest signs.
Violent clashes broke out between police and demonstrators in a number of cities, including Rasht where video shows riot police being forced to retreat as they fight with a large crowd.
Iranian authorities claim a police assistant was killed by protesters in Shiraz, though this hasn't been independently verified.
Iran has been ruled by an ultra-conservative theocracy since the 1979 revolution, which deposed the last shah. Earlier this year, an Iranian human rights campaigner was sentenced to eight years in prison and 70 lashes, according to her husband.
On Monday, Iranian President Ebrahim Raisi attended the United Nations General Assembly in New York.
Raisi was accused of Holocaust denial after an interview with CBS during the trip, in which he did not say definitively that the mass murder of six million Jews during World War II took place, claiming the subject needed to be "investigated and researched."
Newsweek reached out to the Iranian Foreign Ministry for comment.