Iran's minister of information and communication acknowledged Monday that the government has suspended internet service for days amid widespread protests in the country.
Iranian Information and Communications Technology Minister Mohammad-Javad Azari Jahromi told the country's official parliamentary news service, the Islamic Consultative Assembly News Agency, that "the internet has not been disrupted, but service providers were instructed to cut it off by the National Security Council." During the past three days, reports have emerged of an internet blackout in the Islamic Republic, which is currently experiencing large protests over the government's fuel subsidies cuts that have hiked prices for consumers.
Jahromi told the outlet that the "necessary follow-up has been underway since yesterday to normalize the situation and allow for companies to re-establish the internet."
Jahromi acknowledged that "people are upset" over the lack of coverage and the "damage" it caused society, according to the Khabar Online news site. He denied, however, that a nationwide "internal internet" was being set up to permanently replace global internet acess and argued that government actions have been taken in the name of preserving national security.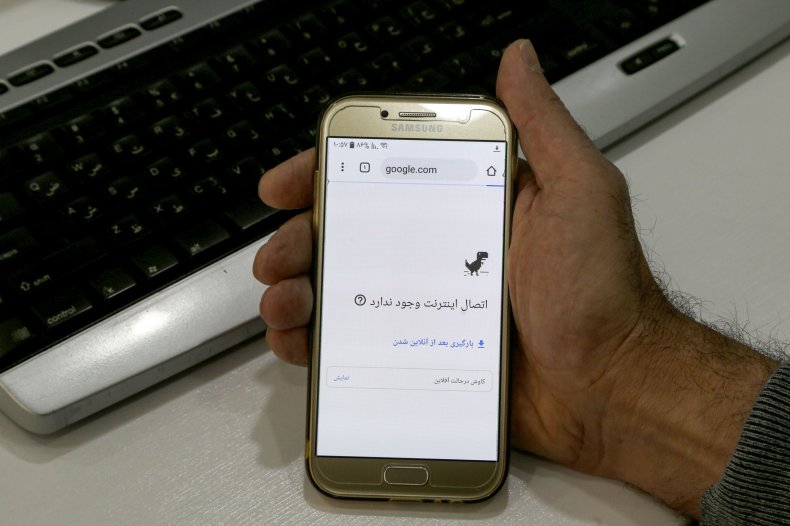 The semi-official Iranian Students News Agency cited an unnamed Information and Communications Technology source Sunday as saying that "access to the internet has been limited as of last night and for the next 24 hours" according to a decision made by the Supreme National Security Council.
Demonstrations across the country have grown increasingly violent, with some protesters burning down banks and gas stations. In a statement published Monday, Iran's elite Revolutionary Guard warned that it was ready to take "decisive and revolutionary action against any continued moves to disturb the people's peace and security" as reports emerged of deadly clashes between rioters and security forces.
New restrictions on internet access may put further pressure on Jahromi, however, as he attempts to rebrand his country's relationship with digital media, which has been censored in Iran. The 37-year-old is the youngest member of Iranian President Hassan Rouhani's administration and is the first Iranian minister to be born after the 1979 Islamic Revolution that ousted a West-backed monarchy. He had served as an intelligence officer before getting involved in telecommunications and ultimately ascended to the helm of his ministry following Rouhani's 2017 re-election.
Since then, he has repeatedly pledged to ease internet restrictions in Iran, telling Foreign Policy as recently as last month that "I'm active on Twitter to state that I don't believe in putting limitations on social media." He has portrayed himself and Rouhani as those who are pushing to implement reforms in the face of hard-liner pressure, while at the same time he has sought to avoid either a reformist or conservative political label.
Post-revolutionary Iran has been deeply skeptical of Western influence and has instituted partial bans on popular websites and applications such as Twitter, Facebook and Youtube, although millions of people have continued to access them. On an international scale, Iran's troubled history with the West has translated to decades of mutual hostility with the United States briefly put aside to strike a 2015 nuclear deal until President Donald Trump's administration unilaterally left the agreement last year, stoking new tensions as Washington imposed new sanctions on Tehran.
Fellow signatories China, the European Union, France, Germany, Russia and the United Kingdom continue to support the agreement, but Iran has gradually reduced its commitments as Western powers failed to normalize trade ties, leaving the Iranian economy embattled and regional tensions high.
Rouhani has struggled to come through with promised reforms in the absence of access to the global market, leading to increased unrest among a population further suffering from U.S. sanctions. While the International Monetary Fund endorsed Iran's plan last year to implement a "gradual reduction of general fuel subsidies" in favor of providing better welfare, the sudden shift in policy appeared to catch many Iranians off guard.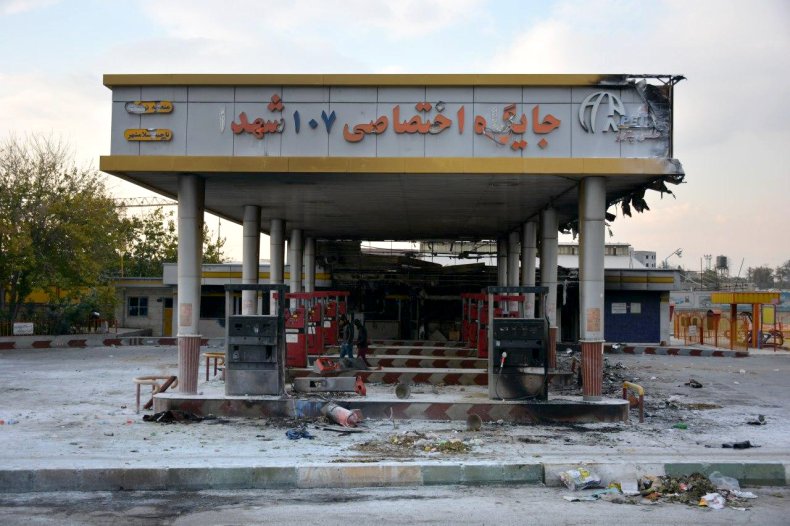 The Trump administration has attempted to link the domestic discontent in Iran with U.S. geopolitical goals. In a statement published Saturday, Secretary of State Mike Pompeo expressed support for the protests, as he has done during previous demonstrations in Iran.
"After 40 years of tyranny, the proud Iranian people are not staying silent about their government's abuses. We will not stay silent either," Pompeo said on Twitter. "I have a message for the people of Iran: The United States hears you. The United States supports you. The United States is with you."
In response, Iranian Foreign Ministry spokesperson Abbas Mousavi said Sunday that "the dignified people of Iran are well aware that such hypocritical and spurious comments do not embody any sincere and compassionate sympathy, and that the chaotic and destructive actions advocated by their likes are in no way synonymous with the wisdom and understanding of the Iranian people."
"It is interesting to express sympathy for the people who have been under the pressure of economic terrorism of the United States, and it has been made clear from the same person's words that the Iranian people should be starved into surrendering," he added, referring to last year's remarks in which Pompeo said Iranian officials must negotiate a new deal with the U.S. "if they want their people to eat."