Iran Says It Will Send Its Military to Italy, Where U.S. Command Is Based
The head of Iran's naval forces has said he plans to soon send a fleet to visit Italy, where the U.S. Navy and the U.S.-led Western military alliance have critical command posts.
Rear Admiral Hossein Khanzadi, commander of the Iranian navy, expressed the desire during a meeting with Italy's deputy naval commander on the sidelines of the Indian Ocean Naval Symposium in the southwestern port city of Kochi, India. Khanzadi said the two countries should work more closely together on military affairs, according to Iranian media reports, which said the Italian military official agreed.
Khanzadi said that "a fleet of warships of the Islamic Republic of Iran's Navy will be sent to Italy for a visit and interactions in the near future," according to the semi-official Fars News Agency.
"We are always trying to have cooperation and interaction with the world states' navies and the Islamic Republic of Iran's Navy as a powerful force in the sea is much important and influential to us," the Italian official was quoted as saying.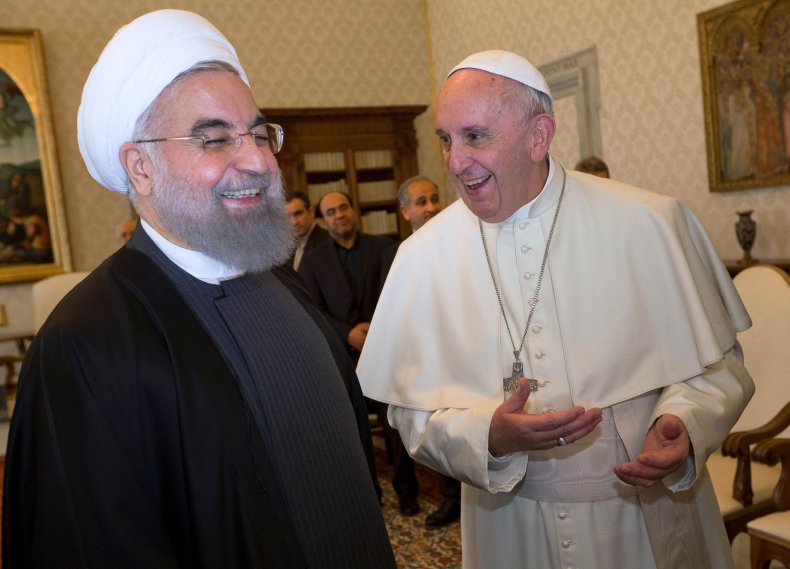 Iran is one of 23 member states within the Indian Ocean Naval Symposium, while Italy is one of the nine observer countries. Italy was a supporter of the 2015 nuclear deal signed by the U.S. and Iran, along with China, France, Germany, Russia and the United Kingdom, and has continued to do so after President Donald Trump pulled out in May.
Iran and Italy have fostered ties despite the former's traditional hostility toward Western powers. Two decades after the 1979 Islamic Revolution that ousted a West-backed monarchy in Iran, Iranian President Mohammed Khatami chose Italy and the Vatican as the venue for his revolutionary Shiite Muslim power's first state visit to the West in 1999. Tehran went another 16 years before sending another head of state to the West and, in January 2016, Iranian President Hassan Rouhani also visited Italy as he sought to promote business cooperation in the absence of U.S. sanctions.
In April of that year, Italian Prime Minister Matteo Renzi visited Iran and, in September, Italy sent a warship there as a part of an antipiracy mission. The vessel docked in the southern port city of Bandar Abbas and conducted joint military exercises.
Italy, however, is a close defense ally of the United States, one of Iran's top foes. Though ties briefly warmed under former President Barack Obama, Trump's decision to scrap the landmark nuclear accord in response to Tehran's support for armed groups abroad and ballistic missile development has severely heightened tensions between the two. As U.S. sanctions were again imposed, Italy was named as one eight countries to be granted a six-month waiver.
The southern Italian city of Naples serves as the headquarters for the United States Sixth Fleet and U.S. Naval Forces Europe, both based at the Naval Support Activity Naples installation near Naples International Airport. In addition, Naples hosts NATO's Allied Joint Force Command Naples.
U.S. military assets in Italy have been used as part of a mission to defeat the Islamic State militant group (ISIS) in Iraq and Syria, two countries where Iran has also contributed extensively to fighting the jihadis. While the rivals both back the Iraqi government, they support competing factions in Syria's seven-year civil war.
Following the most recent round of U.S.-led strikes against the Syrian government, an ally of Russia and Iran, Naples Mayor Luigi de Magistris warned in April that nuclear Virginia-class submarine USS John Warner should not be allowed to pass through his city's harbor as it posed a risk to residents.