Iran's President Gets Tough on U.S. and Israel, Giving Him Support He Needs From Shadowy Top General
Iranian President Hassan Rouhani has threatened to severely cut global oil supplies in response to harsh U.S. sanctions, a move that has garnered praise from a leading Iranian general.
Rouhani made the remarks on the Swiss leg of a European tour launched Monday in hopes of saving the nuclear deal signed in 2015 by Iran, the U.S., China, France, Germany, Russia and the U.K. Since President Donald Trump abandoned the agreement championed by reformist Rouhani as a diplomatic and economic boost for the country, Iran's religious hardliners have doubled down on their criticism of the U.S., which is threatening to cut Iran's oil exports entirely.
With his position challenged by forces at home and abroad, Rouhani said during a meeting with Iranians living in Switzerland that "the Americans have claimed they want to completely stop Iran's oil exports. They don't understand the meaning of this statement, because it is nonsense for Iranian oil not to be exported, while the region's oil is exported," according to his official website.
These remarks were received by many as a threat to close down the Strait of Hormuz, a vital waterway through which about a fifth of the world's petroleum supplies pass. While the remarks were not as explicit as those made by past Iranian leaders, they were met with praise by one of Iran's most influential, yet elusive figures: Major General Qassem Soleimani, head of the elite Revolutionary Guard's Quds Force.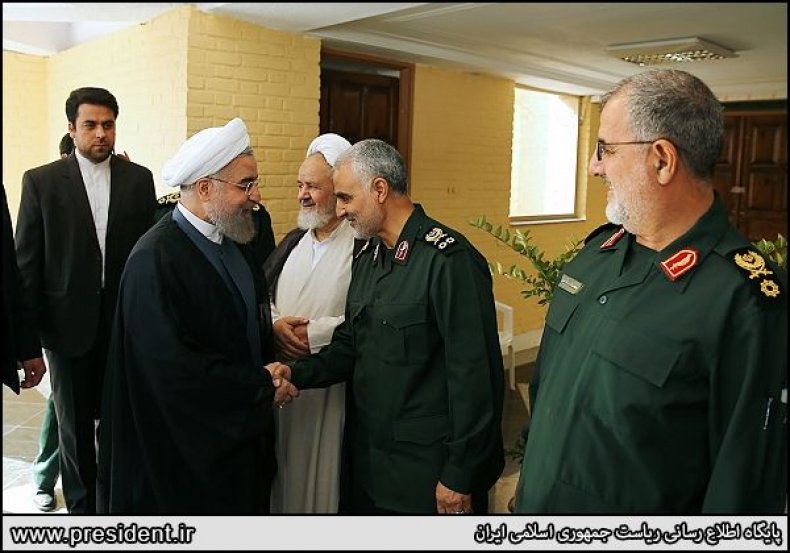 Soleimani's secretive unit is tasked with carrying out operations outside of the country, especially in Iraq and Syria, where pro-Iran and mostly Shiite Muslim militias have been involved in battling insurgents and jihadis, such as the Islamic State militant group (ISIS). The Quds Force—as well as the entire Revolutionary Guards—answer directly to Iran's supreme religious authority, Ayatollah Ali Khamenei, and have significant control over the country's economy. Like Khamenei and other hardline clerical leaders in Iran, Soleimani has been outwardly critical of attempts to open up to the West.
Exactly one year ago, Soleimani reportedly reacted with anger to Rouhani's post-election call to liberalize the economy from military control. The general did not mention Rouhani's name, but warned that no one should ever seek to undermine Iran's armed forces in comments widely seen as directed toward the president, according to Radio Farda, a subsidiary of the U.S. government-funded Radio Free Europe/Radio Liberty. These divisions worsened as the U.S. enforced more sanctions, spurring protests at the state of the struggling economy.
Related: Trump Cites Iran Media Story About Obama That Fox News Commentator Calls 'Made-Up BS'
Soleimani, however, appeared to clear the air Wednesday in a letter addressed to the president that responded directly to Rouhani's threats to block global oil traffic, as well as his condemnation of the "aggressive" actions in the region of the "illegitimate" Israeli government later on Tuesday during a press conference with the Swiss President Alain Berset in Bern. Soleimani lauded Rouhani's words, saying, "This is the same Rouhani that we knew and still know, and the one who should be. You made our dear leader, the great Islamic nation of Iran and the world's Muslims proud by making such wise, valuable and strong statements," according to the official Islamic Republic News Agency.
He also vowed to make good on any show of force ordered by Rouhani, adding: "I will kiss your hands for timely, wise and correct speeches and am ready to implement any policy that serves the Islamic Republic." Soleimani's support could be vital for Rouhani as a January poll conducted by the University of Maryland showed the general to be nearly three times as popular as the president.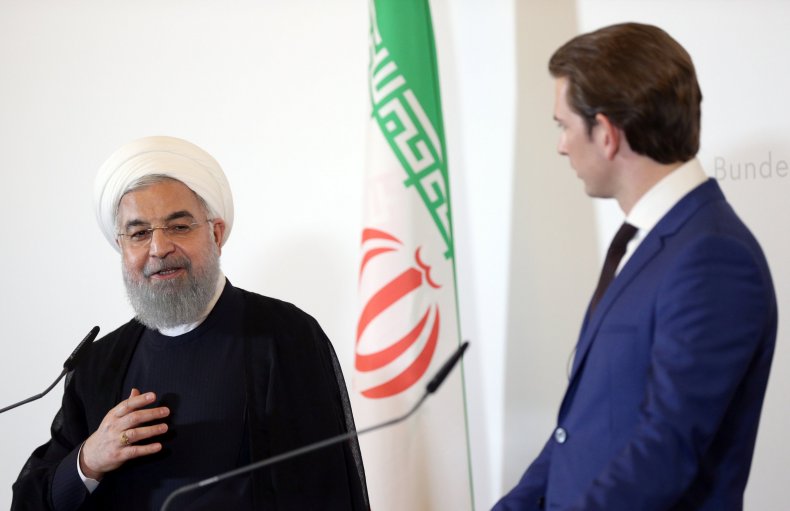 Rouhani, meanwhile, declined to elaborate on his remarks when asked by journalists but warned in front of a crowd of Iranians the next day in Austria that "the Americans are wrong if they think that if they pressure the Iranian people, they will capitulate in the face of a language of force, threat and humiliation because in the past no power has ever been able to force the great nation of Iran to surrender to irrational words," according to his website. The current Iranian government came to power in 1979 after overthrowing a monarchy reinstalled by a 1953 U.S.-backed coup against Iran's then-democratically-elected prime minister.
Rouhani then repeated the vague threat in a joint meeting with the Austrian Chancellor Sebastian Kurz, saying, "the Americans claiming that they will reduce Iran's oil export to zero is mindless, indicating that they haven't thought about its consequences. The Iranian nation has always proved that it will firmly resist any threat to its national interests."