Iranian Forces Accused of Opening Fire on Protesters in Harrowing Video
The notorious Iranian Revolutionary Guards were accused of opening fire on protesters with a machine gun on Monday afternoon.
Footage that was reportedly filmed in Northern Iran allegedly shows bystanders accusing the Guards, part of the Iranian army, of using a Soviet-era machine gun to target demonstrators. The clip couldn't immediately be independently verified.
Iranian journalist Sima Sabet, who has worked for the BBC World Service and now works for the Persian-language TV channel Iran International based out of London, shared the clip on Twitter. It had originally been tweeted by her Iran International colleague Saman Rasoulpour. Sabet captioned it with a quote from the footage, which translated as: "Bastards shooting people with DShK, DShK! Even Syria wasn't like this."
A DShK was an early model of machine gun developed by the USSR in the 1930s to be belt-fed shells, and it was used during World War Two as an anti-aircraft weapon. Thousands were produced.
The grainy footage, which was not clearly in focus, showed people in a street in a residential area as gunfire rang out and smoke appeared in the distance. Sabet reported that the clip was filmed in Javanrud.
Javanrud is a city that shares some its borders with Iraq, and it's sometimes referred to as being part of Kurdistan – a roughly defined region with its own culture and heritage that straddles Iran, Iraq and Turkey.
Sabet continued to post different clips that she said featured civilians being fired upon throughout the afternoon. Some apparently feature wounded and bloody victims.
She later posted a clip that appeared to show throngs of people gathered around an ambulance outside a hospital. She captioned the footage: "#Breaking. Urgent need for blood is requested from #Javanrud hospital. People gathered to find their injured relatives #MahsaAmini."
Her final hashtag, #MahsaAmini, is the name of the woman whose death sparked the demonstrations across Iran. The 22-year-old was arrested and jailed for not wearing a hijab to cover her hair, which is mandatory under the country's strict "morality" laws. She was allegedly beaten and tortured before her death on September 16, although Iranian officials insist that she died of a heart attack.
In the following widespread protests, many women are removing their own hijabs in public, with some even burning them in a symbolic gesture against oppression.
Two months on, the protests seem to have spread to every region of the country.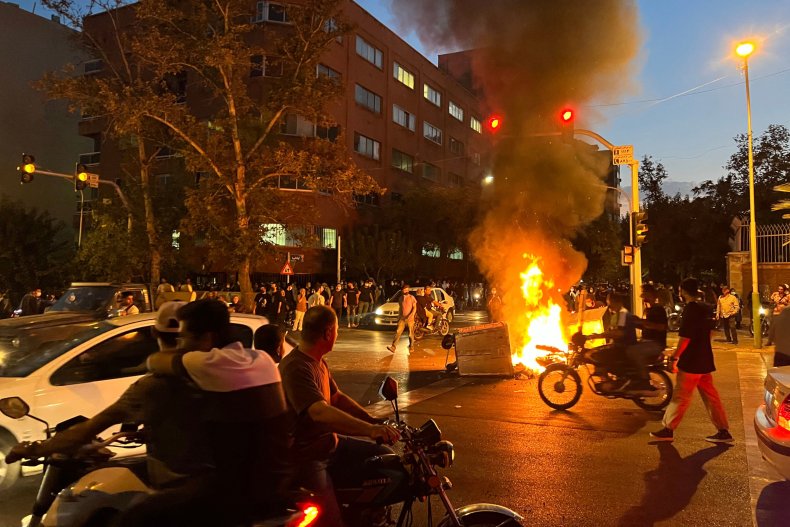 Other twitter users also claimed protests were being violently suppressed in Javanrud, with clips that Newsweek has been unable to independently verify being shared widely online.
The Hengaw Organization for Human Rights, an independent group whose Twitter bio says it focuses on "Human Rights Violations in Kurdistan (Iran)," also uploaded several tweets about the atrocity it claimed was unfolding. Using a different Western spelling of the city, the organization tweeted footage of gunfire with the words: "Intense confrontation between people and Repressive forces continues in Javanroud. Monday, November 21, 2022."
The non-governmental and nonprofit organization, which says it is based across Norway, Germany and the U.K., alleged: "In the last 24 hours, at least 13 Kurdish citizens were killed in the cities of Kurdistan by direct fire from IRI [Islamic Republic of Iran] forces. Javanroud 7 citizens; Piranshahr 4 citizens; Dehgolan 1 citizen; Bukan 1 citizen."
Newsweek is working to independently verify the figures.
A CNN correspondent based in Turkey, Jomana Karadsheh Scott, also appeared live on the network to discuss what appeared to be unfolding across the border in Iran. She shared a clip of her report on Twitter and, using another alternative spelling of the city's name, wrote: "Activist warning ongoing bloody crackdown in Kurdish region & town of #Javanrood going to get worse & death toll continues to rise in what @Hengaw_English says is a 'significant increase in brutality' by #Iran regime forces shooting directly & deliberately at protesters #MahsaAmini."
Newsweek has reached out to Iranian authorities for information and comment about the allegations.
It comes as the World Cup, a global soccer tournament currently taking place in Qatar, also appeared to have been used as a forum for Iranians to show their dissent.
As the Iranian national anthem played before the country's first match of the tournament, against England on Monday, the Iranian fans seemed to boo while the stony-faced players remained silent and didn't sing.