Video Shows Iranian Girls Remove Hijabs, Kick Out Pro-Regime Principal
A video showing Iranian schoolgirls with their hijabs removed and yelling and throwing objects at their principal has gone viral.
Protests against Iran's government have taken place across the country following the death of Mahsa Amini. The 22-year-old was detained by Iran's morality police in Tehran on September 13 for allegedly not adhering to the country's strict Islamic dress code.
Amini was reportedly beaten after her arrest and died three days later. Iranian authorities said she had a heart attack, but her family has rejected this explanation.
Within hours of her funeral on September 17, Iranians took to the streets in protest. Security forces have cracked down on the protests, with the Iran Human Rights group putting the resultant death toll at more than 130.
High-school students in Iran are also protesting in "an unprecedented development," according to Vahid Yücesoy, a PhD candidate in political science at the University of Montreal.
Yücesoy shared a video of girls without their compulsory hijab surrounding their principal at a school in Karaj, a city outside Tehran.
They can be heard chanting that he is "without honor" and throwing things at him as he flees the scene.
"This video is going viral on Iranian twitter. Girls at a school in Karaj are booing and kicking out the pro-regime principal," Yücesoy wrote. "They've also removed their forced hijabs."
Yücesoy told Newsweek: "Typically, when protests occur in Iran, they usually are restricted to streets or university campuses or they are led by workers or teachers. The fact that they have now arrived at high schools is a very unprecedented development.
"The discontent with the regime is so high, all segments of society are indignant with the way that things are going in the country that we're seeing even young high school girls acting in a very political manner."
Other photos and videos on social media showed Iranian schoolgirls removing their hijabs and chanting anti-government slogans.
Twitter users praised the bravery of the students.
"Brave girls in Iran removing their headscarves, tearing down pictures of the supreme leaders of the Islamic Republic, and chanting "Death to Dictator!" wrote sports journalist Elika Sadeghi.
"Further down the thread you see them chasing their principal out the building chanting that he is 'without honor!'"
"Pure, jaw-dropping courage," wrote Michael Clemens, a fellow with the Center for Global Development.
President Joe Biden has said he is "gravely concerned about reports of the intensifying violent crackdown on peaceful protesters in Iran, including students and women" and pledged a swift response.
"This week, the United States will be imposing further costs on perpetrators of violence against peaceful protesters. We will continue holding Iranian officials accountable and supporting the rights of Iranians to protest freely," Biden said in a statement on Monday.
On Monday, White House press secretary Karine Jean-Pierre told reporters that university students in Iran are "rightly enraged" by Amini's death.
"This weekend's crackdowns are precisely the sort of behavior that drives Iran's talented young people to leave a country by the thousands to seek dignity and opportunity elsewhere," she said.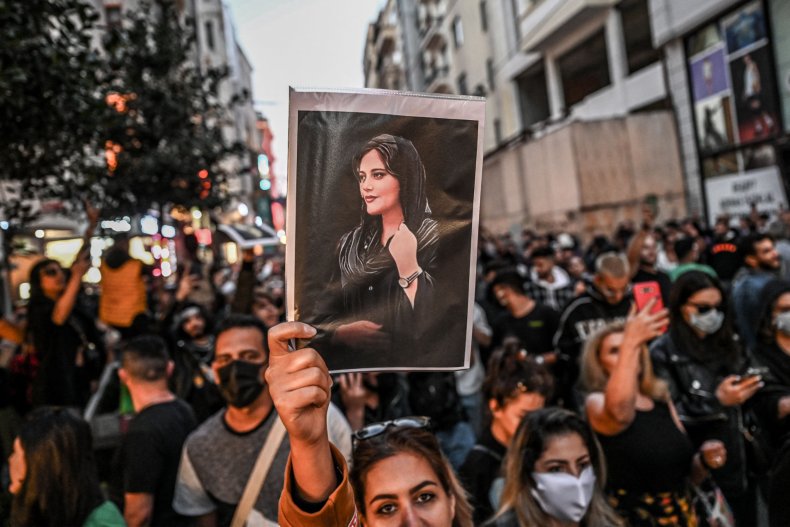 Update 10/4/22, 10:22 a.m.: This article has been updated with comment from Vahid Yücesoy.