Iran is refuting reports that it's reducing its presence in Syria and said it is seeking to bolster its ties with neighboring Iraq as the Islamic Republic pushes forward with a plan to expel the United States from the Middle East.
Iran's semi-official Fars News Agency cited who they said was a well-informed official Tuesday who denied outgoing Israeli Defense Minister Naftali Bennet's claim a day earlier that Iran "has begun the withdrawal process from Syria." His remarks followed reports earlier this month by other Israeli officials who argued Iran was gradually pulling out of the country, although Tehran disputed this.
"There has been no change in the quantity and quality of Iran's advisory presence in Syria," the unnamed official told Fars News Agency. "We will stay in Syria as long as the Syrian government needs the help of the Iranian advisers."
U.S. officials have also commented on the reports of an Iranian drawdown, with Special Representative on Syria James Jeffrey telling reporters earlier this month that Washington saw "some Iranian movement around Syria pulling back from areas where the Israelis have struck them" as well as "a withdrawal of Iranian-backed militias" from other countries.
That briefing came as the Pentagon announced it was removing Patriot surface-to-air missile batteries from Saudi Arabia, another leading foe of Iran and a central U.S. partner in the geopolitical feud dominating the Persian Gulf. U.S. Special Representative on Iran Brian Hook would not confirm to CNBC at the time whether this came in response to a change in Iranian activity but stated that "it doesn't mean that Iran is no longer a threat."
Tehran has set out to improve its regional presence. Iranian Defense Minister Amir Hatami discussed establishing a strategic partnership with Baghdad in a conversation Sunday with his new Iraqi counterpart Juma Anad Saadoun. The following day, Iranian supreme leader Ali Khamenei's official Twitter account wrote: "The Americans won't stay in Iraq and Syria; they'll be expelled."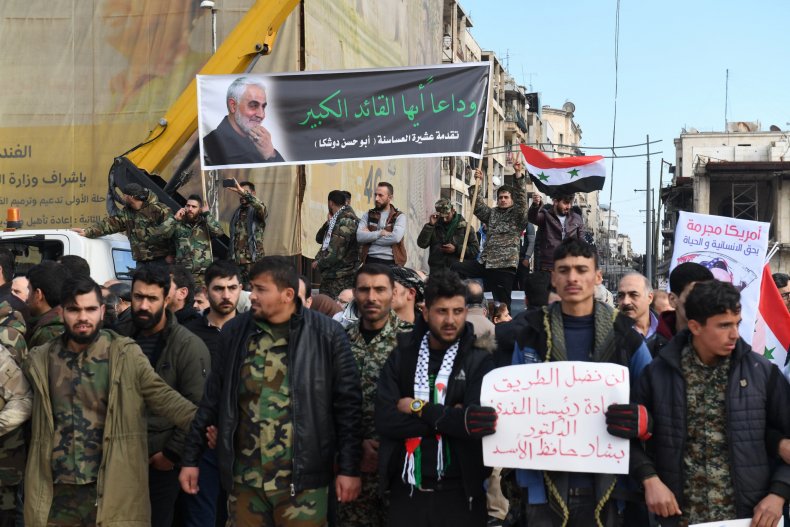 The U.S. and Iran both launched campaigns to defeat the Islamic State militant group (ISIS) in 2014. Their common enemy's defeat and the decision of President Donald Trump's administration to leave a 2015 nuclear deal two years ago, however, has reignited tensions between the four-decade adversaries.
The U.S. killing of Iran's Revolutionary Guard Quds Force commander Major General Qassem Soleimani at Baghdad International Airport in January especially enflamed their feud, sparking a retaliatory missile attack and fueling local calls for a U.S. exit from Iraq.
A report released last week by the Inspector General for the U.S. anti-ISIS mission included a section entitled "Tensions with Iran and Its Proxies Strain U.S.-Iraq
Security Cooperation." It detailed the detrimental effects of an uptick in violence between U.S.-led forces and Iran-aligned Iraqi militias on Washington's relationship with Baghdad.
In Damascus, the Syrian government backed by both Iran and Russia has long called for the withdrawal of U.S. and other foreign forces deployed to the country without the state's permission. Washington has refused to work with Syrian President Bashar al-Assad, accusing him of widespread war crimes, and the Pentagon has instead partnered with a mostly Kurdish militia known as the Syrian Democratic Forces to fight ISIS in the country.
The U.S. is also seeking the withdrawal of Iranian and Iran-backed forces from Syria.
"Both Israel and the United States have made clear to the Iranian regime that they need to get out of Syria," Secretary of State Mike Pompeo told Kan News on Wednesday during his trip to Israel. "We've made that clear to the Assad regime as well."