Israel Says It 'Will Not Stop' Attacking Iran in Syria, Escalates Military Campaign
The head of Israel's military appears to have acknowledged the country's involvement in recent strikes in Syria, warning a semi-secret campaign against Iran has escalated.
In a statement carried by a number of Israeli media outlets Tuesday, Israeli Defense Minister Naftali Bennett stopped short of directly acknowledging his forces were behind airstrikes Monday near Damascus but stated that Israel has "moved from blocking Iran's entrenchment in Syria to forcing it out of there, and we will not stop."
"We will not allow more strategic threats to grow just across our borders without taking action," he added, as translated by the Times of Israel. "We will continue to take the fight to the enemy's territory."
Bennett had hinted at new Israeli actions on Sunday, telling listeners of the 103FM radio station to stay tuned for reports of Israel intensifying its anti-Iran efforts in Syria.
The official Syrian Arab News Agency reported that Monday that Israeli strikes killed three civilians in the Al-Adliya and Al-Hujaira, citing Quneitra Governor Hammam Dibbiyat. The United Kingdom-based, opposition-tied Syrian Observatory for Human Rights also reported on three civilian casualties in these same southern capital countryside areas, but could not determine whether they were the result of Israeli actions or shrapnel from Syrian anti-aircraft fire.
The monitor also said four individuals loyal to Iran and its allied Lebanese militia Hezbollah had been killed outside Damascus between Al-Kiswah and Sahnaya.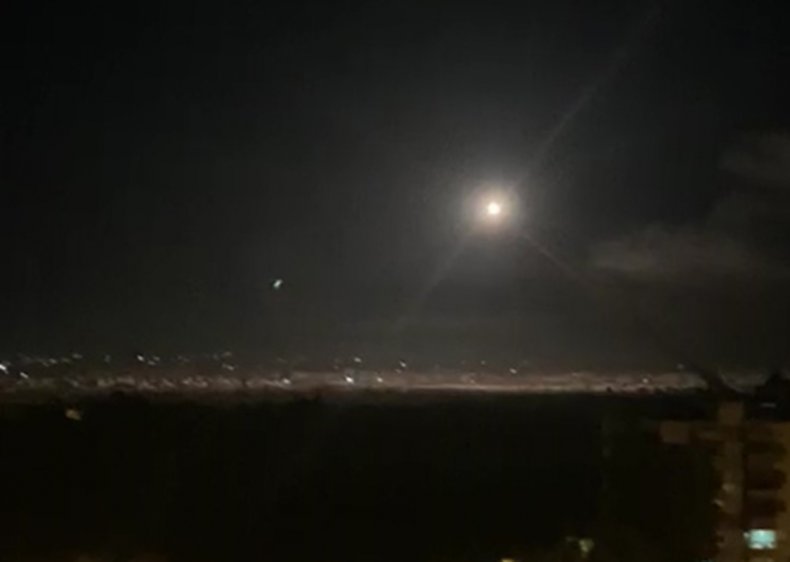 Less than a week before these strikes, Syrian air defenses again were activated in response to what Damascus said was an Israeli attack, this time over the skies of the central city of Palmyra. The Syrian Arab News Agency said the anti-air batteries successfully blocked a number of missiles, but the Syrian Observatory for Human Rights has reported the deaths of nine individuals aligned to Iran and Hezbollah, three of whom were Syrians.
Tehran was an early supporter of longtime partner Syrian President Bashar al-Assad's military efforts to quell a rebel and jihadi uprising backed by the United States and allies in the Middle East and Europe. Israel accused Iran and partnered paramilitary forces of establishing forward positions potentially capable of attacking Israel, however, and began its own intervention, conducting airstrikes and providing some support to insurgents.
Syria has since been a primary venue for the decades-long Iran-Israel rivalry. An Israeli military official told Newsweek in late February that the armed forces were planning on ramping up their counter-Iran campaign abroad, especially by preemptively targeting efforts to export and establish precision-guided munitions capabilities among groups like Hezbollah.
An Iranian official, however, also told Newsweek at the time that any attack on the Islamic Republic would be met with retaliation, as did the U.S. killing of Revolutionary Guard Quds Force commander Major General Qassem Soleimani at Baghdad International Airport in January. Iran answered the operation with a barrage of missiles targeting U.S. positions in Iraq and by accelerating efforts to expel U.S. forces from the region.
While the U.S.-Iran feud has most recently played out in the Persian Gulf with both nation's navies exchanging threats amid a tense encounter earlier this month, Iraq continues to present a major flashpoint. The Pentagon and local militias have exchanged fire in sometimes deadly incidents over the past few months and Israel has hinted at its growing involvement in Iraq, where unclaimed strikes against the Iran-aligned paramilitaries last year were widely blamed on Israel.
One Iraqi group calling itself Usbat al-Thayyireen and claiming attacks that killed U.S. and allied coalition troops published a video message last month in which it claimed to have weapons capable of reaching Israel.
Rocket attacks that Israel blames directly on the Revolutionary Guard have already crossed the contested border with Syria, where Moscow's objections to Israel's unsanctioned strikes have not translated into activating advanced Russian defense systems. As fellow backers of Assad, Moscow and Tehran coordinate on operations in Syria but Russian President Vladimir Putin also has close ties with Israeli Prime Minister Benjamin Netanyahu.
With Israel warning it will expand its campaign against Iran, Tehran has also touted new military capabilities it argued could be used against its archfoe. Earlier this month, Iranian Defense Minister Amir Hatami unveiled new weaponized drones he said were capable of flying up to 45,000 feet and traveling more than 930 miles away, putting Israel in range of a country already possessing the region's largest and most advanced missile arsenal.
Iran's development of missiles and its support for foreign militias factored into the Trump administration's decision two years ago to leave a 2015 nuclear deal with major world powers and reinstate impose sanctions that have contributed to the rise in regional tensions. While Iran is not known to possess nuclear weapons, Israel is believed to maintain an arsenal of its own, though it maintains a strict policy of deliberate ambiguity, neither confirming nor denying these capabilities.