Iran Calls for Coalition with States in Region Only, But Will Soon Hold War Games with Russia and China
Iran has called for a coalition limited to regional countries, but was also set to bolster military ties with Russia and China, two international powers opposed to U.S.-led efforts to isolate the Islamic Republic.
Iranian Supreme National Security Council Secretary Ali Shamkhani met Monday in Tehran with Foreign Minister Yusuf bin Alawi bin Abdullah of Oman, one of the Arab members of the Gulf Cooperation Council Iran has sought to court into joining a cross-strait Coalition for HOPE, or Hormuz Peace Endeavor. The senior Iranian official criticized the U.S. for attempting to form a rival coalition to patrol the Strait of Hormuz and argued that Iran's own Persian Gulf project would not include any foreign powers.
"The countries that have had the biggest share in creating tensions and insecurity in the region and plunged the region into chaos and destruction by waging multiple wars and spreading terrorism have never been after the Persian Gulf's stability and security, and only seek to fulfill their own interests and plunder the region," Shamkhani said, according to the semi-official Tasnim News Agency.
At the same time, however, Tehran has looked to boost its image on the world stage by conducting joint naval drills in nearby waters elsewhere with two of the Washingtons' top rivals, Moscow and Beijing. Though the exact circumstances surrounding the prospective exercises remain uncertain, some new details have come to light.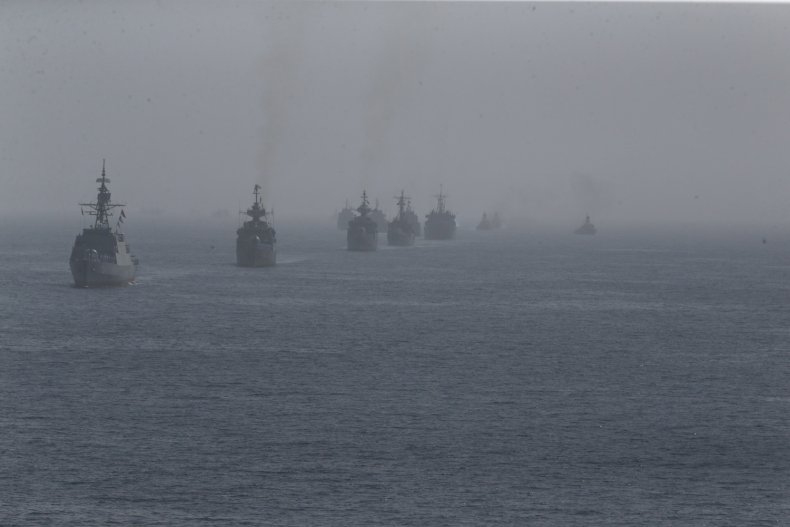 Speaking Saturday at a naval exhibition, Iranian navy chief Rear Admiral Hossein Khanzadi confirmed his forces were still planning to join Russian and Chinese maritime forces for drills said to be in the works for months. He added that "the objective of such an exercise is obtaining collective security and assisting in securing the northern region of the Indian Ocean, which is today witness to certain incidents such as maritime piracy."
Days earlier, he told the semi-official Mehr News Agency that the exercise would be conducted would "hopefully" be conducted in December and that a "joint wargame between several countries, whether on land, at sea or in the air, indicates a remarkable expansion of cooperation among them." The message, he said, was "that these three countries have reached a meaningful strategic point in their relations, with regard to their shared and non-shared interests, and by non-shared I mean the respect we have for one another's national interests."
Khanzadi first discussed the prospects of such training with Russia in July, but no confirmation came from Moscow for months. Russian Foreign Minister Sergey Lavrov finally revealed last month that "we, the People's Republic of China and Iran are preparing naval drills for fighting terrorists and pirates in this part of the Indian Ocean," but China has so far remained mum since its name was later added to the bill.
Both countries were signatories and continued supporters of the U.S. and Iran's 2015 nuclear deal also endorsed by the European Union, France, Germany and the United Kingdom. President Donald Trump unilaterally left the deal last year, accusing Iran of using financial assets to fund terrorism and develop ballistic missiles. The White House has since hit Tehran with successive rounds of strict sanctions in an attempt to completely sever its international trade ties.
As tensions between the two longtime foes mounted in recent months, the U.S. has blamed Iran for episodes of unrest targeting oil tankers in the Gulf of Oman and a September attack on oil facilities in Saudi Arabia. Russia and China have avoided assigning responsibility, seeking calm and blaming the U.S. for leaving the nuclear agreement in the first place.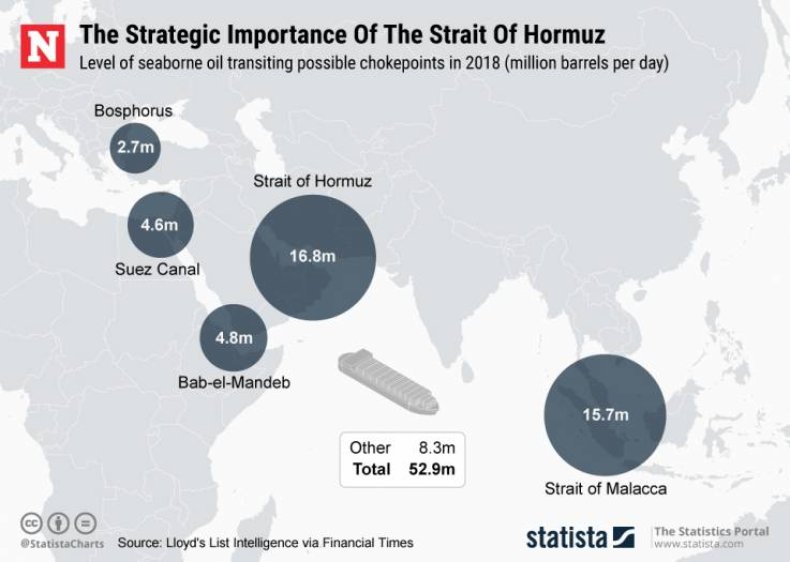 Source: Statista
Russia and China both have strategic interests in working with Iran, with the former operating jointly with Tehran in Syria's ongoing civil war and the latter looking to expand oil imports from the revolutionary Shiite Muslim power in defiance of U.S. sanctions. Still, neither sought a direct fight in the Persian Gulf and both have also shored up ties with Iran's regional rival, Saudi Arabia.
Though persistent reports have emerged of Iran-Saudi backchannels, Riyadh has yet to officially respond to the Coalition for HOPE invitation and, prior to the announcement of this initiative, joined the U.S.-led International Maritime Security Construct, also backed by Australia, Bahrain, the United Arab Emirates and the U.K. Russia has its own proposal, the China-backed Collective Security Concept for the Persian Gulf, which would see regional cooperation in addition to major powers such as Russia, China, the U.S., the EU and India.
The U.S. has largely ignored these overtures and has ordered the deployment of thousands of troops to Saudi Arabia, raising regional fears that growing frictions could erupt into a conflict as violence involving Iran and its other top regional adversary, Israel, broke out elsewhere in Syria. Washington has so far refused to return the nuclear deal as a precursor for new talks with Tehran.
Secretary of State Mike Pompeo told an audience at the University of Louisville Monday that the Trump administration's hard-line policy toward Iran was designed "to keep America safe, to keep the Middle East more stable, and to enable the Iranian people to convince the regime that it needs to change its ways in the most fundamental and basic way, to just ask Iran to behave like a normal country."