Iran Renews Threat of 'Counter Blow' Against U.S. for Soleimani Killing
Iran's Supreme Leader Ayatollah Ali Khamenei has repeated threats to further retaliate against the U.S. for its assasination of Major General Qassem Soleimani.
The ayatollah met with new Iraqi Prime Minister Mustafa al-Kadhimi in Tehran on Tuesday and vowed to deliver a "counter blow" to the U.S. for the drone strike that killed Soleimani in Baghdad in January.
Khamenei also warned Kadhimi that U.S. presence in Iraq would only bring the country more destruction and corruption.
The assassination of Soleimani—declared unlawful by a United Nations investigator last month—pushed Iran and the U.S. to the brink of war. He was killed outside Baghdad airport alongside Iraqi militia commander Abu Mahdi al-Muhandis and several others.
"The Islamic Republic of Iran will never forget this issue and will definitely deal the counter blow to the Americans," Khamenei said in the meeting, according to the state-run Press TV.
"They killed your guest at your own home and unequivocally admitted the atrocity. This is no small matter," Khamenei said to Kadhimi.
The Soleimani strike followed weeks of spiralling tensions with Washington and attacks on U.S. interests in Iraq, which President Donald Trump's administration blamed on Tehran.
The president and Secretary of State Mike Pompeo claimed the killing was justified to stop imminent attacks on Americans, but have still not provided any evidence to support the assertion.
Iran has repeatedly condemned the assassination as illegal, and last month a Tehran prosecutor even issued an arrest warrant for Trump and requested Interpol's help in arresting him. Interpol told Newsweek it would not provide any assistance as the request was in contravention of its constitution.
Iran responded to the killing with ballistic missile strikes on two Iraqi military bases housing U.S. troops, injuring more than 100. The U.S. chose not to respond. An Iranian anti-aircraft crew accidentally shot down a passenger jet outside Tehran soon after, mistaking it for a U.S. military aircraft and killing all 176 aboard.
Iraq has been the primary battleground in the simmering U.S.-Iranian conflict. Iran has cultivated massive influence in the battle-scarred nation, exploiting the U.S. invasion and occupation of the country in 2003 plus the more recent fight against Islamic State militants to build up powerful militias and sway over politicians and religious leaders.
Iranian leaders have repeatedly vowed to expel American forces from Iraq, where they remain in support of the country's counter-terrorism operations. Iraqi leaders have had to tread a fine line between the Americans and the Iranians, seeking to placate both and avoid fresh conflict.
Iraqis have increasingly chafed against the visible and powerful influence of the Iranian regime in their country. During mass protests that erupted last October, Iraqi protesters demanded the end of Iranian influence and even attacked Iranian consulates.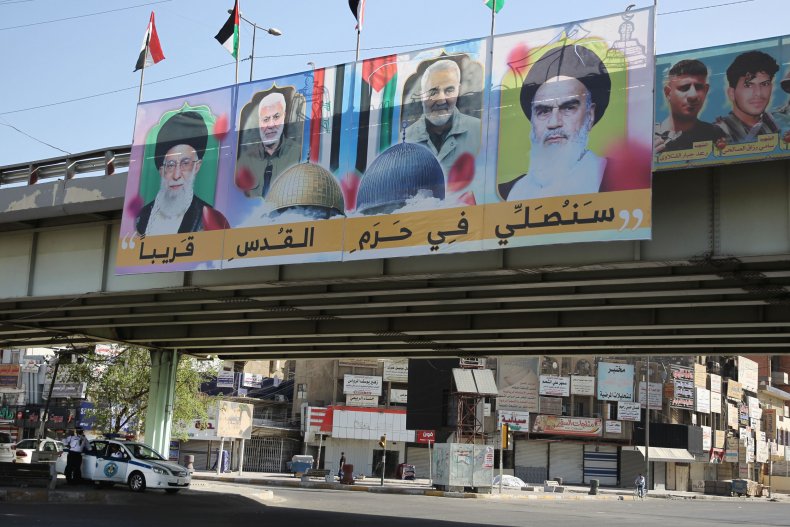 It was this unrest that opened the door for Kadhimi to take power. His predecessor Prime Minister Adil Abdul-Mahdi resigned in November amid the violent demonstrations, beginning six months of political wrangling that ended with Kadhimi's appointment.
But Khamenei claimed on Tuesday that Tehran has never sought to influence Iraqi politics, despite significant evidence to the contrary. Diplomatic cables leaked last year showed that Iran has infiltrated every aspect of the Iraqi state, wielding fearsome control over the organs of state and the direction of the country.
Khamenei told Kadhimi Tuesday that Soleimani's assasination is an "example of the result of the Americans' presence" in Iraq, warning that U.S. influence—rather than Iranian—will lead to "corruption, destruction, and ruin."
Khamenei said Tehran expects Beghdad to follow through on expelling American forces, claiming their presence "begets insecurity." He added that while the U.S. seeks to undermine Iran-Iraq ties, Washington "should not be feared at all because it cannot do a damn thing."
Iraqis have also demanded the departure of U.S. forces from the country, and in December—alongside Iranian-backed militias—stormed and ransacked the U.S. embassy in Baghdad.
After Soleimani's death, Iraqi lawmakers backed a non-binding resolution calling on the government to expel U.S. troops from the country, though the vote was boycotted by most Sunni and Kurdish politicians.
Kadhimi—the former head of Iraq's National Intelligence Service—told Khamenei that Iraqis valued Tehran's support in Baghdad's fight against ISIS fighters in the north of the country in recent years.
Soleimani was a key part of this fight, directing Iranian-backed militias and advising the Iraqi government. The major general led the Islamic Revolutionary Guards Corps' clandestine Quds Force, and was credited with masterminding Iran's foreign policy across the Middle East.
Soleimani was widely considered the second most powerful figure in the regime before his death at the age of 62, and was a close confidante of Khamenei.