Iran Responds to Israel's 'Ready to Attack' Warning: 'We Are Prepared'
The head of Iran's most elite military branch has responded to a warning by Israel's defense chief, saying the Islamic Republic was prepared to handle any potential aggression from its archfoe.
Tensions are high between Iran and Israel over a series of murky maritime incidents, including most recently a deadly blast aboard an Israeli-linked ship and an alleged unsanctioned boarding of another United Arab Emirates-owned tanker in the Gulf of Oman.
Israeli Defense Minister Benny Gantz told Ynet News on Thursday that "Israel is ready to attack Iran."
"We are at a point where we need to take military action against Iran," he added, according to the Israeli outlet. "The world needs to take action against Iran now."
The remarks came a day after Israeli Prime Minister Naftali Bennett said his country was seeking to rally the international community against Iran, but could also "act alone" against its adversary during a tour of Israel's northern border with Syria and Lebanon, where hostilities would erupt just a day later.
Then, on Thursday, addressing his naval forces on a trip to Iran's southern coast, Revolutionary Guard commander Major General Hossein Salami delivered a rebuttal to the Israeli threats.
"Those who speak against us with a language of threats, including the Zionist regime's prime minister and other officials of that regime, must be mindful of the dangerous consequences of their comments and exercise the necessary caution in their calculations," Salami said.
And he warned that Tehran was also ready for anything.
"We are prepared for every scenario," Salami added, "and as some of these preparations were observed today on the shores of the Persian Gulf, these preparations are present in various areas of our defense power."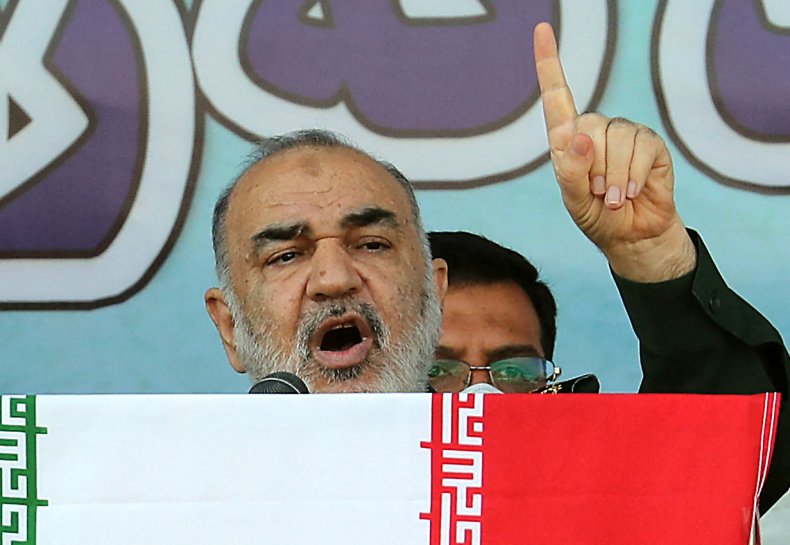 Iran and Israel have been actively engaged against one another's interests across the Middle East since at least the 1980s, when Iran's new revolutionary government began backing the powerful Hezbollah movement against an Israeli invasion of Lebanon. Today, Hezbollah continues to operate in southern Lebanon, as well as in Syria, where Israel regularly strikes suspected Iran-linked targets accused of setting up forward operating bases and transferring advanced weaponry.
The United States under successive administrations has backed Israel and on Thursday White House Press Secretary Jen Psaki told reporters in response to the latest exchange of heated rhetoric that "Israel, as a sovereign country, has the right to defend itself, and we certainly recognize that first and foremost."
"We, of course, are working with the international community and have concerns about the escalating activity we've seen as it relates to the seized tanker, the Asphalt Princess, also the Mercer Street attack," Psaki said in relation to the two most recent vessel incidents in the Gulf of Oman, "and these are all certainly issues that are of concern to us and of concern to the international community."
She did not outright blame Iran for the incidents, but said she saw familiar signs.
"We feel it follows a pattern of attacks and other belligerent behavior," Psaki said. "And these actions also threaten freedom of navigation through crucial waterways—something that is posing a risk to a range of countries around the world."
U.S. troops have also found themselves embroiled in the conflict. Militias aligned with the Iran-led regionwide "Axis of Resistance" have fired rockets against U.S. positions in Iraq and Syria.
Longtime foes Washington and Tehran briefly found common ground in 2015 when they reached a nuclear deal alongside world powers, allowing international sanctions to be lifted from Iran in exchange for a curbing of the country's nuclear program. But former President Donald Trump's exit from the accord three years later and the return of unilateral U.S. sanctions has prompted new tensions in the form of regional unrest at land and sea, as well as a renewal of Iranian nuclear enrichment.
His successor, President Joe Biden, has set out to return to the agreement, but indirect negotiations between the two countries alongside fellow signatories China, the European Union, France, Germany, Russia and the United Kingdom have dragged on in the Austrian capital of Vienna since April without consensus.
Since coming to office on Wednesday, Iranian President Ebrahim Raisi has reaffirmed his country's commitment to never building a nuclear weapon, and to reaching a deal in Vienna.
"The government of the Islamic Republic, according to the fatwa of the Supreme Leader of the Islamic Revolution, prohibits nuclear weapons, and this weapon has no place in the defense strategy of the Islamic Republic," Raisi said during his inauguration ceremony on Thursday. "The policy of pressure and sanctions will not cause the Iranian people to give up pursuing their legal rights, including the right to development. Sanctions against Iran must be lifted and we will support any diplomatic plan that achieves this goal."
Addressing the remarks, State Department spokesperson Ned Price said the U.S. was also prepared to resume talks, as long they were in the country's interests.
"The U.S. will defend and advance our national security interests and those of our partners," Price said. "We hope that Iran will seize the opportunity now to advance diplomatic solutions and the diplomatic solutions that are before all of us. We're waiting to see the approach that the new government in Iran will take."
He said that the U.S. side was prepared to return to Vienna, and acknowledged Raisi's recent reaffirmation of support for diplomacy. But Price said that the offer would not "last forever."
"The longer this goes on, the advantages to our national security that would be accrued by a mutual return to compliance will start to chip away by the advancements that Iran is able to make while the shackles are at present removed from its nuclear program," Price said. "So we're mindful of that and that's why we urge the new Iranian government to return to diplomacy."
"If President Raisi is genuine in his determination to see the sanctions lifted," Price added, "well that is precisely what's on the table in Vienna."
But Israel, which is widely believed to have a semi-secret nuclear arsenal of its own, has opposed any effort to revive the nuclear deal.
A day before issuing his explicit warning to Iran, Gantz told a briefing alongside Israeli Foreign Minister Yair Lapid to foreign ambassadors that Tehran had violated the nuclear agreement and was "only 10 weeks away from acquiring weapons-grade materials necessary for a nuclear weapon."
"Now is the time for deeds — words are not enough," Gantz said at the time. "It is time for diplomatic, economic and even military deeds, otherwise the attacks will continue."