Iran Threat Is Actually Missiles on Small Boats, and America's Allies Think Trump Is Overreacting: Report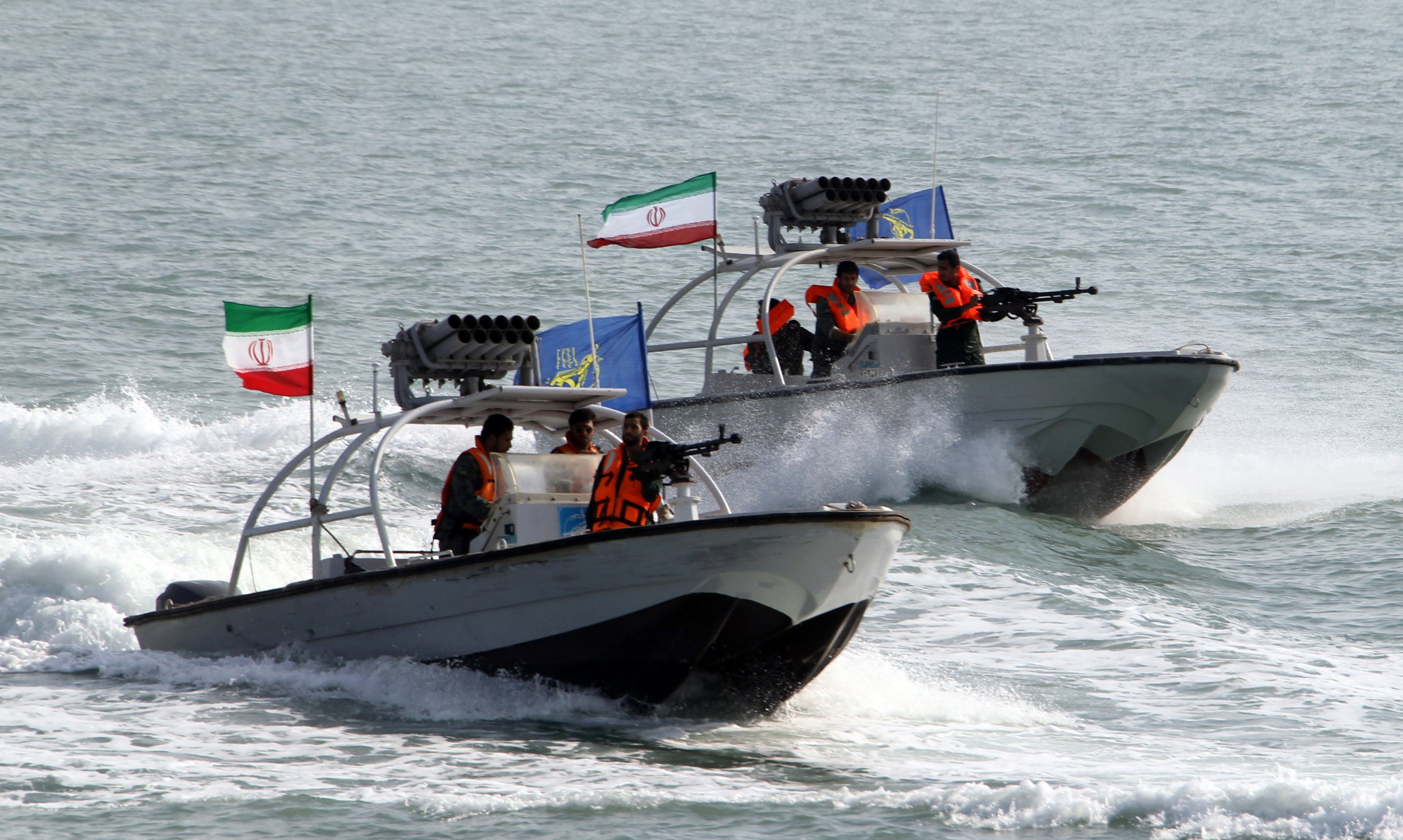 A debate raged both in the White House and overseas as to how seriously America's warnings of a growing threat from Iran should be taken as more information about the reported threats emerged.
According to The New York Times, multiple unnamed U.S. officials told the newspaper that the U.S.'s dire warnings of devastating retaliation against Iran were based on photographs of paramilitaries loading up small boats with missiles, threats against commercial shipping and indications of possible attacks on U.S. troops in Iraq.
The Times report said overhead imagery had captured Iranian paramilitaries arming small boats in the Persian Gulf with fully assembled missiles, prompting fears they might be used to attack American ships in the region. Images showed the boats—believed to be under the control of the Islamic Revolutionary Guard Corps—being armed at several ports, raising concerns of imminent attack or that the weapons would be transferred to regional Iranian proxies for use in more deniable operations.
Iran's low-tech navy is no match for the world-leading American vessels, but asymmetric tactics using small boats for conventional missile and even suicide attacks could still inflict significant casualties on a U.S. naval formation and could shut down commercial shipping in the strategically vital Strait of Hormuz.
As well as freshly armed vessels, American officials told The Times the U.S. had picked up threats against commercial shipping in the region. Last weekend's sabotage attacks on oil tankers off the coast of the United Arab Emirates showed the impact such operations could have. Iran claimed innocence, and the U.S. said it did not yet have conclusive proof of Tehran's involvement. The U.S. Maritime Administration warned all ships to exercise caution when traveling past the area.
Other intelligence reportedly indicated Iran might try to use pro-Tehran militias in Iraq to attack U.S. troops or facilities there. This convinced the State Department on Wednesday to withdraw all nonemergency staff from its embassy in Baghdad and the consulate in Erbil.
U.S. officials noted the increasing frequency of conversations between the Islamic Revolutionary Guard Corps and Iraqi militias about attacking U.S. targets, and even heard specific details of certain targets being discussed.
But not everyone agreed the latest intelligence was so troubling. Within the White House and the Pentagon, senior officials warned that Iranian activity could well be defensive in nature, given the aggressive rhetoric and military deployments from the U.S. in recent weeks.
One senior American official told The Times the evacuation of the facilities in Erbil and Baghdad was an overreaction to the intelligence and could even endanger diplomats rather than make them safer.
American allies are also refusing to back the White House in asserting the Iranian threat. On Tuesday, British Major General Chris Ghika—a senior officer in the U.S.-backed coalition fighting ISIS—said he had seen "no increased threat from Iranian-backed forces in Iraq and Syria," according to The Associated Press. "There are a substantial number of militia groups in Iraq and Syria, and we don't see any increased threat from any of them at this stage," Ghika added.
This earned Ghika a rare rebuke from U.S. Central Command, whose lead spokesperson said Ghika's comments "run counter to the identified credible threats available to intelligence from U.S. and allies regarding Iranian-backed forces in the region."
Also on Tuesday, Spain withdrew a warship from the U.S. naval group led by the aircraft carrier USS Abraham Lincoln, which was sent to the Persian Gulf to deter any Iranian aggression, Reuters reported.
Spain's acting defense minister, Margarita Robles, told reporters the frigate Mendez Nunez had joined the group as part of a mission to celebrate 500 years since the first circumnavigation of the world, as laid out in a bilateral U.S.-Spanish agreement. "The U.S. government has taken a decision outside of the framework of what had been agreed with the Spanish Navy," Robles explained.
On Monday, Secretary of State Mike Pompeo made a last-minute visit to Brussels to speak with European Union diplomats about the threat posed by Iran, though he seemed to convince few officials. Federica Mogherini, the high representative of the EU for Foreign Affairs, said: "We are living in a crucial, delicate moment where the most relevant and responsible attitude to take is that of maximum restraint and avoiding any escalation on a military side."
In Washington, too, key lawmakers criticized the White House's escalation of tensions with Iran. House Majority Leader Nancy Pelosi held a closed-door meeting of House Democrats and complained that the Trump administration had not been transparent enough with the intelligence, a Democratic aide told The Times.
Senate Minority Leader Chuck Schumer warned that the U.S. risked the kind of missteps that resulted in the Iraq War. "Did we learn the lessons of the last decade?" Schumer asked Senate colleagues Wednesday. "There is an alarming lack of clarity here, there's a lack of strategy, and there's a lack of consultation. The president ought to come up with a strategy and make it clear to Congress."