Iran Says Trump Gone to 'Dustbin of History,' Hopes Biden Has 'Learned'
Iran has welcomed the exit of former President Donald Trump from the White House and expressed hope that newly sworn-in President Joe Biden would adopt a different and more diplomatic approach to the Islamic Republic.
Iranian Foreign Minister Mohammad Javad Zarif called out the departing administration on Wednesday shortly after Biden took the oath of office. The Iranian top diplomat chastised Trump and leading officials like former Secretary of State Mike Pompeo for pursuing their "maximum pressure" campaign against Tehran.
"Trump, Pompeo & Co. are relegated to the dustbin of history in disgrace," Zarif tweeted.
He took the opportunity to remember the U.S. killing of Revolutionary Guard Quds Force commander Qassem Soleimani last year, along with those affected by sanctions instituted under Trump, and suggested the Biden administration might shift the strategy.
"But the memories of Gen Soleimani & the 1000s murdered, maimed & starved of food & meds by Trump's state—& economic—terrorism & crimes against humanity, will shine on," Zarif wrote. "Perhaps new folks in DC have learned."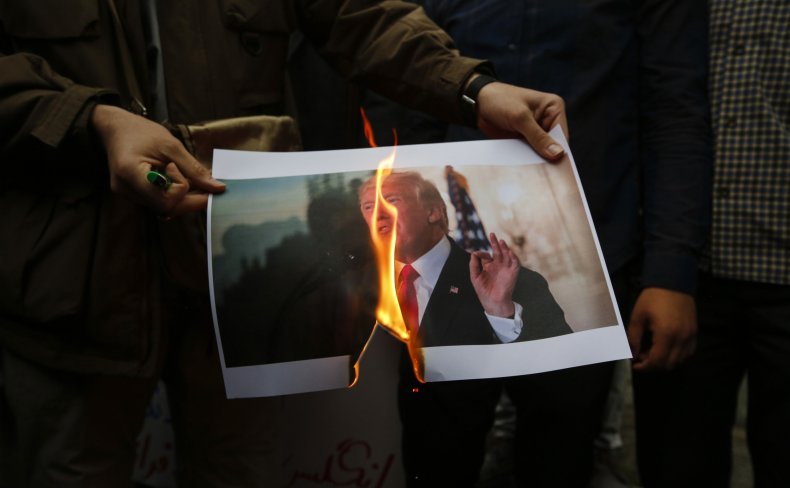 Iranian Foreign Ministry spokesperson Saeed Khatibzadeh also laid into the Trump administration on Tuesday. He shared a video containing criticisms of U.S. foreign policy across the globe over the past four years, using headlines, including those from Newsweek, to paint a picture of an "ultranationalist" and "unilateralist" approach pursued by Trump.
"The DIPLOMATIC VANDALISM of Trump, Pompeo & co stemmed partly from a broken institutional process," Khatibzadeh tweeted. "But that same process—when "functional"—produced disasters like wars in Iraq, Afghanistan & Vietnam."
He said the onus for change was on the U.S.
"The world knows that only the US can fix itself," Khatibzadeh tweeted, "in practice; not just words."
Iranian President Hassan Rouhani also hailed the change of government in Washington, declaring during a cabinet meeting Wednesday that "Trump's political life is over."
But the 2015 nuclear deal he abandoned still lives on, Rouhani noted, with ongoing participation from China, France, Germany, Russia and the United Kingdom. The Iranian leader helped pioneer the agreement alongside former U.S. President Barack Obama, under whom Biden served as vice president.
Biden and his cabinet picks such prospective Secretary of State Antony Blinken and national security adviser hopeful Jake Sullivan have backed a return to the accord, but have signaled a need for a more comprehensive agreement. The room for negotiations may be limited, however, as Rouhani's second term is set to end in a matter of months.
While Iran has walked back from certain enrichment obligations in response to Western failures to normalize trade ties, Rouhani emphasized his willingness to get the deal back on track immediately should Biden take the appropriate actions.
"If the new administration in the White House has learned a lesson from the previous administration, they will make up for the mistakes," Rouhani said. "The previous president was a tower-builder and did not know politics, but the new U.S. administration understands politics and has political experience."
Like many other world leaders, Rouhai said he was waiting for Biden's next move.
"The ball is in the court of the United States and Washington," Rouhani said.
While Biden did not himself publicly address the nuclear agreement on his first day in office, he did issue an executive order to end the so-called, Trump-era "Muslim ban" that prohibited entry to the U.S. from several nations, most of them majority-Muslim, including Iran.
The nuclear deal issue specifically came up later Wednesday at a press conference held by White House Press Secretary Jen Psaki, who appeared to pass the ball back to Iran.
"The president has made clear that he believes that through follow-on diplomacy, the United States seeks to lengthen and strengthen nuclear constraints on Iran and address other issues of concern," Psaki said. "Iran must resume compliance with significant nuclear constraints unclear the deal for that to proceed."
This article has been updated to include remarks by White House Press Secretary Jen Psaki.