Iran Says These Four Men Want to Bring It to War with U.S. Instead of Rebuilding Ties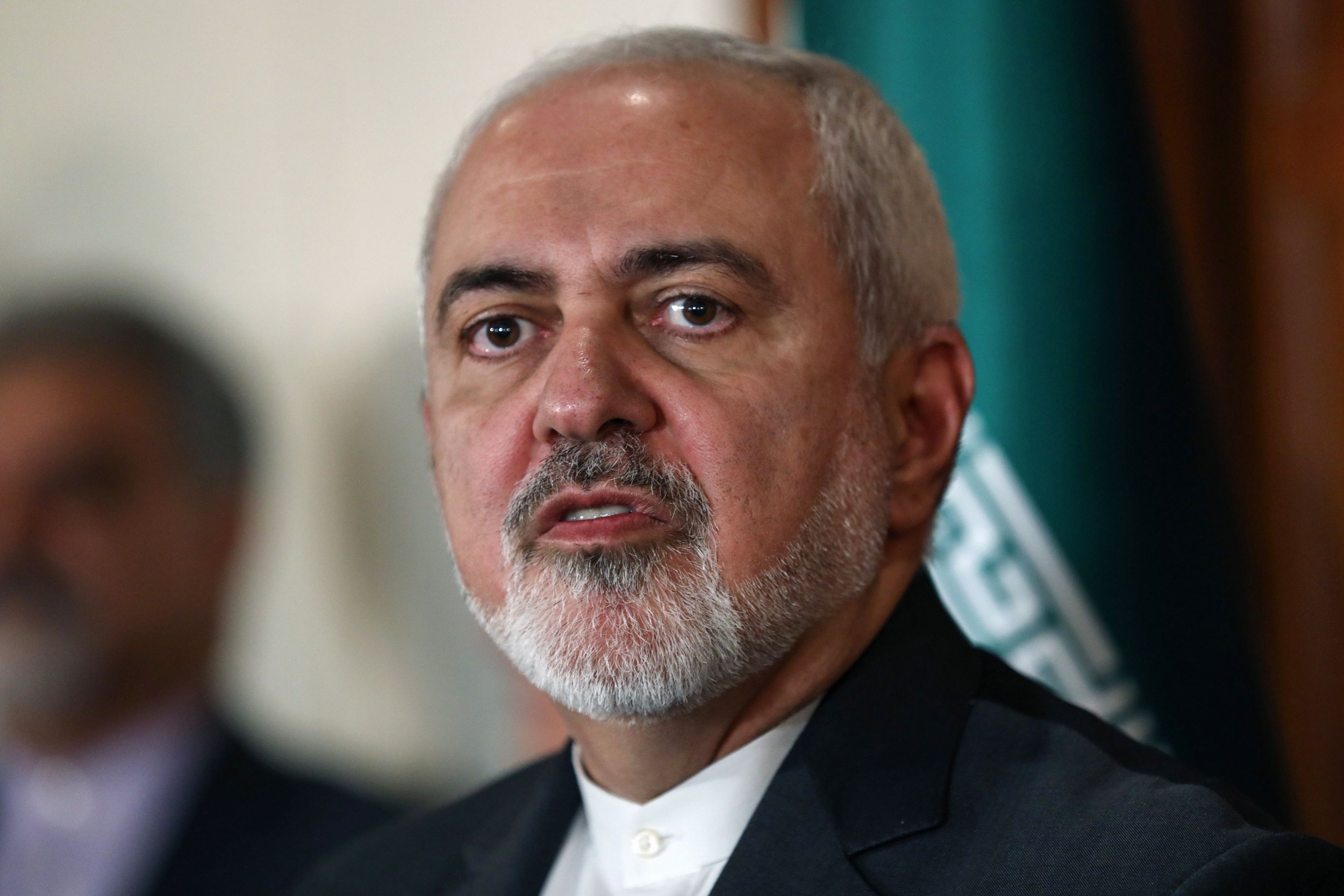 Iranian Foreign Minister Mohammad Javad Zarif blasted a group of four individuals looking to push their countries toward war with Iran.
Zarif spoke Wednesday at the Asia Society in New York, condemning what he called the "B-Team" at a time when the U.S. and its regional allies were attempting to isolate Iran. The hypothetical grouping included White House national security adviser John Bolton, Israeli Prime Minister Benjamin Netanyahu, United Arab Emirates President Khalifa bin Zayed Al Nahyan and Saudi Crown Prince Mohammed bin Salman.
"I think there's cause to be concerned," Zarif said. "I doubt that President Trump wants conflict, he ran on a campaign promise and it seems to me that he's very careful to at least try to implement his campaign promises, he ran on a campaign promise not to waste another $7 trillion in our region in order to make the situation only worse, so I guess he wants to stick to that promise."
"If he wants to push Iran into accepting a new deal that would be selling our dignity then he won't be able to do it, and then Plan B of the B-Team will come into play," Zarif added. "I believe that the B-Team does not have the same plan as President Trump does. President Trump has a plan, but he's being lured not into a plan but a plot, which will cost another $7 trillion and an even greater disaster."
Iran's top diplomat described the plot as "to push Iran into taking action and then losing," he warned the "B-Team is not a slogan, B-Team is pushing U.S. policy towards a disaster."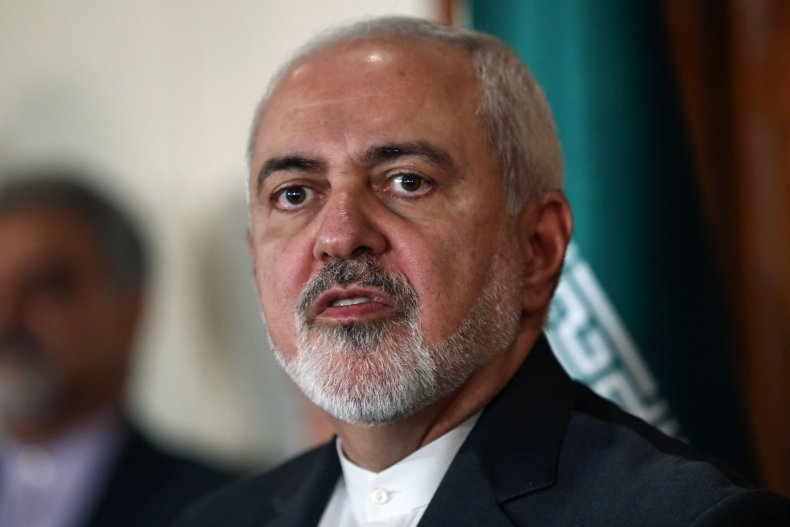 Ties between the U.S. and Iran have been hostile since the 1979 Islamic Revolution that ousted a pro-West monarchy in Tehran, replacing it with a religious leadership currently headed by Ayatollah Ali Khamenei. Zarif's latest remarks, however, came as the Trump administration took unprecedented steps toward punishing its longtime foe, such as recently designating the elite Revolutionary Guards a terrorist organization. Since quitting the 2015 nuclear deal last May, the White House has ordered mounting sanctions against Tehran, accusing it of funding militant groups and developing missile technology.
On Monday, the Trump administration further pushed its plan to cut Tehran's foreign trade by canceling waivers allowing eight countries—China, Greece, India, Italy, Japan, South Korea, Taiwan and Turkey—to continue buying oil from Iran. Secretary of State Mike Pompeo assured that oil-rich allies Saudi Arabia and the U.A.E. would make up the difference on the global energy market.
"We have made our demands very clear to the ayatollah and his cronies," Pompeo said. "End your pursuit of nuclear weapons. Stop testing and proliferating ballistic missiles. Stop sponsoring and committing terrorism. Halt the arbitrary detention of U.S. citizens."
In response, the Revolutionary Guards have renewed their threat to shut the Strait of Hormuz, a vital Persian Gulf waterway in which a third of the world's oil traffic passes. Zarif described the strait as a "lifeline" and vowed his country would protect its "stability," "freedom of navigation" and "free flow of oil" in line with Iran's "national interests."
"If the United States takes the crazy measure of trying to prevent us from doing that, then it should be prepared for the consequences," Zarif told his audience Wednesday. "The B-Team wants the United States to take crazy measures and that wouldn't be the first time the United States has taken adventurist measures."
Representatives of the so-called B-Team—"I wish it was the A-Team at least," Zarif quipped at one point—previously gathered at another meeting in New York as part of the United Against Nuclear Iran conference in September. The conference was attended by senior officials from Israel, Saudi Arabia, the U.A.E. and the U.S., including Bolton himself—known in Washington for decades for his hawkish views and disdain for international agreements—and Pompeo.
The group again coalesced alongside other Western and Middle Eastern states for February's Warsaw summit, jointly hosted by the U.S. and Poland. On the sidelines of talks that largely revolved around countering Iran, Netanyahu candidly told cameras that "this is an open meeting with representatives of leading Arab countries, that are sitting down together with Israel in order to advance the common interest of war with Iran" in remarks later removed from his office's official social media accounts.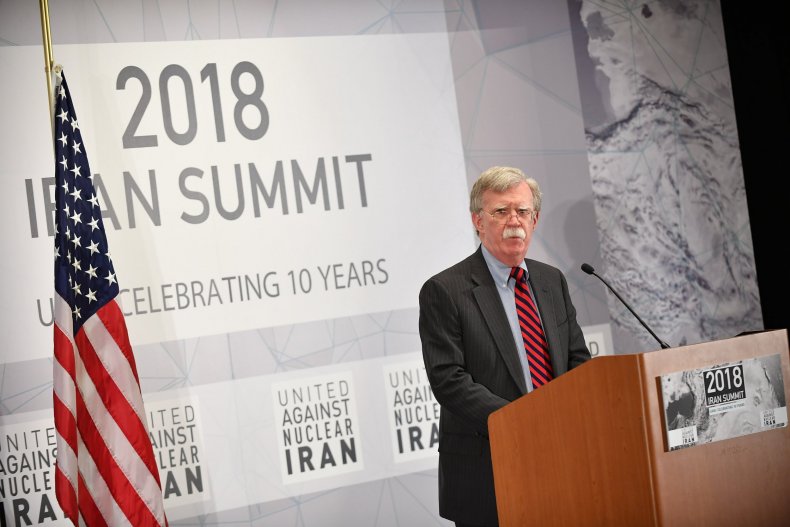 While Israel, Saudi Arabia, the U.A.E. and the U.S. have attempted to rally more anti-Iran sentiment around the world, the other signatories of the 2015 nuclear accord continued to support the agreement. The European Union, France, Germany and the United Kingdom have dismissed U.S. protests and worked instead with fellow nuclear deal parties China and Russia to salvage the arrangement, also playing into Moscow and Beijing's joint push to curb Washington's global dominance.
"It's not just Russia and China, everybody is fed up with unilateralism," Zarif said Wednesday in response to a question from Newsweek. "The rest of the world is not very happy with the unilateralist policies of the United States, and Iran is a part of that part of the world."
Iran has also managed to shore up its regional ties in the face of heightened U.S. restrictions, sending a representative to a historic gathering of Iraq's six neighbors, which also included the heads of parliaments from "B-Team" states Saudi Arabia and the U.A.E., as well as Jordan, Kuwait, Syria and Turkey. Zarif, who hailed the meeting, said he has called for regional dialogue to smooth over tensions between Tehran and others.
"It can even reach a non-aggression pact," Zarif said. "If our neighbors are ready for a non-aggression pact with Iran, we are ready for a non-aggression pact with them, including Saudi Arabia, including the United Arab Emirates."
At the same time, U.S. attempts to form a counter-Iran coalition akin to the NATO Western military alliance have hit new strains as Arab states protested Trump's decision to recognize Syria's Golan Heights as part of Israel. Earlier this month, Reuters cited sources saying that Egypt—a close U.S. ally and one of only two Arab countries to sign a peace agreement with Israel, the other being Jordan—reportedly backed out of the initiative, while Iraq, another U.S. partner, has instead called for greater dialogue with Iran.