What Do Iran and Venezuela Have to Say About U.S. Threats of War? Both Warn It's John Bolton Who Wants to Fight
Iran and Venezuela have both responded to the United States' threats of military action against their respective countries, with top diplomats warning that White House national security adviser John Bolton appears to be leading a push toward two more wars.
Bolton, a veteran Washington hawk who backed the Iraq War, among other U.S. interventions, joined President Donald Trump's team in April 2018 and has threatened perceived adversaries with the use of force ever since. In one of his most recent displays, Bolton announced Sunday that the USS Abraham Lincoln carrier strike group and bomber task force would be deployed to the Persian Gulf ahead of schedule "to send a clear and unmistakable message to the Iranian regime" in response to information about potential attacks on U.S. interests, reportedly passed along by Iran's archfoe Israel.
As Iran's armed forces dismissed the move, Foreign Minister Mohammad Javad Zarif said Tuesday on Twitter that Bolton, Israeli Prime Minister Benjamin Netanyahu, Saudi Crown Prince Mohammed bin Salman and United Arab Emirates President Khalifa bin Zayed Al Nahyan—a quartet he's nicknamed "The B-Team"—were "at it again."
"From announcements of naval movements (that actually occurred last month) to dire warnings about so-called 'Iranian threats,'" Zarif tweeted. "If US and clients don't feel safe, it's because they're despised by the people of the region— blaming Iran won't reverse that."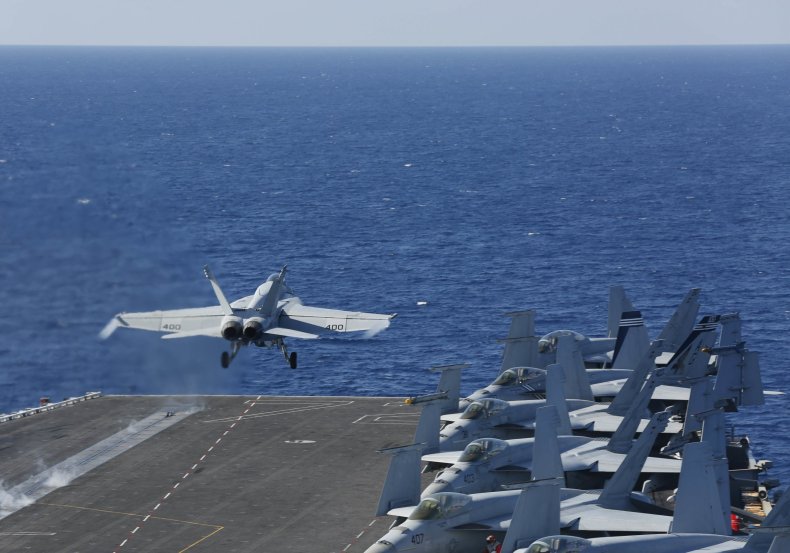 Bolton and Iran have a history of mutual animosity. For years, he has advocated for strikes against the Shiite power, accusing it of supporting militant groups across the Middle East and beyond. He has also spoken in favor of the left-wing People's Mujahideen of Iran, a once U.S.-designated terrorist organization that sought regime change in Tehran, where the group has been deeply vilified.
Just one month into Bolton's tenure under Trump, the White House unilaterally withdrew from the multi-nation 2015 nuclear deal with Iran, paving for the way for sanctions previously lifted in exchange for Tehran curbing nuclear production. The U.S. has since sought to cut Iran's oil exports entirely, a move that Tehran has warned could lead it to block the strategic Strait of Hormuz with its Revolutionary Guard.
That elite Iranian military force was recently named a terrorist organization by the U.S. in a decision that saw tit-for-tat measures taken in Tehran against the Pentagon's Central Command, which is tasked with overseeing operations in the Middle East.
As tensions heat up in the region, Bolton also has his sights set on a separate crisis slightly closer to home. Since Trump assumed office in early 2017, the U.S. has hardened its stance toward Venezuela, which Bolton has called part of a "troika of tyranny" that includes fellow leftist-led nations Cuba and Nicaragua. He has actively sought to oust President Nicolás Maduro.
The U.S. endorsed opposition leader Juan Guaidó's self-proclaimed interim presidency in January, when he accused Maduro of having rigged last year's election and of profiting off of corruption amid a historic economic crisis exacerbated by Trump administration sanctions. The situation escalated last week when Guaidó called for a military uprising but was ultimately countered by a government crackdown.
Following the abortive mutiny, Bolton's aides reportedly pushed for military options in meetings with the Pentagon. Venezuelan Foreign Minister Jorge Arreaza told Russia's state-run RT outlet on Monday that Secretary of State Mike Pompeo, "not Bolton," may still have "the capacity for reflection to be able to establish a new strategy to approach Venezuela." Meanwhile, Guaidó struggled to gather sufficient support from within the armed forces at home and considered petitioning for U.S. intervention.
Arreaza called for "peace" and "diplomacy" in a press conference that same day in Moscow. But he warned that Venezuela's military would "be able to not only resist and fight but to overcome and defeat any army, however powerful it may be."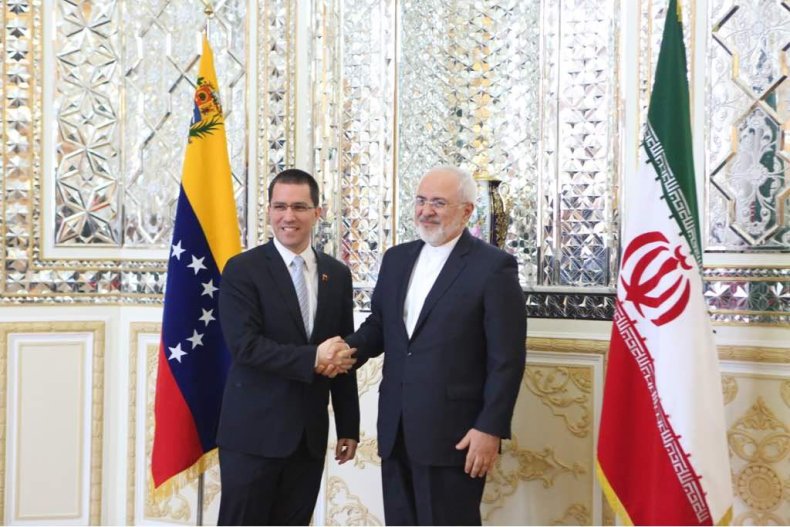 Iran and Venezuela are not the only ones expressing alarm at Bolton's saber rattling. Russian Foreign Minister Sergey Lavrov said Tuesday that "Russia strongly opposes the use of force in violation of international law, wherever it occurs, including in Venezuela," following talks with Pompeo. The U.S. has accused Russia of working to keep Maduro in power.
Like Iran and Russia, China has supported the government of Venezuela, as well as the regime Syria, in the face of U.S.-backed regime change efforts. Also, like Moscow and Tehran, Beijing remained a party to the 2015 Iran nuclear deal despite Washington's exit.
In response to the effort to overthrow Maduro last week, Chinese Foreign Ministry spokesperson Geng Shuang said Monday, "We call on the international community to bear in mind the fundamental interests of Venezuela and its people, follow the overriding trend, accelerate efforts to facilitate peace talks, stop provoking political confrontation, abandon military intervention plans and play a constructive role in the political settlement of this issue rather than risk ending up recorded by history as a culprit."
The following day, Geng commented on the U.S. carrier strike group presence in the Persian Gulf. "China stands for settling differences through dialogue and consultation on the basis of mutual respect. We hope non-regional major powers will contribute to peace and stability in the Middle East and refrain from actions leading to further escalation of tensions," he said.