Iran Vows to Support Lebanon, Calls UAE-Israel Deal 'Stab in Back' on War Anniversary Visit
Iran's top diplomat has vowed to support Lebanon as the country recovers from its recent explosion and to oppose a recent deal between common foe Israel and the United Arab Emirates during a visit commemorating the end of a war between Israel and Lebanon.
Iranian Foreign Minister Mohammad Javid Zarif met Friday in Beirut with Lebanese leadership, expressing Tehran's condolences for the cataclysmic blast that rocked the Lebanese capital last week, killing at least 171 people, injuring thousands more and doing billions of dollars worth of damage to the already beleaguered nation. Zarif pledged Iran's unconditional backing in helping Lebanon rebuild and also vowed to stand with the country against a historic peace agreement between neighboring Israel and the UAE.
Zarif described the deal, brokered Thursday with the help of the United States, "as painful and as a stab in the back to Lebanon and other countries in the region," according to a readout of his meeting with Lebanese counterpart Charbel Wehbe released Friday by the Iranian Foreign Ministry.
"In Beirut today to express the solidarity of the people of Iran with all Lebanese, and to offer our readiness to help. This is a time to assist and facilitate - not to impose and dictate," Zarif later tweeted. "We in the region are all in this together: Lebanon's security is our security."
The visit, in which Zarif also met with Lebanese President Michel Aoun, Prime Minister Hassan Diab and Parliament Speaker Nabih Berri, also coincided with the anniversary of a United Nations-brokered ceasefire that ended a month-long war between Israel and Lebanon's Iran-backed Shiite Muslim Hezbollah movement. In a separate statement published Friday, the Iranian Foreign Ministry said, "The resistance against the Zionist enemy will lead them to certain defeat, and this is a great lesson to all governments and nations in the region."
"The Islamic Republic of Iran has always stood, now stands and will always stand by the Lebanese people and government," it added.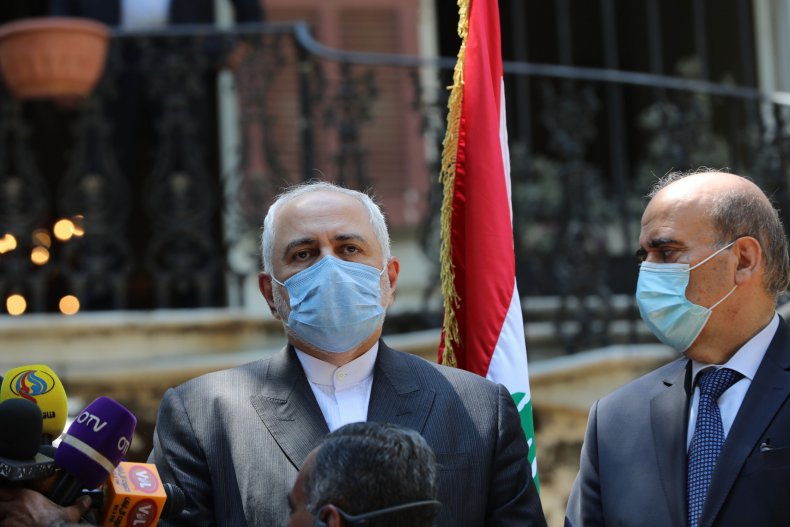 Iran also sent a separate message to Hezbollah, congratulating it for its "proud victory" against Israel, which ultimately withdrew its forces after a bloody conflict that killed over a hundred Israelis and well over a thousand Lebanese. Iran said the war would serve as a reminder that Lebanon's "security, independence and sovereignty will not be a toy in the hands of the enemies" and that it will "overcome the current crisis with unity and empathy."
Hezbollah and Israel continue to clash along Lebanon's contested southern border. Last month, Israel claimed to have thwarted an infiltration attempt, conducting cross-border shelling against southern Lebanon. Hezbollah argued it conducted no such operation and Israeli military actions were rooted in "anxiety."
Hezbollah-affiliated news sites have already expressed contempt toward the UAE-Israel agreement, but Hezbollah Secretary-General Hassan Nasrallah was expected to deliver an official reaction during a speech later today, as a spokesperson for the group told Newsweek.
The agreement was set to make the UAE only the third Arab country to make peace with Israel, following Jordan in 1994 and Egypt in 1979. Abu Dhabi Crown Prince Sheikh Mohammed bin Zayed Al Nahyan said the agreement "was reached to stop further Israeli annexation of Palestinian territories" by Israel.
But Palestinians have reacted with furor, burning UAE and flags and pictures of Sheikh Mohammed in demonstrations as Palestinian leadership withdrew its ambassador to Abu Dhabi. Palestinian President Mahmoud Abbas has already cut ties with the U.S. and Israel, partners which have grown even more closely aligned due to warm ties between President Donald Trump and Israeli Prime Minister Benjamin Netanyahu.
Both men have sought to isolate Iran among the international community, with the U.S. leading a "maximum pressure" campaign of sanctions against the Islamic Republic and Israel stepping up a campaign of strikes against suspected Iran-linked sites in Syria. Both countries have also sought to distance Lebanon from and its Hezbollah ally, and as Zarif made his way through Beirut, a senior U.S. official held meetings with Lebanese leaders in the capital as well.
U.S. Undersecretary of State for Political Affairs David Hale met with Aoun, Berri and former Prime Minister Saad al-Hariri on Friday. Hale has offered the services of the FBI in helping to investigate the causes of the Beirut port explosion that has compelled Lebanon's cabinet to resign, and also discussed efforts to settle a long-running dispute regarding the maritime border between Lebanon and Israel in the resource rich-Eastern Mediterranean.
The Lebanese armed forces reported Friday that Israeli gunboats "launched bursts of fire from inside the occupied waters towards the Lebanese territorial waters" a day earlier, and that Israeli spy planes violated Lebanese airspace by flying over the southern towns of Aitaroun and Yaroun on Thursday as well.